First of all, my apologies to Bill Judge of Judge Yachts for my incorrect identification of his Chesapeake 36 in last month's column (see below). Our cold, windy, and wet reluctant spring, following on the heels of a busy winter, has area boat shops scrambling to catch up.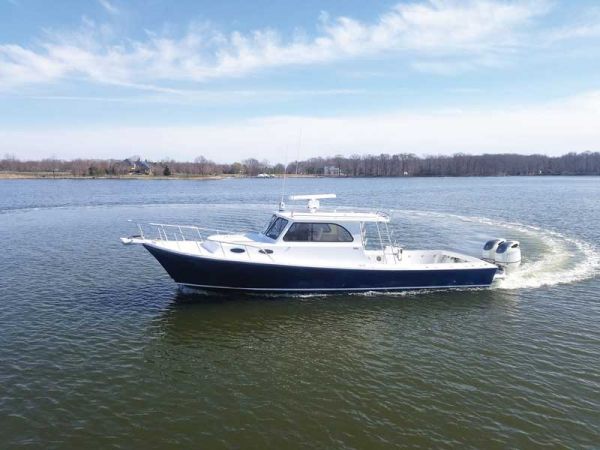 David Evans, Jr. of Evans Boats in Crisfield, MD, starts us off this month. "The yard here at Evans Boats has been quite busy! I am still wondering when the slow winter months are coming (ha ha). We are currently in the process of building three brand new cabins on a few vessels out in the shop, one of which is the Smith Island Mail boat known as the Island Belle II. 'The Belle has been around for a long time, and it was time for a change,' said Captain Otis Tyler.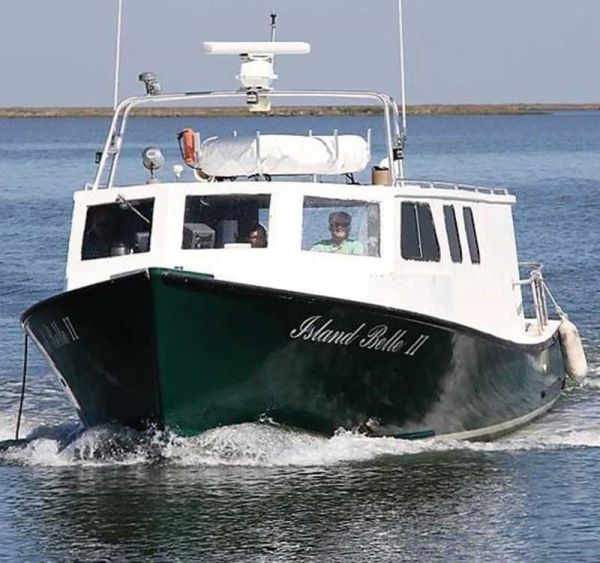 "With the new cabin on his boat, we will also be putting a new floor inside this cabin and some new seats. This boat is used to carry passengers, both residents of the island and tourists, back and forth daily. He also carries the U.S. Mail going to the Island, and all UPS orders, to name a few freight types. While restoration jobs are keeping us busy, we are also finishing up a contract on a new 50-foot Evans for Shawn Gibson of Wound Tight Charters in Northern Maryland. Gibson will be finishing the boat and certifying it himself, but we have got him started with the base boat, powered by a single CAT engine from T & S Marine here in Crisfield."
Dave Hannam with Classic Watercraft Restoration in Annapolis reports, "The 1961 Hacker-Craft will be a classic woody highlight at a family wedding reception this summer (besides the bride of course!). Then she's on her way heading north to Alexandra Bay and Clayton, NY, for the Fourth of July festivities on the St. Lawrence. The 1946 Century Resorter ski boat is getting her varnish and upholstery done, so she'll look good for the 'Field of Dreams' at the Antique and Classic Boat Show in St. Michaels this June. Next up, a classic Boston Whaler is in for varnish on the remaining interior parts, after doing the wooden console restoration last year, so all the coatings will match through the interior. CWR is also getting set to start on a 1966 Shepard classic mahogany runabout, recently pulled out of storage and getting lined up to have an extensive restoration on all coatings, including a motor installation, so she can be turn-key ready and reliable for her owner this summer. It must be spring; every flat surface in the shop is covered with floor boards and hatches getting repair and varnish ('tis the season for sailors hitting the Bay), and the speedster shook off her winter coat and is cleaned up and ready for the next nice sunny day to play hooky!"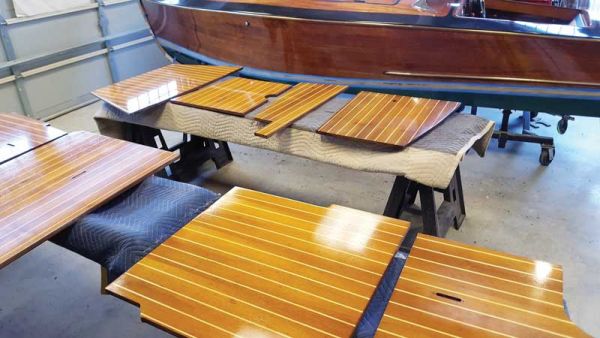 Nancy Bray Booth from Hartge Yacht Harbor in Galesville, MD, is next up: "Hartge Yacht Harbor has been a Torqeedo dealer for three years. Torqeedo, the leader in electric outboard engines, truly is the future of boat power. With simple storage and installation, the Torqeedo is lightweight, quiet, waterproof, and requires no end-of-season maintenance. Hartge Yacht Harbor is excited to announce that we are now a certified Torqeedo service center and have received the training necessary to service these environmentally safe engines. HYH has been busy applying Propspeed (an environmentally safe, long life fouling release coating to prevent marine growth) to several props prior to spring launch…"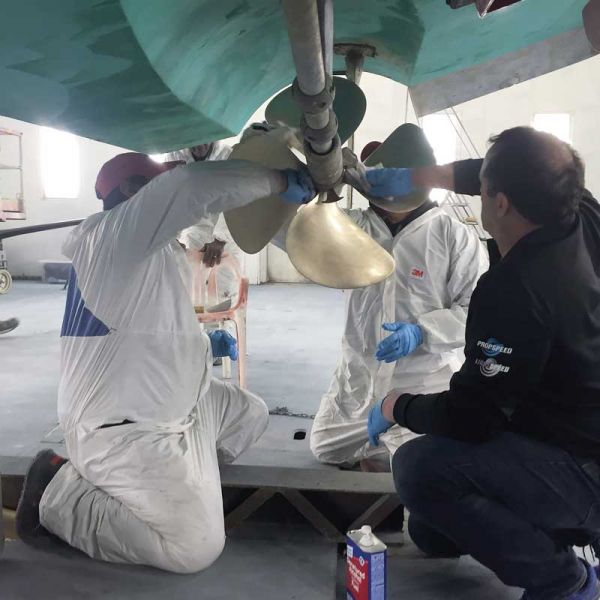 "Hartge Yacht Harbor has completed a deck and bowsprit job on the Viking 46-foot Sportfish, and completed the painting of a Wasque 32. With the warmer weather, we will now begin outside spring projects while continuing Awlgrip applications in the paint building. Awlgrip achieves a spectacular, high quality appearance for boats. There are three unique topcoat systems to meet everyone's needs: Awlgrip, Awlcraft 2000, and Awlcraft SE that all come in a variety of colors, including metallic. For a complimentary estimate on making your boat beautiful again, please contact Hartge Yacht Harbor."
Shipwright James DelAguila reports that work on the Chesapeake Bay Maritime Museum's (CBMM) floating fleet of historic vessels is in full swing in St. Michaels, MD. "Buyboat Winnie Estelle made it out of the water first to undergo seasonal maintenance and to have a hull fastener inspection by the Coast Guard. With Winnie given a clean bill of health for the season, CBMM's workhorse replica crab scraper Volunteer made it out onto the rails next, receiving a new exhaust system installed by staff mechanic Josh Richardson. Volunteer has already been tasked with towing CBMM's powerless tugboat Delaware to her new slip, where she awaits a large-scale restoration later this year. The floating fleet maintenance cycle takes place all summer long and extends into the fall, with all work done in full view of CBMM guests."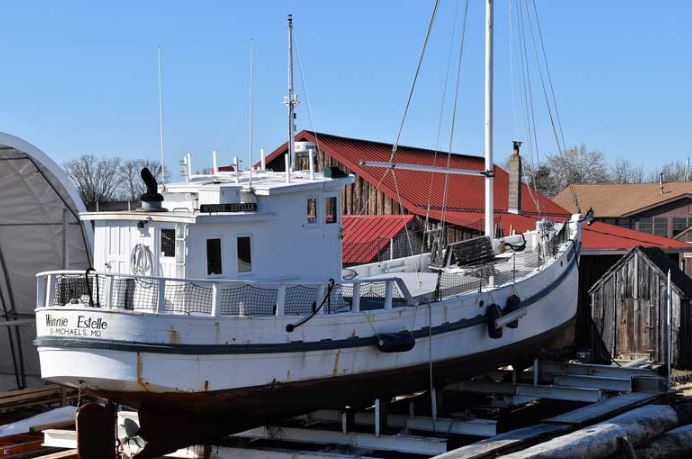 George Hazzard of Wooden Boat Restoration in Millington, MD, reports in with a busy shop: "We are finishing up the new build of the Chesapeake Light Craft Chester Yawl. We also have a 21-foot 1952 Chris-Craft Kit boat we restored back in 2008, back for some fresh paint and varnish. We are also giving a crash coat of paint to a 1956 21-foot Chris Craft Sea Skiff. We also have a 1996 26-foot Hacker Craft that is getting new upholstery and six coats of varnish to spruce her up."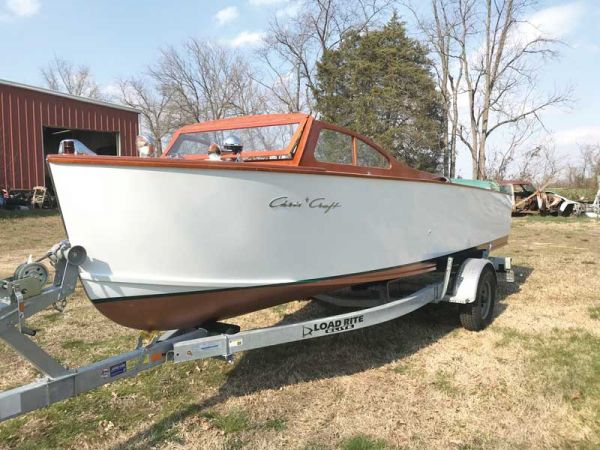 At Composite Yacht in Trappe, MD, Rob Hardy has more than a few projects going. In addition to the developmental work on the new CY 55 Custom (See "Pushing the Envelope" on page 57), their new CY 34 and CY 46 are both out of the molds and in the shop having bulkheads, stringers, and interiors installed. At Composite's Cambridge plant, boats number nine and 10 of a fleet of nine-foot, electric-powered, four-passenger 'pirate ships' are nearing completion and will shortly be delivered to the Living Classrooms Foundation for service on Baltimore Harbor this summer.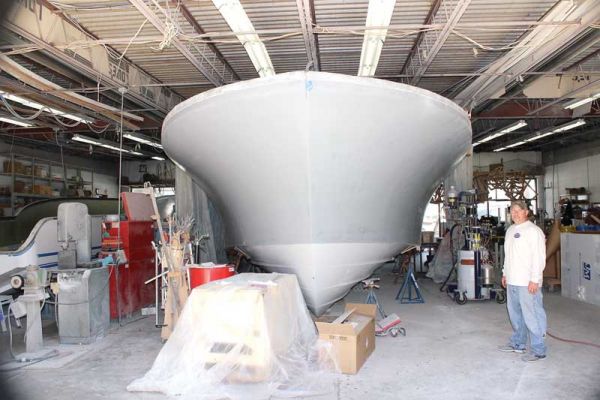 Alex Schlegel from Hartge Yacht Yard in Galesville, MD, speaks for us all when he describes the effect of the cold spring. "When weather is nice, we tend to forget that the early spring was tough. This is written in mid-April, when the cold, wet, and windy weather won't go away. It was 34 degrees on April 18. Everyone wants their boat in April, so we start out the spring behind and try to catch up. With good weather we do catchup. We completed a project of removing a teak deck from a Grand Banks 46 and finished the fiberglass deck with Awlgrip nonskid, and also the repair of cockpit deck and stringers on a Lipppincott 32 is completed. As is typical, we do many maintenance items on many boats involving hoses, sound insulation, damper plates, overheating, water pumps, thrusters, and electrical systems."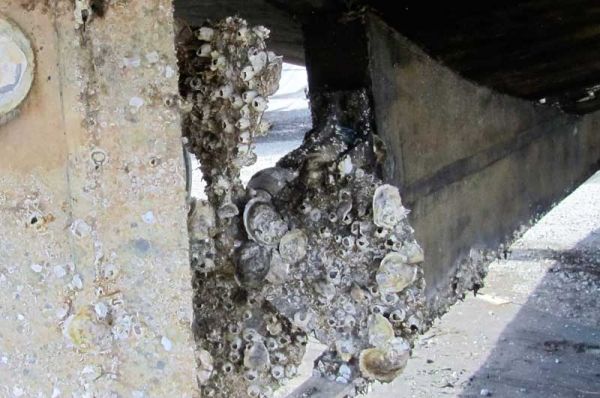 "One of our waterman friends bought a wooden Deltaville Deadrise fixer-upper from Portsmouth, VA. It arrived by tractor trailer with no cabin and a prop loaded with oysters, something we are not used to seeing in the Annapolis area. It generated lots of attention. For a new owner of a vintage trawler, we soda blasted the bottom to remove many years of antifouling and checked the bottom with a moisture meter. It was generally dry but some areas pegged the meter. We drilled a hole in the wettest area and struck water in the core! A little bit of air pressure was put in the hole to see what, if anything, that would show us. Water bubbles came from two thru hulls in the boot top. We blew air through this for a few months to dry it out, but it still reads wet. A lot of heat, air, and time would dry it, but it's not worth it to the owner. Boats are tough, and this boat will continue to stay strong and provide enjoyment to its owners for many years."
Let's hope that summer, or at least spring, is really here at last. See you at the Antique and Classic Boat Festival! For more, click to our Boatshop Reports page.
By Captain Rick Franke