Area boatshops report that demand for their services continues to be strong.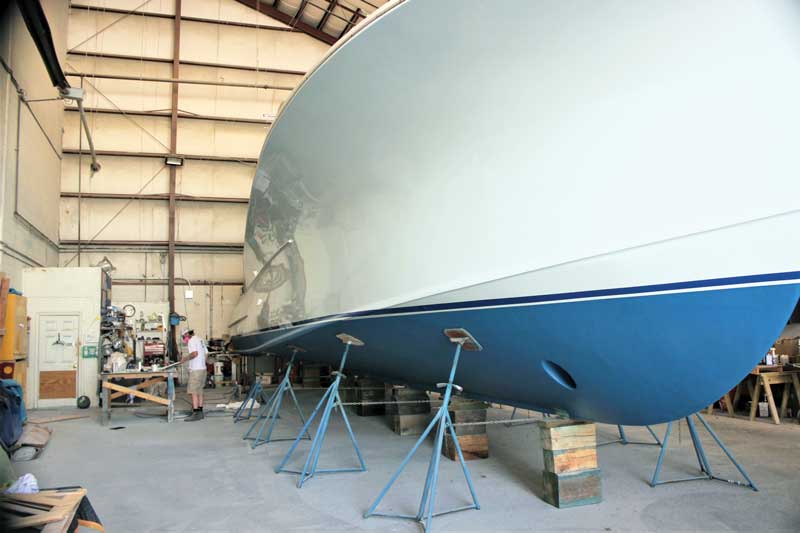 Higgins Yacht Yard and Marina in St. Michaels, MD, brings us up to date with the following report. "This past winter, we had our highest number of boats stored in the yard that we can remember—now to get everyone back in the water! We are still busy working on a few custom projects, but we have already begun bottom painting and launching a few boats. We even have a boat already on its way down to Florida! If you would like to have work done, and your boat is not already at Higgins, please call ahead to get on our schedule. We have no available annual or seasonal slips for 2021, and we do have waitlists for both. Please call or email us with you and your vessel's information to be added to the waitlist." 
The marina also got some attention this winter with freshly painted docks. "Our docks have just had a makeover with a brand-new coat of white paint and are bright! We have already welcomed our first few transient guests of the year, and have more boats scheduled. Please call soon to schedule your holiday and weekend reservations this summer. We have extremely limited availability for boats over 45 feet for: Memorial Day, Fourth of July, and Labor Day weekends. Keep in mind, we also have a three-night minimum on these holiday weekends. Events in St. Michaels are starting to be scheduled. Check out the 'Events' page on our website for a list of what has been scheduled so far."
Buster Phipps of Phipps Boat Works has a full house in his shop in Deale, MD. His crew has been working for a while on a Pearson in for major interior renovations and upgrades. Also in the shop is Miss West River, a wooden bay built, in for annual maintenance and a bottom job. Buster says he has more than enough work in the pipeline, but he has trouble finding enough trained help to get the work done. The manpower shortage is widespread in our area and has only been magnified by the Covid boating boom.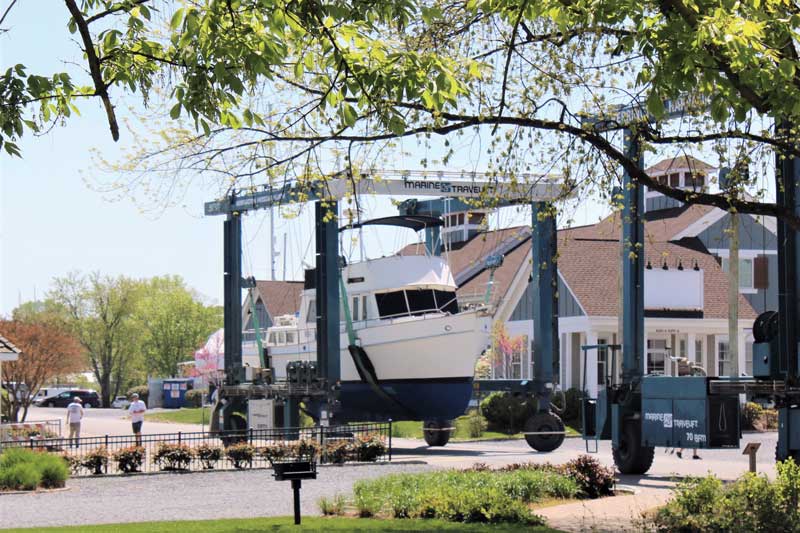 Kelly at Reuwer Boat Works in Rock Hall, MD, reports a very busy spring for the mobile service side of their business. "Mark has been on the road a lot helping people get their boats ready to go back in the water. In the shop, he has the custom workboat in the corner. He's replaced the stringers, and he's ready to put the floor down. The new transom on the Mako is complete, and he's ready to paint the floor in that one as well. And we're getting ready to paint the small Boston Whaler. We just pulled a Sea Ray in yesterday. We pulled the rub rail off. It got into a piling, and there's a pretty nasty crunch in the rear of it."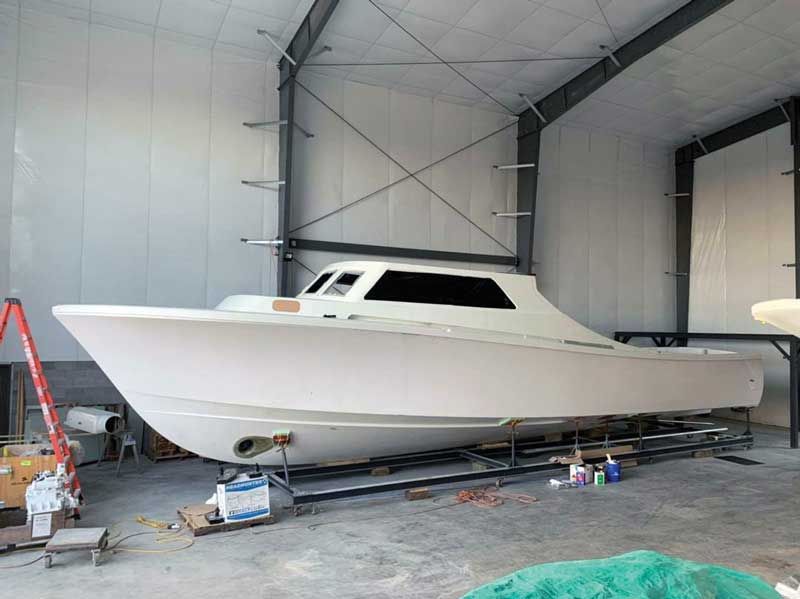 Hank Reiser and Jason Corsini of Marine Services at Pocahontas Marina in Edgewater, MD, have three boats under renovation and hope to put all three on display at this year's Antique and Classic Boat Festival. The main project is a long-term renovation of a 1952 Chris-Craft Commander sedan cruiser. The boat will be fully restored including twin 1952 Chris-Craft Marine MTL flat head six-cylinder engines with 2.5 to 1 reduction gears, identical to the original equipment on the boat.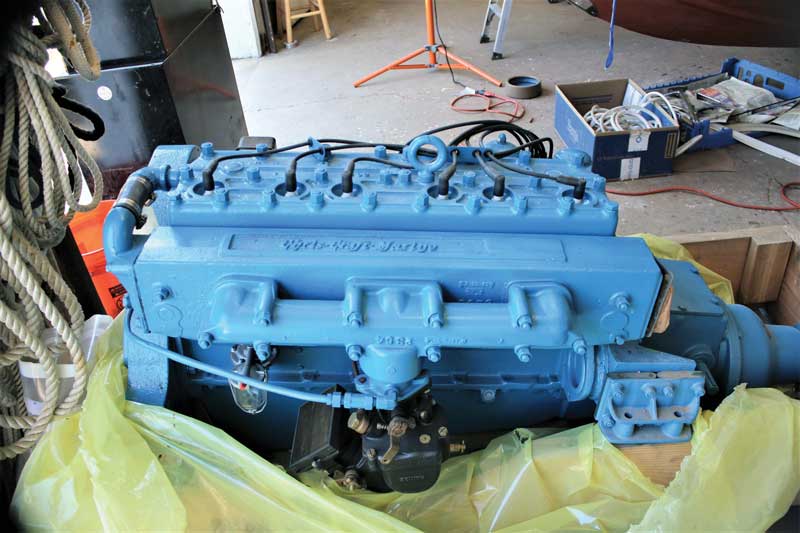 The other boats are a 1958 Lyman inboard runabout and a rare Staudacher runabout. Staudacher Boats is legendary as builders of gold medal winning racing hydroplanes, but the company also built a few top-of-the-line runabouts. This 1985 molded plywood beauty in Hank's shop is a stunning example of their craftsmanship.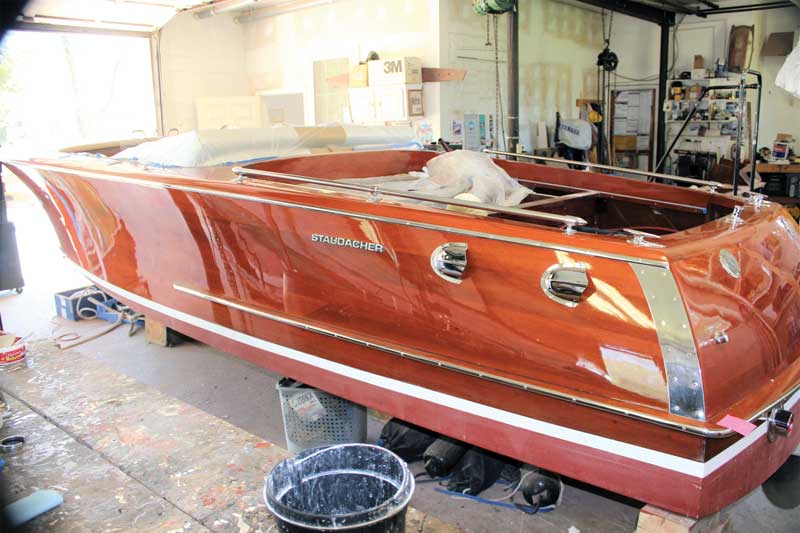 For the past few years, this column occasionally reported on progress on Worton Creek Marina's rebuilding of the Spencer 74 sportfish Afunday. It's great to be able to report the happy end of the story. The brand-new Spencer was wrecked by her delivery crew on the way to the owner in St. Lucia in January 2016. She ran up on the rocks south of Puerto Rico and ripped out major portions of her bottom. John Patnovic from Worton Creek purchased the boat in the summer of 2016 and had her transported to his marina in Chestertown, MD. John and his crew repaired, replaced, and refitted and worked their magic until she was better than new. In 2019, she was launched and after sea trials and shakedowns went to Florida to be put on the market. She was sold, and her new owner took possession this month.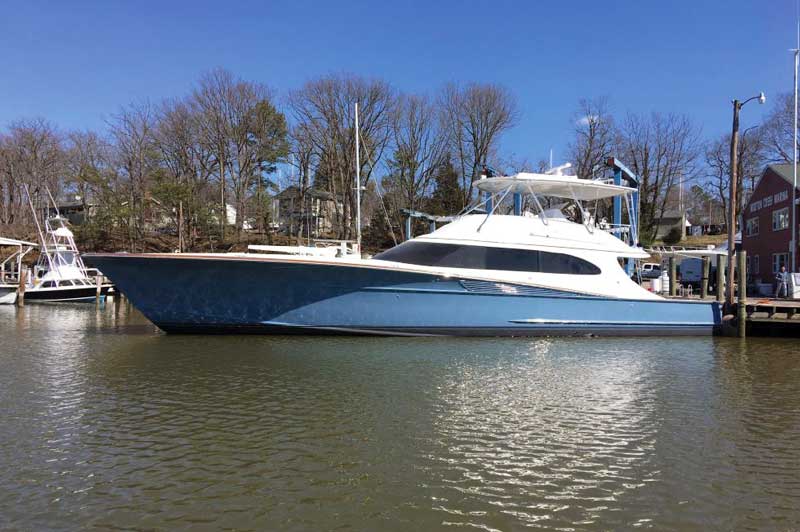 That's all for this month. Enjoy the season! 
By Captain Rick Franke