On a recent vacation on the west coast of Florida, I was driving to the beach when an electronic marquee sign caught my eye. The message was "boat fuel." Intrigued, but hopeful, I pulled in to investigate, and my hope was rewarded by learning that this full-service Shell station was indeed selling zero-percent ethanol gasoline on a retail basis. In the middle of the pump island was a smaller gas pump dedicated to ethanol-free gasoline, clearly labeled as 90 octane, ethanol-free gasoline. The price was only 60 cents per gallon higher than regular gas.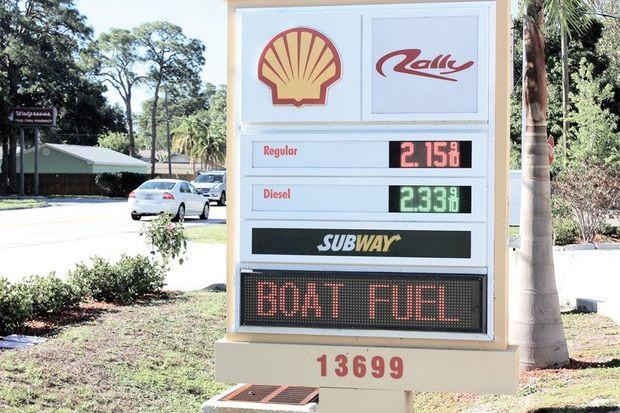 It would be redundant at this point to recapitulate the havoc that ethanol has wreaked on the marine industry, but it is important to note that the solution to the problem is here and available today.
Isobutenol
, the replacement for ethanol, has none of the original additive's bad habits, especially its affinity for absorbing water, a process called phase separation. A major marine engine manufacturer estimates that the vast majority of new engine warranty claims are actually damage by water in fuel caused by phase separation. Much work has been done by engine manufacturers and the National Marine Manufacturers Association to make this fuel, which is much safer for engines, available. Here in Chesapeake Country, our own Marine Trades Association of Maryland has worked diligently with the Maryland Comptroller's office to make it possible for local retail outlets to offer zero ethanol fuel to boaters. Ethanol-free fuel will be available for purchase in the Annapolis area this summer. The next step is up to you. Since zero ethanol fuel is still a specialty item, the price remains high. Boaters need to create a demand for it so the price will come down as a result of competition.

So, the next time you fuel up, ask for zero ethanol fuel. If your supplier does not carry it, ask him to do so, and when zero ethanol is available in your area, use it. Not only is zero ethanol fuel free from the problems caused by phase separation, but isobutenol has approximately 30 percent more energy than ethanol; so, your engine may well run better and help reduce air pollution, which after all, was what this whole business was about from the beginning! Okay, I'm down off my soapbox now, so let's take a look at what's going on in area shops.
Chad Brenner at Classic Restoration and Supply in Philadelphia, PA,
is working on a 1949 18-foot Chris-Craft Sportsman. The boat is being totally refastened. When that is complete, Chad will be giving the boat a complete refinishing job.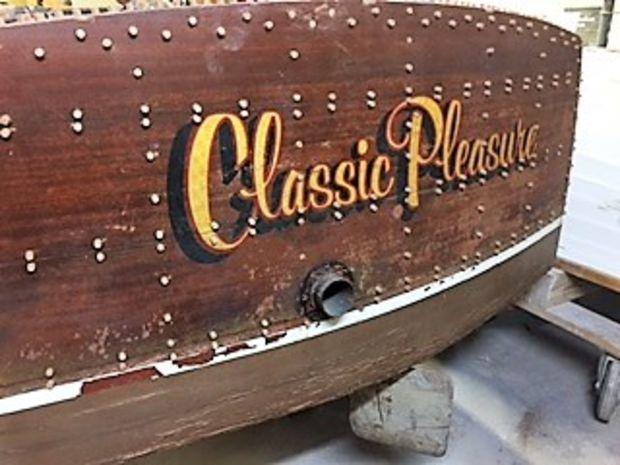 Dave Hannam with Classic Watercraft Restoration in Annapolis
reports the shop is moving forward with the re-skinning of
Victoria
, the cute little 1960 Penguin class sailboat. Dave began by removing the sides and repairing rot in the chine and gunwales. Next up, was replacement of the wood transom. This 11-foot sailboat frame is currently aligned, and templates are made for her new skins. Once the sides are done, she'll get an easy flip, and work will start on the bottom. DV8 2XS, the Garwood Speedster will be heading north at the end of June for the shows in upstate New York. She will be "cruzin" down the St. Lawrence near Alexander Bay and into the Rideau Canal to celebrate Parks Canada 150 years. And she will make some happy hour stops along the way!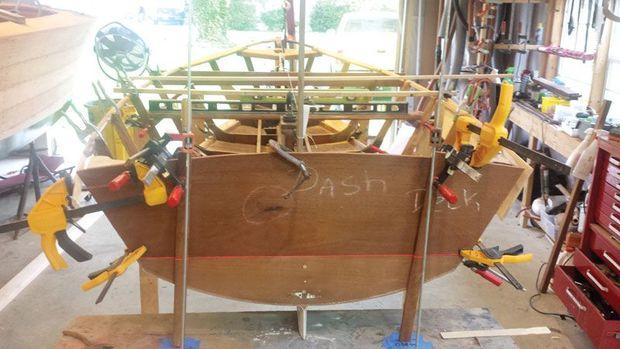 Tracy Johns brings us up to date with a report of summer maintenance underway at the Chesapeake Bay Maritime Museum (CBMM) in St. Michaels, MD.
"Shipwright James DelAguila reports that maintenance season for CBMM's floating fleet of historic vessels is once again in full swing. As is typical, work proceeds with the most-used and popular vessels, such as the 1920 buy boat
Winnie Estelle
, which received some system upgrades, as well as a fresh coat of paint all over (thanks to an array of dedicated volunteers and staff).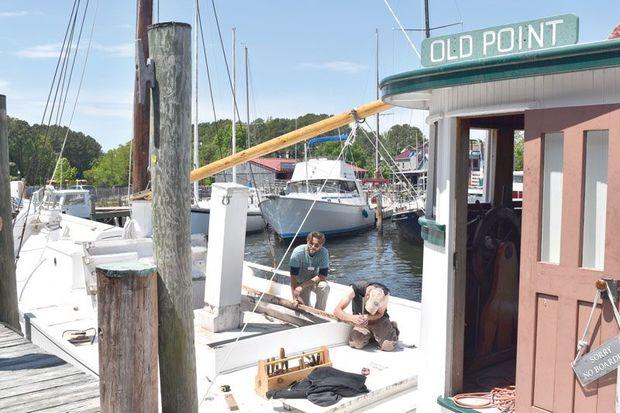 Smith Island crab scraping replica
Volunteer
 and crab dredger 
Old Point
are each receiving minor carpentry repairs and fresh coats of paint in advance of their busy seasons. Skipjack 
Rosie Parks
 is next up on the railway, where a leak in the forward staving will be eliminated, and her Cummins-powered push boat will be recommissioned. Additionally, a rebuilt transmission has been installed on draketail 
Martha
, which is in the water awaiting a final solution to her cooling system.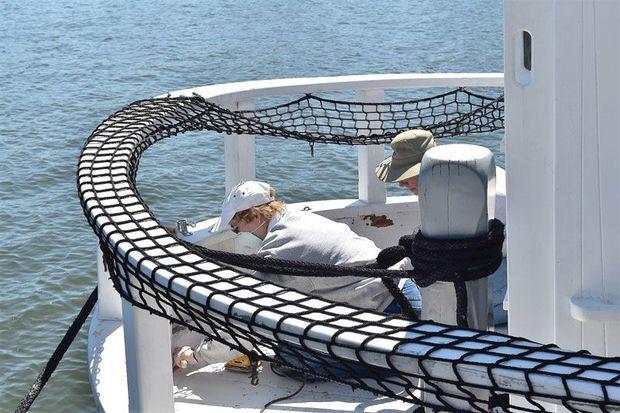 Over the summer, CBMM offers Miles River cruises aboard
Winnie Estelle
from Friday to Monday and small craft rentals of CBMM-constructed sailing vessels, rowing vessels, and wooden kayaks. From now through 2018 CBMM's guests can experience the log-hull restoration of 1889 bugeye 
Edna E. Lockwood
, with photos and more information at 
ednalockwood.org
. To learn more about CBMM or the members of its floating fleet visit
cbmm.org
."
Nate Baugher of Maritime Applied Physics Company in Baltimore, MD,
reports that construction of hull number three of the new Sagamore Baltimore Harbor water taxis is complete. She is currently in the midst of the installation of her engines. Shortly she will be moving to the paint shop. Nate reports that the policy of naming the boats for notable Baltimoreans continues. "I believe it will be called
Thurgood's Justice
."
Weaver Boatworks in Deale, MD,
has had a busy spring. After completing their Chesapeake-inspired 43-foot Bay Boat and delivering her to her owner, the shops have three more sportfishermen in the building. A 90-footer is nearly complete with interior details, lighting, and finishing touches being installed. The 80-footer's exterior is nearly complete, and the 97-footer is right side up with the interior structure just beginning.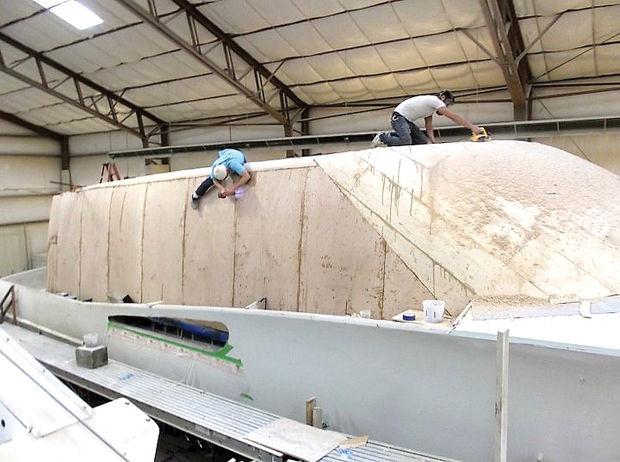 John Cook of Hollywood, MD,
has had a really busy spring working to stay on schedule with his log canoe
Eve
. "
Eve
is coming along nicely. Most of the effort this month has been building and varnishing the masts. My friend Skip Zahniser and Zahniser's Marina built the main and fore mast. My wife and I are varnishing the spars and to date have applied five coats of spar varnish. The foil shape sprits and clubs are laminated. The centerboard and rudder are laminated. I am back working on the interior structure of the canoe. The mast stations consist of a solid two-inch thwart that is cut to the camber of the deck and continuous oak sawn frames using natural growth knees. Once these are completed, the remainder of the deck knees will be installed. Then comes the strip plank white cedar deck.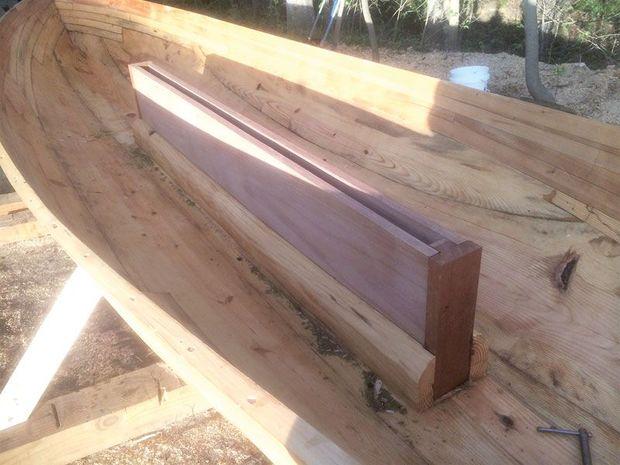 by Captain Rick Franke