After our cold and prolonged reluctant spring and our week-long monsoon rain, summer is finally here. The strange weather shortened the spring outfitting season. Of course, once the sun finally came out and the temperature started to go up, everyone wanted their boats ready, so it's a busy early season for all. 
Meg at Mathews Brothers Boats in Denton, MD, reports that they are busier than ever. Once the usual spring rush was over, they started construction on a new Eastport 32 in the shop. In addition, the next phase of the Educational Passages project has begun, and they are turning out many more of the miniature boat hulls for this worthy endeavor.  
Joe Reid of Mast and Mallet in Edgewater, MD, checked in with this report. "Our crew has all our winter stored boats in the water with fresh paint and varnish. We prepped a Thomas Point 43, 40, 38, 34, and 32 for the season. The 38 had fresh exterior paint varnish applied, and the 34 was refurbished in and out for new owners of the 20-year-old vessel. She'll be shining on the Severn River this summer. Also out the door is a 36 Jarvis Newman lobster yacht with cabin side paint and interior paint. I'm just finishing new cotton deck seams and caulked teak decks on a 50-foot Rhodes sloop. For a summer project we are restoring a Cape Dory Typhoon, to be renewed inside and out."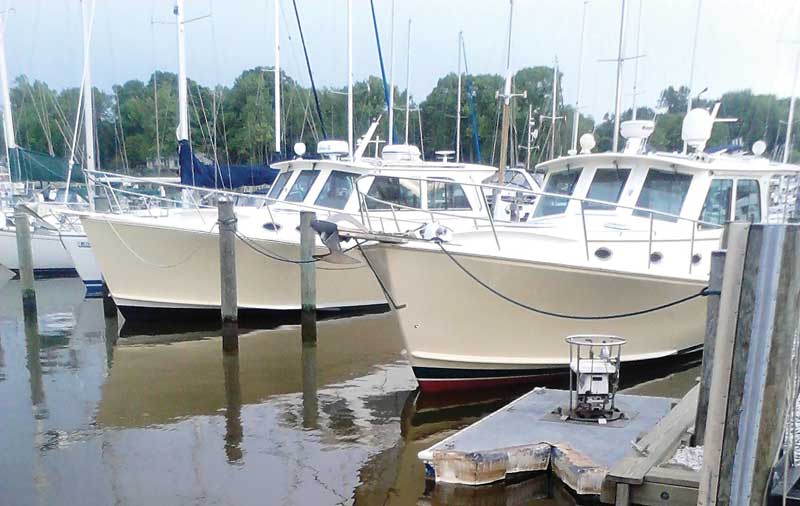 Dave Hannam with Classic Watercraft Restoration in Annapolis, MD, reports. "It's been a very busy spring with projects coming and going through the shop requesting lots of varnish and repairs. I currently uncovered a hidden gem. After carefully stripping a few layers of grime and coatings, a beautifully painted golden eagle shown through which had been hidden on the owners 1966 Boston Whaler mahogany footlocker. Fifty-five-plus years later, you can still see the hand-painted details; just amazing! Next up in the shop is a 1966 mahogany Shepard Runabout in for a complete restoration job, including all coatings, mechanical upgrades, and interior finishing for a turnkey end result. The classic 1964 Century Resorter 17 is also in its final stages of restoration for delivery in late June, and the ole speedster is slated for a couple of road trips this summer, pending the shop's agenda."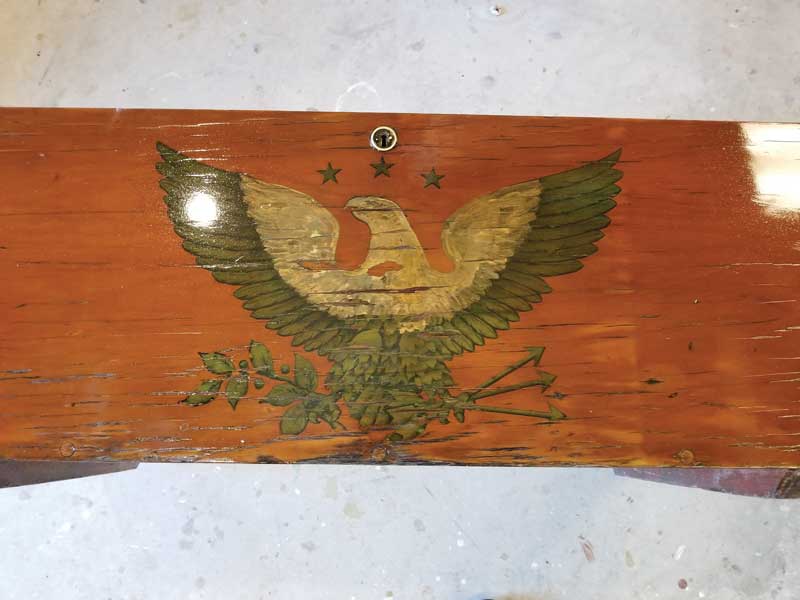 Tracy Johns of the Chesapeake Bay Maritime Museum (CBMM) in St. Michaels, MD, shares the following with us: "CBMM's Rising Tide After-School Boatbuilding students recently launched two newly built outboard skiffs. The nearly identical 17-foot, flat-bottom skiffs are based on traditional Smith Island designs. The design was simplified in some areas to make the boats easier for the youngsters to build. They are cross-planked and constructed of yellow pine. 
Nearly 30 students participated in the build, which began mid-September, 2017. Rising Tide offers free boatbuilding classes, workshops, camps, and events throughout the year for students in grades six to nine. Students in the program have been constructing the two skiffs, named Mary and Susan (for Maryland flag and blacked-eyed Susan designs painted on them) since last September.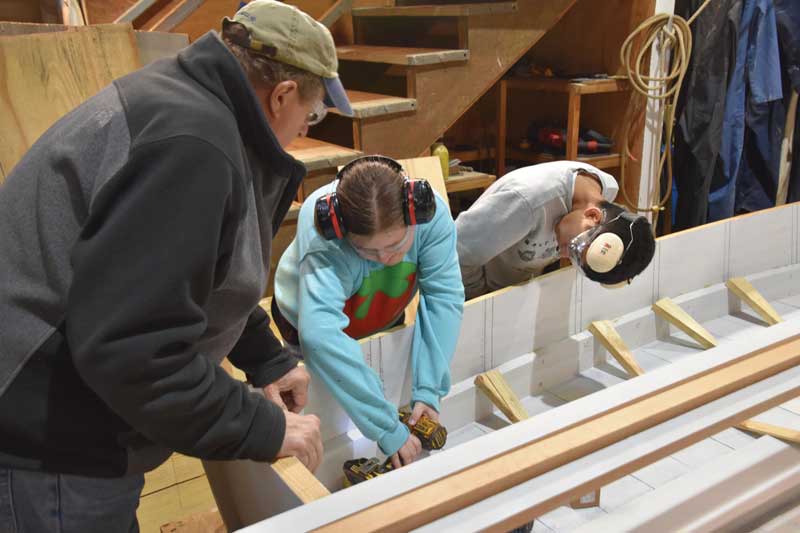 CBMM's Rising Tide students begin the program by learning the ropes of the boatshop, with an emphasis to keep themselves and others safe in a working environment. Students learn how to use a tape measure with fractional increments and practice using basic hand tools and power tools, such as a band saw and a cordless drill and driver. As they continue to gain proficiency with their tools and skills, they are challenged with increasingly complex assignments and responsibilities. Find more at cbmm.org/risingtide."
Back in the fall of 2016 we reported on the beginning of a project by John Cook of Hollywood, MD, to build a Chesapeake Log Canoe. Working largely alone, evenings and weekends, John patiently turned a block of five pine logs into a graceful and elegant 20-foot log canoe named Eve in honor of his wife, Eve Love. Late this spring the canoe was christened and launched and will soon be sailing the waters of the St. Marys River. Eve is a Tilghman Island style canoe. While most canoes were workboats, the Tilghman Island style is a relatively late development with fine lines and large sail plans designed primarily for racing. She joins a fleet of less than 20 log canoes still sailing. John hopes to rekindle interest in the log canoe building process and interest more people in building and racing these historic vessels. Log canoes are unique to the Chesapeake Bay, and their construction was probably inspired by the dugout canoes used by Native Americans when the first colonists arrived on the Bay's shores.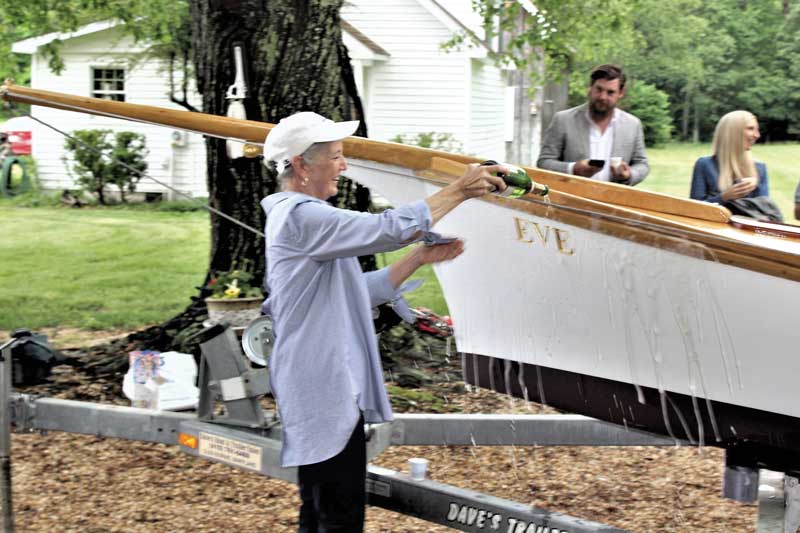 Speaking of unique forms of construction reminds me of Rionholt Once and Future Boats, located at Gwynns Island Boat Yard in Mathews County, VA. Eric Rionholt builds reproductions of traditional Chesapeake craft such as skiffs and sharpies. What makes Eric's boats unique is that they are constructed of one inch PVC panels. No wood is used, not even for trim. According to Eric, this completely does away with the problems associated with wooden boats and cuts maintenance costs to the bare minimum.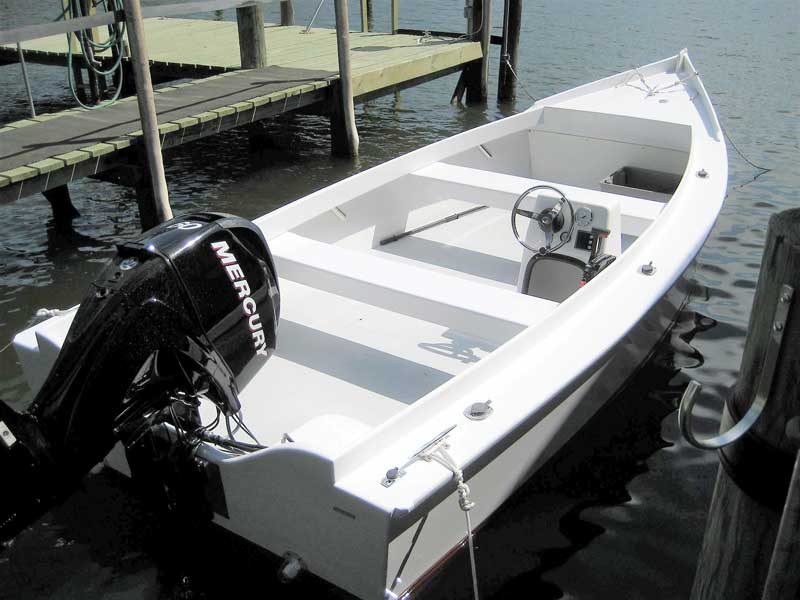 Nancy Noyes reports the challenging weather did not dampen enthusiasm for Chesapeake Light Craft (CLC) of Annapolis's annual OkoumeFest event. "While a WoodenBoat School build-your-own Sassafras Canoe class was finishing up in the workshop, we cleared out space in our CNC shop for a series of technical seminars. Boat builder and CLC alumnus Joey Schott demonstrated the finer techniques of epoxy filleting and varnishing; designer/builder/instructor Eric Schade of Shearwater Boats shared tips and tricks for perfect fiberglassing; Tony DeLima of Forte Carbon discussed the application of carbon fiber; and kayak design and building legend Nick Schade of Guillemot Kayaks showed how to build a skin-on-frame boat.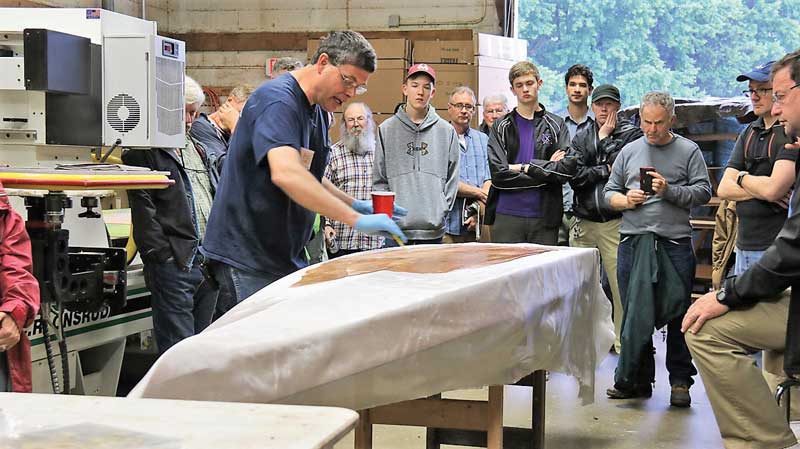 It was a great way to spend the rainy first day of our annual boatbuilders' rendezvous. Despite the rain, hundreds of people joined us the next day on the beach at Matapeake State Park to put our entire fleet of boats in the water to try them out and show off their own handsome creations. This year's winners once again demonstrated remarkable skill, craftsmanship, and artistry."
Weaver Boatworks in Tracys landing, MD, has three projects going on at the moment: the completion of interior and fitting out of the Weaver 97 DC, the completion of the second Weaver 43 Chesapeake-style boat, and new construction on a Weaver 70 TS.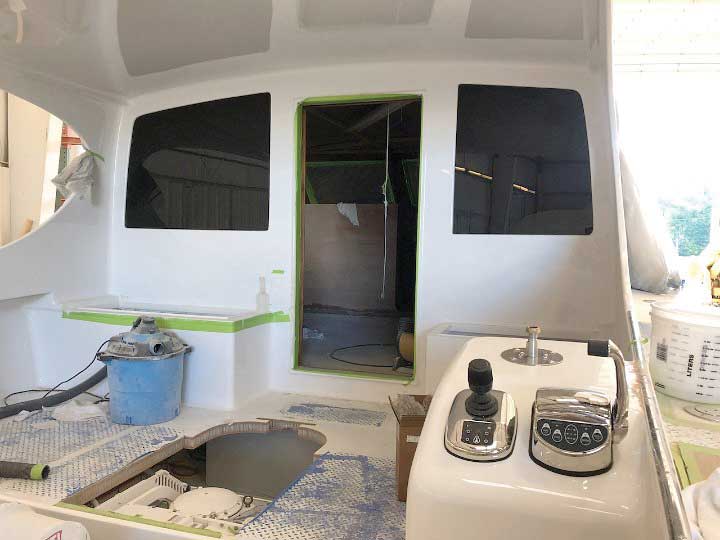 After nearly 18 months John Patnovik and his crew at Worton Creek Marina in Chestertown, MD, are getting close to completion of the rebuild and refit of the Spencer 74 Afunday. John tells the story in the marina newsletter: "We started the fiberglassing of the outer skin on the Spencer. This was another milestone in terms of the repairs and went very well. The process involved wetting out the fiberglass cloth, applying it to the hull bottom, 'bagging' it with plastic film, and then pulling a vacuum on the bag to press the fiberglass cloth and resin against the hull. We had a consultant come up from Florida to help us, and in five days we had about 90 percent of the bottom fiberglassed. We will do the final 10 percent as we finish up repairs on the keel, propeller tunnels, and rudder areas. The planning and execution of the fiberglassing was a complicated exercise, and our team accomplished it brilliantly. I am proud and grateful for the hard work expended by everyone to get it done. Our consultant, who works all over the world on projects, told me that our team is one of the best he has worked with. Well done Worton Creek Marina!"
We wish all our readers a safe and sane Fourth of July and a great boating summer. 
By Captain Rick Franke