Jeanneau may have gained its fame by building sailboats, but the company has a huge line of engine-driven cruisers and runabouts as well. The latest to join the fleet? The Velasco 37F, a flybridge model that mixes traditional comfort and seakeeping with modern styling.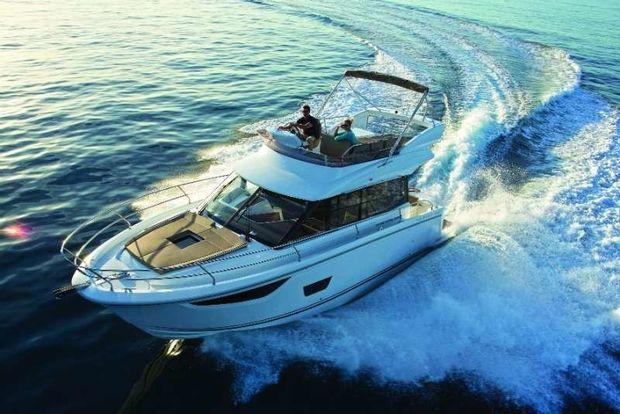 One of the first things you'll notice about the 37F is the galley-aft arrangement, which allows for a huge passenger's seat across from the helm seat (which is a double-wide). For captains who like to play a role in entertaining as they cruise, this layout can't be beat. And when the weather's good and you decide to run the boat from up on the flybridge, there's the same flexibility.
Again, there's a huge seat next to the helm (though this one also converts into a sun-lounge) and just aft, a dinette with a table and a second, larger sun-lounge. Whichever helm station you run the boat from, both you and your passengers will be greeted with 360-degree views. On the bridge that's obvious; but the salon is also ringed by windows and the entire aft bulkhead consists of glass and sliding glass doors. It's true that the move to more glass and naturally-lighted cabins has become a strong trend in modern cruisers, and we're glad for it—who wants to look at a wall of fiberglass, when there's a beautiful Bay just a few feet away?
More about that cabin, before we move on: the galley is quite extensive for a boat in this size range, with a stove-top, under-counter refrigerator, microwave, sink, and even an actual oven. On top of that, the galley sole opens up to expose a pantry-like area you can use for bulk stowage belowdecks. Though the 37F is clearly designed for weekending as opposed to long-term cruising, it can handle rather extended weekends without a problem.
Whether you're out for an overnighter or a mini-vacation, there's plenty of privacy aboard for the entire family. The forward master stateroom is quite roomy and has an entertainment system (TV, DVD player, and stereo with MP3), as well as direct access to the head. The aft cabin converts from twin berths to a full-sized single. And the dinette in the saloon provides an extra spot for sleeping, since the table drops to convert into a berth. True, there's only one head, but beyond that all of these areas of the boat can be made private from one another. And sticking with a single-head arrangement means that head is on the spacious side, with a separate shower stall.
A rather unusual touch for a flybridge boat in this class is the side cabin door. To starboard a slider opens directly to the side-deck. This is a great perk for cruising couples who may be running the boat on their own, since it allows the captain to easily step out and lend a hand with line-handling or fending, during docking or anchoring maneuvers. Those sidedecks, by the way, are deeply recessed and ringed by a high rail, so you'll always feel safe and comfortable walking to the bow. Once there, you'll find a huge sun pad with adjustable backrests.
The Velasco 37F gets its power from a pair of 300 horsepower Volvo Penta D4 inboards. Upgrading to 370 horse D6 twins is an option. Either way the drive system is traditional straight-shaft inboards. With the standard powerplants you can plan on a cruising speed in the low 20s and a top-end in the upper 20-knot range. That's not exactly spectacular by modern standards, but for a traditionally-minded cruiser, it's right on par. And fortunately, a bow thruster makes dockside handling a breeze.
This model also has a few Euro-centric features we don't always see on boats designed in the U.S. of A. That oven in the galley is one, but the 37F also has a manual bilge pump to back up the electrics, a smart addition that we just don't see very often on this side of the pond. Take a gander at the swim platform—it's absolutely huge, nearly the length of the cockpit itself.
Ready for another surprise? The base 37F can be had for around a quarter of a million dollars (or thoroughly jazzed-up for about $300K). These days, it's rather tough to find a flybridge cruiser that doesn't cost significantly more. Put all of these features and factors together, and you get a powerboat special enough to make any builder famous, even one known for its sailboats.
---
Jeanneau Velasco 37F Specifications:
LOA: 37'5"
Beam: 12'7"
Draft: 2'8"
Displacement: 18,234
Max HP: 600
Fuel Capacity: 210 GAL.
- By Lenny Rudow