Now that the holidays are behind us and winter has set in for real, the work in local boatshops has slowed somewhat to a less frantic pace. That does not mean that the seasonal slowdown indicates any lack of business. In fact, most shops report lots of work in progress and plenty on the books until the spring rush begins.
As an example, Rob Hardy of Composite Yacht in Trappe, MD, reports that two new models are coming along well. The CY 46 hull number 1 is out of the mold, and they have taken a deposit on hull number 2. The new CY 34 is well along, and if everything goes according to plan, will debut at the Annapolis Powerboat Show in the fall. In addition, Composite Yacht is in the final stages of design to build a 55-foot Chesapeake-style boat with a planned speed of 50 knots. That boat will probably be powered by twin V-12 turbo diesel Caterpillar C-32s. The model of this new boat will be ready for tank testing this month. As if all this is not enough, Rob says they are planning to break ground this winter on a new building at their main location in Trappe.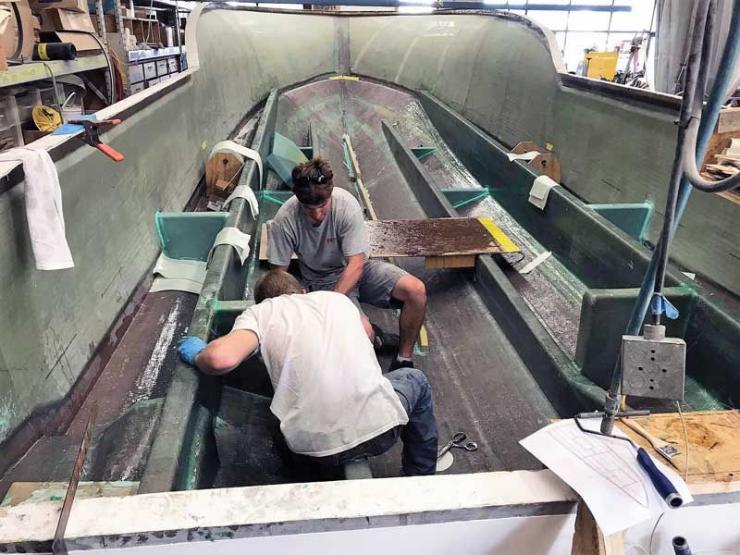 Aric Euler of Chesapeake Marine Engineering in Tracys Landing, MD, said he had three major rebuilds pending on big engines. As an example, he described an older MTU model 183 V-12 diesel in his shop from a 52-foot Jarvis Newman lobster yacht which had suffered a catastrophic overheat event. He has partially torn down the engine and surveyed the damage caused by the overheating. His verdict, confirmed by a surveyor sent from Germany by the manufacturer, was that the engine was rebuildable. He's currently waiting on the owner for a decision on rebuilding or replacing, a big decision.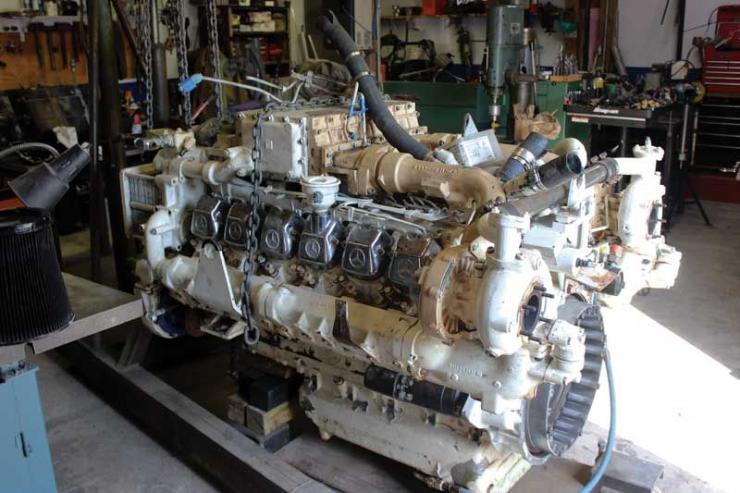 Joe Reid of Mast and Mallet in Edgewater, MD, always enthusiastic about restoration projects, has also been busy this fall. According to Joe, "It's all about wood! Since late summer through this winter, most of our work has been on wood boats. We do old fashioned painting on hulls by 'roll and tip.' One was a 27-foot Goddard powerboat; another was a 32-foot Brownell. A 1964 Chris-Craft Cavalier got painted hull sides, boot stripe, and bottom. This boat was a return customer, as I had put a new bottom on her about six years ago. Just starting to re-caulk the deck of an older wood Rhodes sloop. In for restoration work this winter is a Thomas Point 38 and 1997 Thomas Point (originally called Rabbit, by architect Mike Kaufman). Thank you friends of wood boats."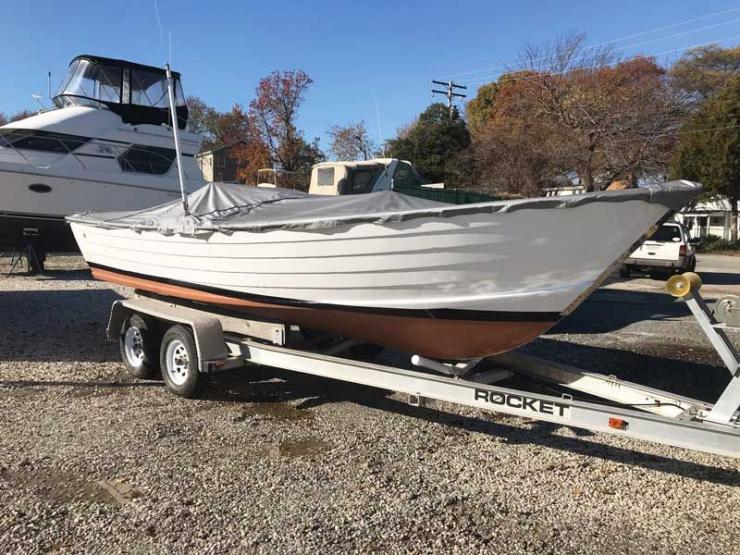 Alex Schlegel of Hartge Yacht Yard in Galesville, MD, always sends us interesting and newsy reports with occasional commentary and observations from his long career in the field: "This past month we worked on a number of fine looking boats, most of them vintage. Earlier this year we installed an electronic ignition on a Chevrolet 283 Flagship V-8 engine in a 1957 22-foot Owens Cruiser. The electronic black boxes replace the points and condenser and are used with old style coil and distributor. Over many years we have performed major work to the hull, deck, cabin, and fly bridge of a 1969 Trojan 33. We recently replaced the bronze shaft logs, as the old ones were getting tiny pits that weep a bit of seawater. This good-looking boat is powered by the original Ford 289 Interceptor V-8s. Recently, a new Back Cove 41 was here for a few commissioning details. This is an attractive modern design for sale by DeMillos Yacht Sales at Shady Oaks located near us at the head of West River. The Back Cove, made by the Maine builder Sabre Yachts, has a single engine and little exterior teak compared to the twin-engine Sabre with teak toe rails.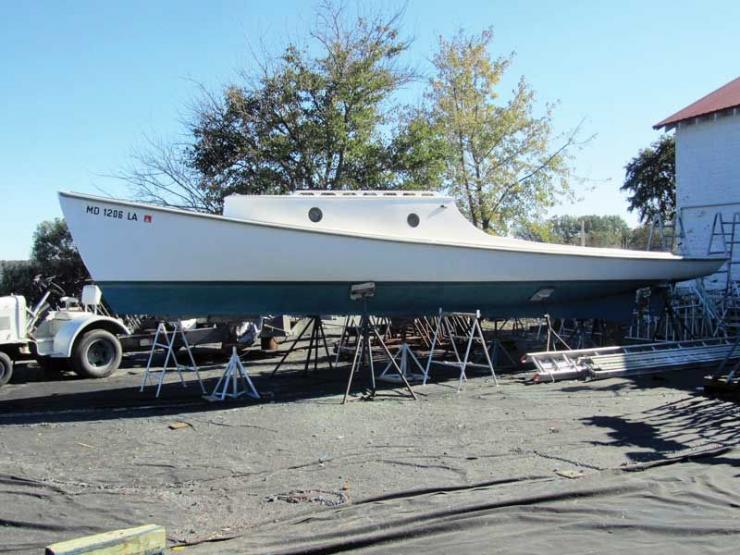 Another attractive boat in for maintenance was a 1979 Jarvis Newman 46. Designs like this, based on lobster boats, are sometimes referred to as Lobster Yachts. We replaced the hydraulic lines to the autopilot, installed a new washer and dryer, repaired trim tab electric controls, installed an XM weather radio antenna, repaired the air horn, and did maintenance to the Vacuflush. She is now on her way to the Bahamas.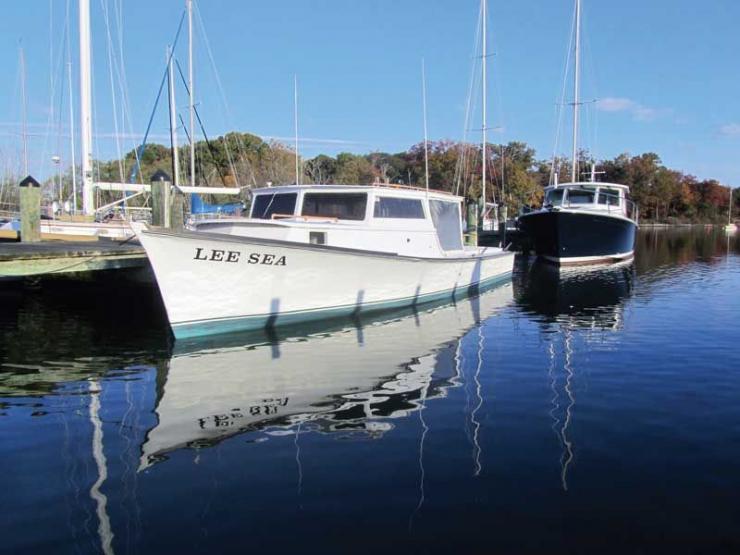 Things slow down enough in the fall that we have a little time for maintenance on Yard- and employee-owned boats. Longtime employee Wells Dixon owns a handsome Deltaville bay-built Lee Sea that was hauled for bottom painting and removal of the old keel cooler. Also, the stuffing box, lagged into the end grain of the wooden shaft log, was a source of a persistent leak, so it was replaced by a stuffing box attached to the shaft tube. My own and favorite boat, Onaway, is having paint and varnish work done. She is a 36-foot 1921 Ernest "Dick" Hartge-built, round-bottom powerboat designed by my great grandfather, Emile Alexander Hartge. Onaway is the only one of the many boats I own that I will never sell."
David Jr. sends us this update from Evans Boats in Crisfield, MD. "For the last several months we have been super busy building the new 50-foot Evans for the Chesapeake Bay Foundation. She hit the water recently and is awaiting the final stamp from the Coast Guard before she is placed in service on Tangier Island at CBF's Port Isabelle. We have begun construction on yet another 50-foot Evans and have also begun restoration on several other boats. We are glassing over an old workboat and building a cabin for a customer on this older style Evans (named a Somerset Hull)."
Bethany Ziegler of the Chesapeake Bay Maritime Museum (CBMM) in St. Michaels, MD, brings us up to date on the major restoration project underway at the museum. "Boatyard manager Michael Gorman reports the historic restoration of Edna E. Lockwood is right on schedule, with her new hull now attached to her existing topsides. The 1889 bugeye and National Historic Landmark is set to launch at CBMM's OysterFest 2018, scheduled for Saturday, October 27. Fall and winter saw a very active shipyard at CBMM, with shipwrights and apprentices going through several steps to combine the two pieces of the boat. Her outer stems were removed; shims were added to make up for hidden material behind frames; plank lines were mapped; and the hull was jacked up to its final height on the hard. Centerboard posts were milled and fastened, bronze stock was used to make custom bolts to fasten the new hull, and Edna's old hull was moved to storage, with the intention of the piece eventually being a permanent exhibition.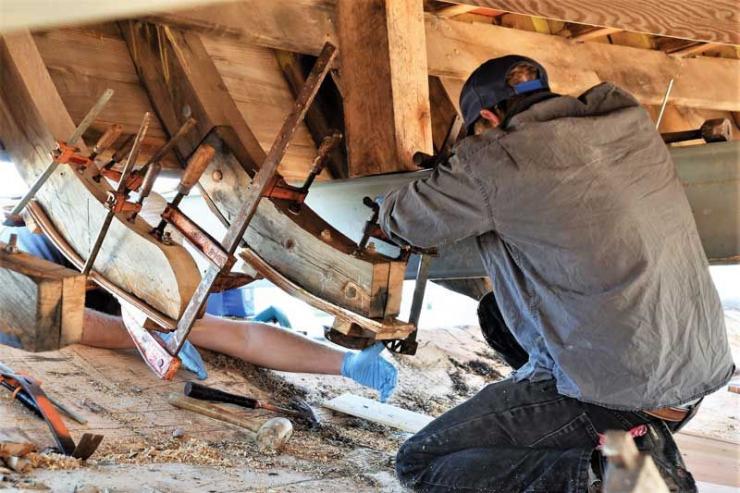 They will move on to planking next and replacing the cabin house. The restoration team is reviving CBMM's queen of the fleet Edna Lockwood by replacing her nine-log hull in adherence to the Secretary of the Interior's Standards for Historic Vessel Preservation. Shipwright apprentices working on the project are generously supported by the Seip Family Foundation and the RPM Foundation. All work takes place in full public view on CBMM's waterfront campus. To learn about the project, visit ednalockwood.org. For more on CBMM, visit cbmm.org."
John Patnovic and his crew at Worton Creek Marina in Chestertown, MD, reports in the marina's newsletter. "Work in the boat yard continues at a fast pace. We're very busy on various boat projects as well as getting boats ready to head south for the winter, getting boats winterized and stored, and getting the marina ready for winter. Work on the Spencer 74 is starting to accelerate. We have about 70 percent of the foam coring installed and have started fiber glassing the inner skin inside the boat. We are getting our ducks in a row to start the outer skin which will involve vacuum-bagging the laminate, since most of the outside skin work will involve overhead laminating. We've also started doing electrical work in the boat as well as starting the cabinet work that needs to be done as a result of the partial submersion of the boat. It's exciting to be getting into the reassembly phase of the project."
by Captain Rick Franke