As always, at the turn of the year, it's time to look back on the year just completed and look forward to plans for the winter. As we talk to builders and yard operators, two themes seem to dominate the discussion: the busy times which started with the end of the recession have continued unabated, and it continues to be hard to find qualified skilled labor. So, our New Year's wish for all of our friends is a busy winter and an improving labor market.  
Bill Judge of Judge Yachts in Denton, MD, leads off with a busy winter report. As of this writing Bill and his team have eight boats under construction or nearing completion in their busy Denton factory. They are working on two 36 Chesapeakes, one 27 Chesapeake, a 24 Chesapeake, and four 265 Center Consoles for clients as far away as Florida. With all this going on, Bill describes this winter as "crazy busy" and believes they are right on track to meet their goal of building 40 boats by the end of the year.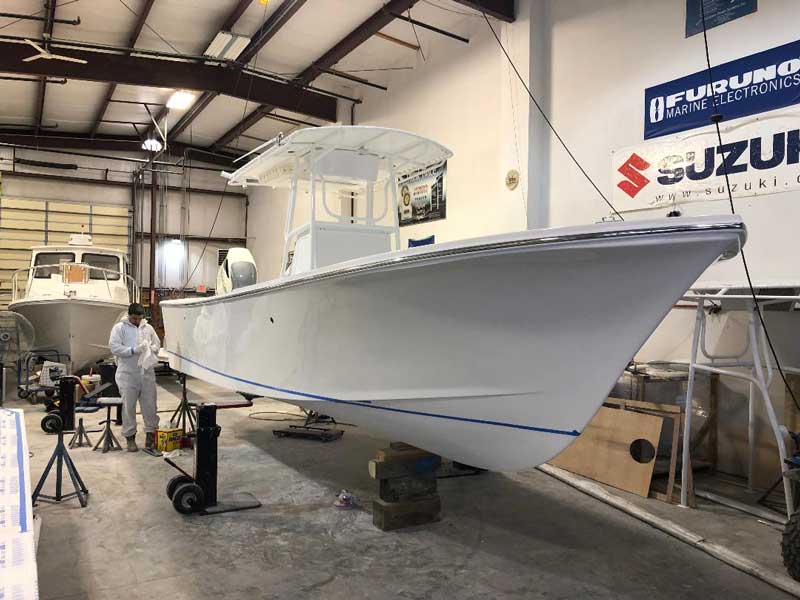 At the Chesapeake Bay Maritime Museum (CBMM) in St Michaels, MD, shipyard manager Michael Gorman reports that Delaware has been hauled out on the railway in preparation for her two-year restoration. The crew started by removing her cabin house, rudder, shaft, and prop. Ballast rocks and other loose items have also been taken out and catalogued. Photographic documentation of all the details has been started by the National Park Service's Maritime Program, and once onsite grading and site work is complete, the 1912 tugboat will be craned onto the ground and roofed over for the restoration project to fully get underway.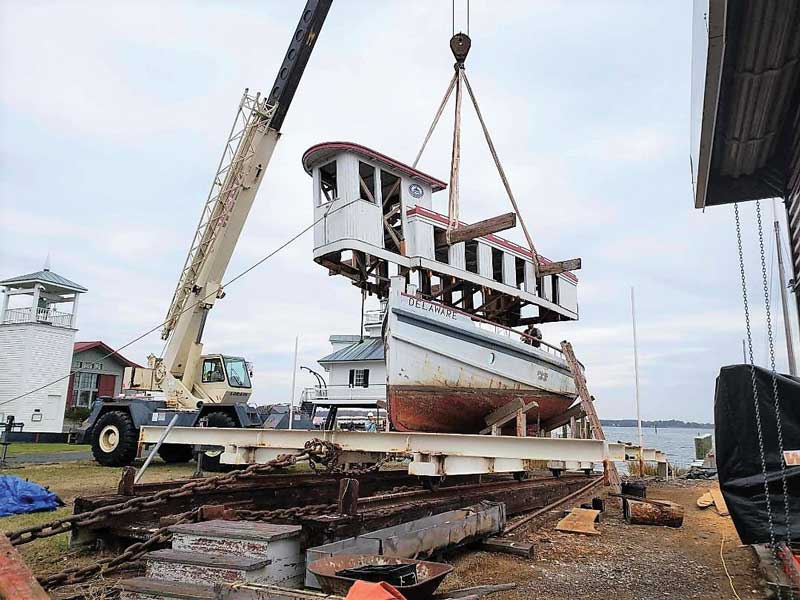 Gorman says the five-log canoe commission Caroline is also rolling along. Her center log garboard logs have already been shaped. With the logs at a more manageable size, the project has been moved under CBMM's Corn Crib, where the rest of the work will be done in full public view. CBMM has launched a new website to document its shipyard projects and allow the public to get regular updates directly from its shipwrights and apprentices. Visit cbmmshipyard.org to follow along.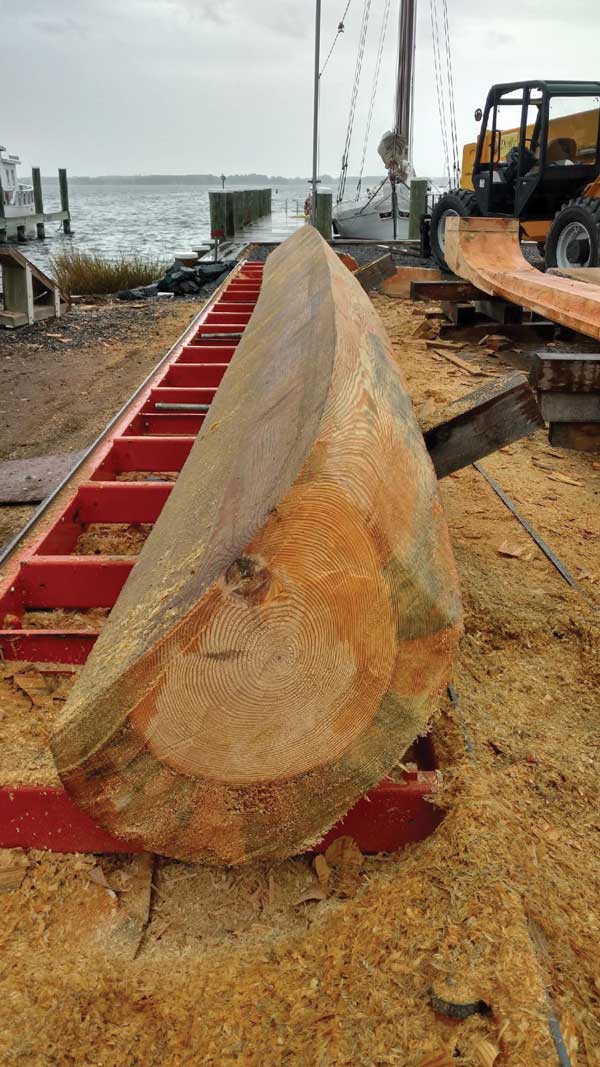 Jake Iverson of Watermark Cruises sends us this report, "Maintenance is gearing up for our USCG annual inspections for Cabaret II and Catherine Marie. All systems are working well and we are ready! We have three vessels that are due for dry dock this winter. Annapolitan II is currently out of the water in Cambridge, MD, at Yacht Maintenance Company.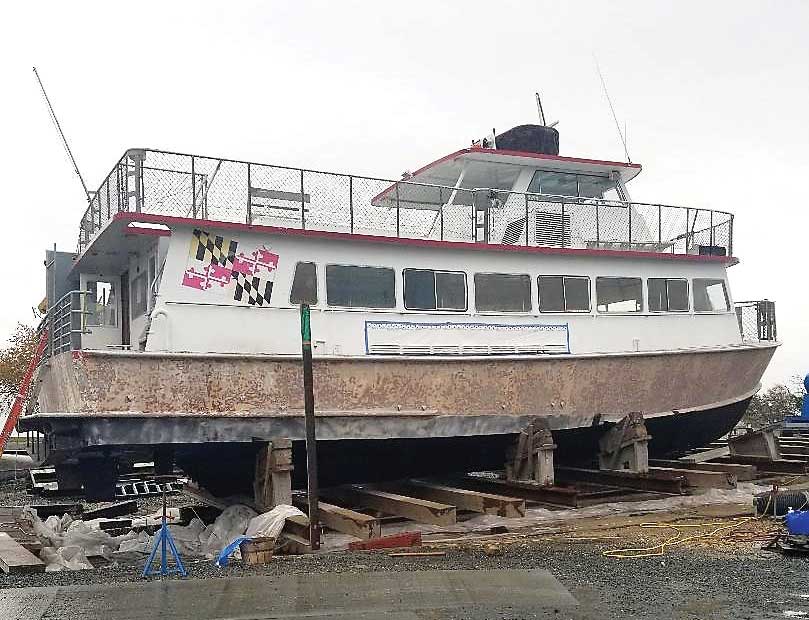 Raven was hauled out of the water on November 26 at General Ship Repair in Baltimore, MD. She looks forward to a new coat of paint on her bottom. Last but not least, Lady Sarah will be hauled once A2 is completed. She will be hauled at Yacht Maintenance Company where she will receive a new bottom and a holding tank to replace the existing microphore sewage system."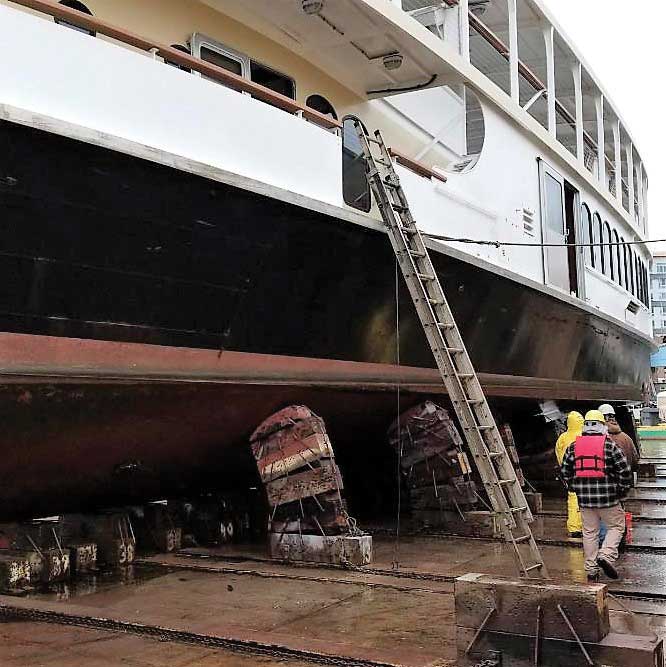 Joe Reid of Mast and Mallet in Edgewater, MD, has not been idle this winter, either, "In early December, we put the final coats of varnish on a Cape Dory Typhoon we totally restored. Her interior has been painted white. We also added a compression post under the exterior mast step to keep the cabin top from being driven down. The exterior teak trim was totally replaced; toe rails, rub rails, coamings drop boards, hatch trim, as well some new bronze hardware. Voilà—new boat. Hull, Sea green and red boot stripe. Next restoration is a 1960s 20-foot Bertram to do this winter. Also in the shop will be a 26 Wasque for cosmetic attention and wood projects."
David Low of Herrington Harbour North in Tracys Landing, MD, is also anticipating a busy winter, "We are just hauling boats out for the winter. We still have plenty of room. On December first we begin demolition of F dock. Dredging will follow, and then the installation of a floating dock. This will be a first at Herrington Harbour North. Slips will all be 40 feet long on the new F dock. The work will be completed by April 1."
Rob Hardy at Composite Yacht in Trappe, MD, reports a very busy winter ahead. The custom CY 55 is in the final design stages. A consulting firm has been hired to refine the shape of the shaft tunnels, and the laminate schedule is being finalized. The next step is to fabricate a small test hull to verify the laminate process. Rob will use a wet-bag heat-curing process, which requires the construction of an "oven" large enough to cure the 55-foot hull. The custom CY 46 is outside now, and the interior is being completed. Since this boat is for a charter company that specializes in trips for wounded veterans, it is being built to Coast Guard Specs and has some unique features including two small elevators, or lifts, for wheelchairs. On the company website Rob describes the CY 46 as, "An all new design from Composite Yacht, the new CY46 has been thoughtfully engineered to be a great rough water boat that doesn't need a ton of power to make a good turn of speed. At 46 feet by 16 feet and weighing in at 30,000 pounds, with a pair of 500 Cummins, we anticipate a cruise at 28 knots." A CY34 is also nearing completion with the bridge deck, live well, and transom and other interior elements being installed. If all this activity wasn't enough, Rob is also looking forward to breaking ground on their new building right after the first of the year.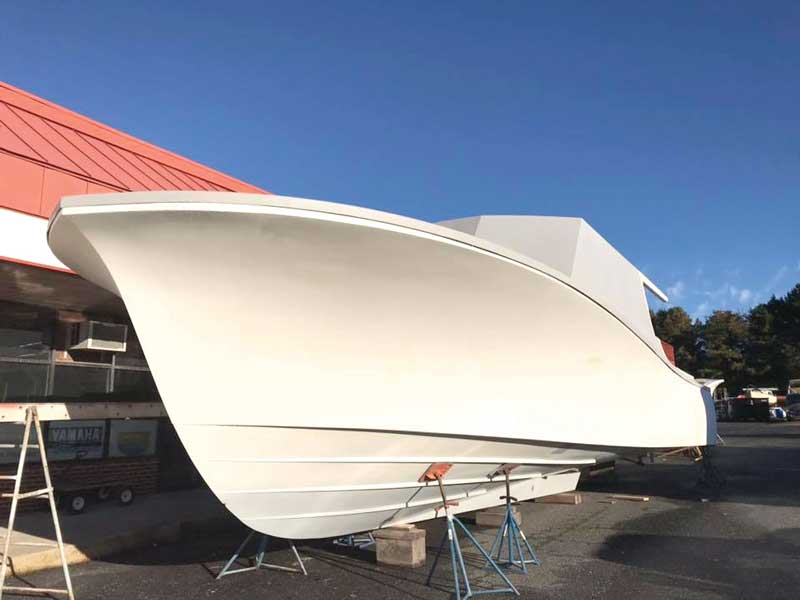 In Annapolis, MD, Chesapeake Light Craft (CLC) is staying busy as well. Nancy Noyes reports, "This fall, the CLC workshop will be humming with the WoodenBoat School's series of off-campus build-your-own-boat classes, followed by another two-week Build-your-own CLC Teardrop Camper class in November. (The CLC Classroom in Annapolis has cranked out 24 Teardrop Campers to date!) Feel free to drop in and watch the action live on the CLC shopcam at clcboats.com/shopcam. And learn more about CLC's sideline work in custom design, CNC-cutting, fabrication, and repair at clcboats.com/projects."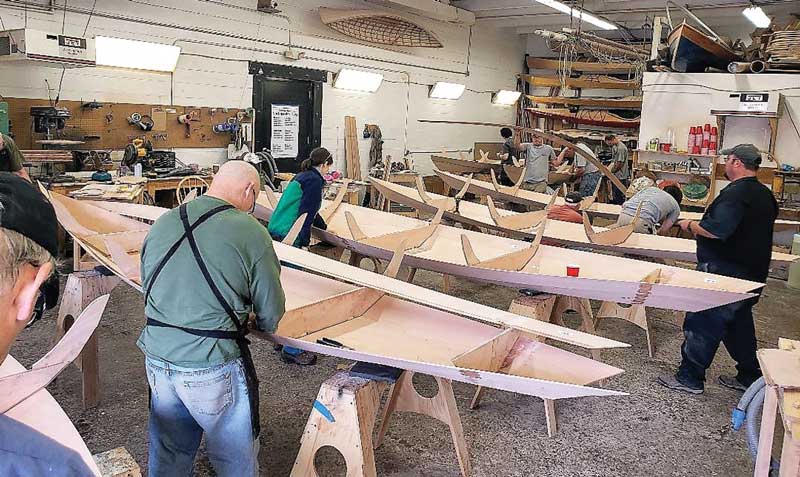 Buster Phipps of Phipps Boat Works in Deale, MD, has a full shop bay with a 2007 Beneteau 44 trawler in for a redo of all her varnish work and a 2001 Formula 280 SS getting a replacement windshield. A tree fell on the old one. Buster also is expecting a busy winter "I've got lots of work sitting out there [indicating the parking lot]. We have been busy in the winters since the recession ended. Our biggest problem is finding skilled labor to do the job."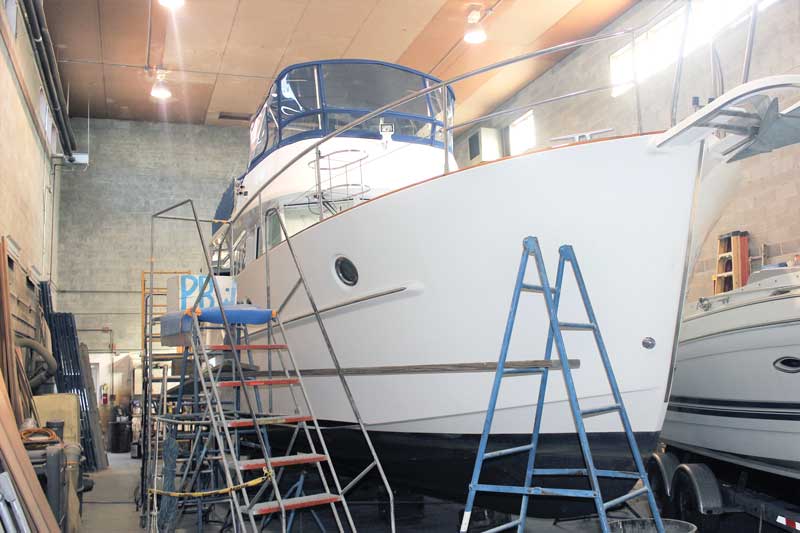 In Crisfield, MD, Evans Boats has transitioned from new and custom construction to boat repairs and restoration. To reflect this change, the shop's name has been changed to Evans Boat Repairs, Inc. They specialize in refurbishing older wooden work boats and finishing them with a high gloss fiberglass. Currently they have three in the shop: a 27-foot Evans crab scrape, 37-foot round-stern deadrise, and 42-foot box-stern deadrise. In progress are the last two custom boats being completed, an Evans 43 and Evans 25.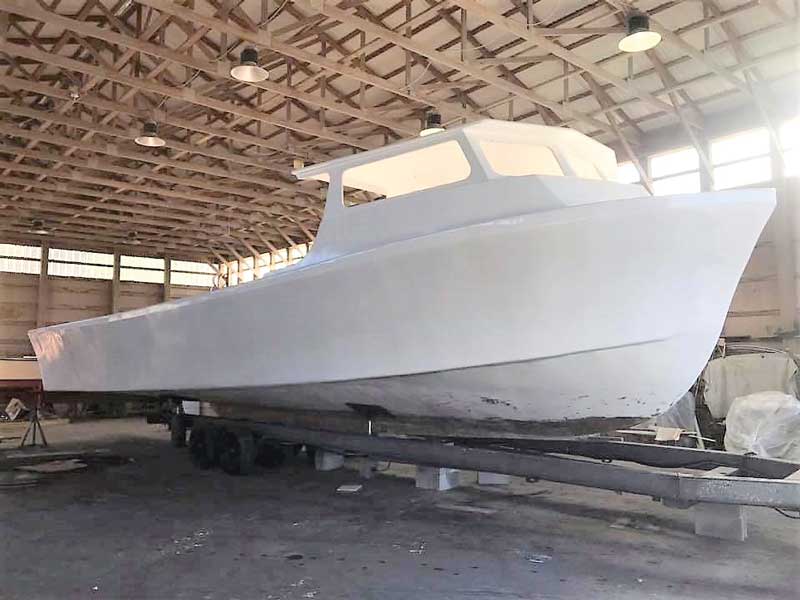 That sounds like a busy winter.
By Captain Rick Franke