"John, are you going to change the name of the boat?" As Melanie and I were in the process of buying Indian Summer, it wasn't hard to sense that the previous owners, Charlie and Lucy Iliff and Robert and Linda Burnett, really didn't want us to give her a new name. I suppose most sellers feel that way to some extent, but they really seemed to care. More later on that quandary, but first, as one has to own a boat in order to name it, why on Earth did we decide to buy a boat?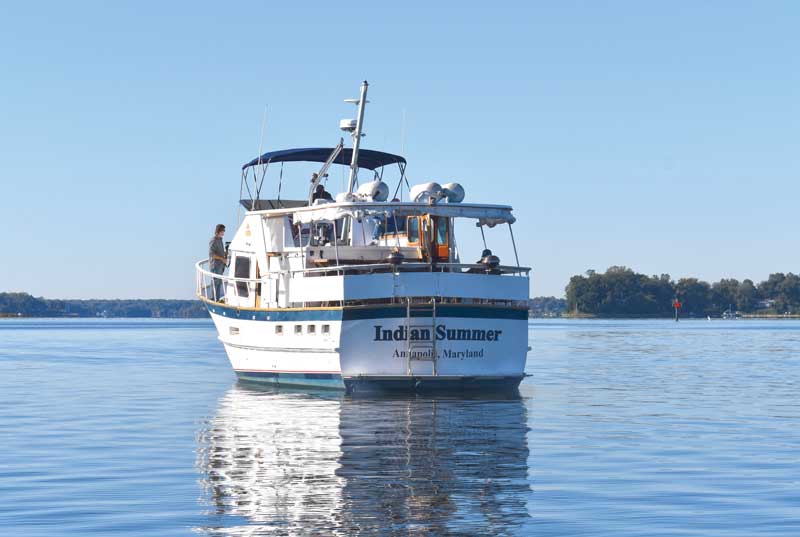 It utterly surprised me when Melanie set her sights on a little teardrop trailer for retirement. After all, having led a military lifestyle, we had already seen the better of two continents by land. And, another important point, we both still had careers in full swing. Were we both fully ready to 'hang it up?' Nevertheless, I began researching teardrop trailer alternatives. Being appreciative of good design, I loved the look of the cute little things. They weren't heavy, they were all aerodynamic, but pulling any one of them along interstates we'd already travelled up and down, and over and out, well… that just didn't excite me.
Sometime during my internet search, I don't know when, nor even why, I started looking at boats. We'd never talked about boats, nor did we ever think of owning a boat. We didn't even know anyone who owned a boat. And, other than my grandfather, who passed when I was young, and one cousin, no one in our family circle is the least bit nautical.
When I first sheepishly disclosed to Melanie that I had turned to researching 'trawlers' instead of 'trailers,' it astonished me that she didn't reject the idea outright. In keeping with her theme of retirement travel, I offered "it's like an RV, just sturdier and without wheels."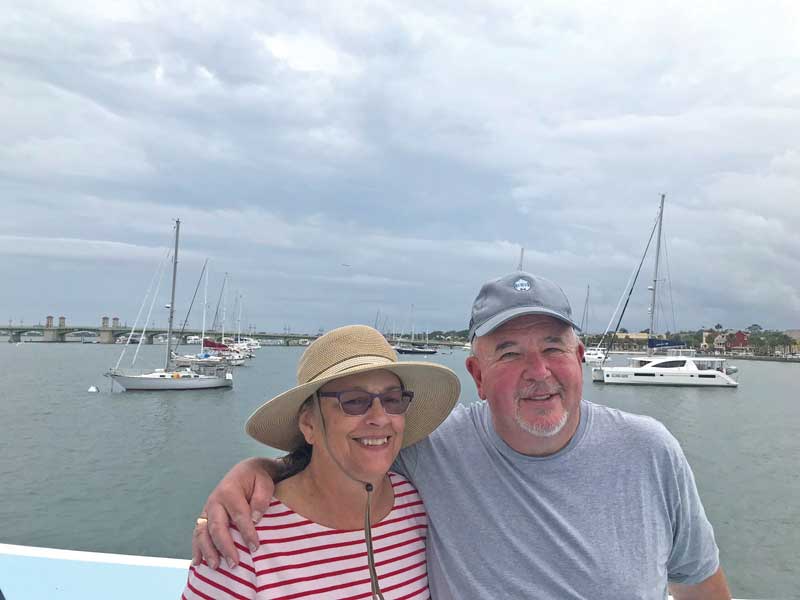 "But where we would we go?" A good point, but I was prepared. "Well, up and down the East Coast and maybe around 'the Great Loop.'"
"What's the loop?"
Well, you get the picture. Captain John Wright's "The Looper's Companion Guide" brought some clarity to the concept of looping for her, and in record time she was "onboard." As I spoke to friends and relatives about the idea, invariably, the first question was "what about Melanie?" When I replied, "oh, well, she's onboard, really, she is!" Whatever their polite reply was, the return vibe was "oh boy, he's delusional!"
Perhaps I am, perhaps we both are, but oddly, and utterly inexplicably, just months after starting the search for a cute little teardrop trailer from our home in central Ohio, and before we'd really thought seriously about retiring, let alone owning a boat, we bought Indian Summer from Charlie Iliff and Bob Burnett—a 44-foot, 24-ton behemoth.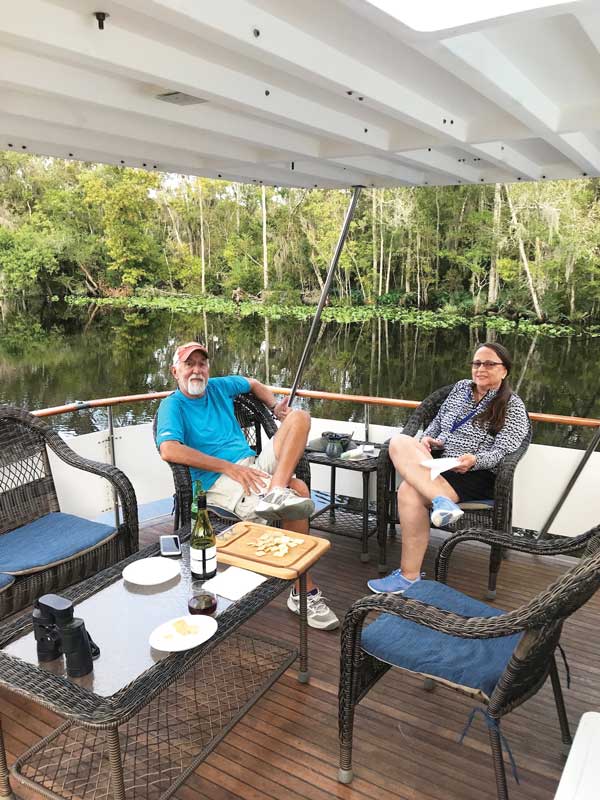 Being mindful of fuel expense, my internet research led me to the concept of cruising comfortably at or near "hull speed," and from there I focused mostly on Kady-Krogens and DeFevers, and my wallet led me to previously loved ones, even very well-loved ones, and Indian Summer was an obvious choice from there. Thirty-seven years young, she was within our budget, not just after retirement, but now! We could ease into the lifestyle and learn all about our new boat over time. Like the teardrops, she had great lines, seemed very well cared for, and, bonus of bonuses, Charlie's captain, Mike Dais, who helped show her, seemed willing to stay on. We certainly needed that, because, we knew nothing! The comfort afforded by the prospect of engaging a captain who knew the boat was something that we came back to time and again, and I suppose that's what made us decide to pull the trigger.
We've now owned Indian Summer, a DeFever 44, for six months and feel so lucky. Since we were totally new to the boating world, Mike did agree to stay on and he has been our absolutely indispensable teacher of all things nautical, introducing us to the cruising lifestyle, navigation, boat handling, boat maintenance, anchoring, boat maintenance (did I say that already?), and all the many complicated systems on a trawler that are foreign to landlubbers.
It dawned on Mike pretty quickly that, as a true novice, my many questions were posed to know, at first, "what is normal?" And then, after I'd gained that new knowledge, how has that issue been addressed on Indian Summer? Power management, cooking, engine maintenance, upkeep—what a great friend and teacher he has been!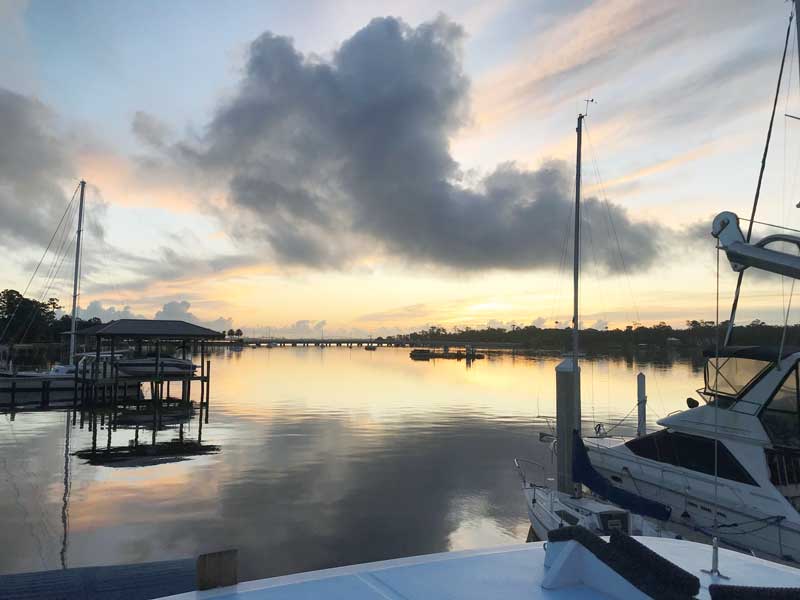 Turning back to Charlie's farewell article where he debunked the joke about the best two days of a boat owner's life (November 2019 PropTalk: The Two Best Days of Boat Ownership) well, the day we bought Indian Summer wasn't all that great for me either. I was far too anxious. Indian Summer's huge aft deck, covered entirely in teak, was both a major attraction and huge concern. I had read many a frightening forum article about leaky decks causing core problems, and though she surveyed well on that score, how could a 37-year-old teak deck not have some bad spots? For that matter, what did I not know that would come around to bite me? Even more remorseful thoughts cropped up. Three months ago, I didn't know what a trawler was, literally true, and now I'm buying one? Will I even be able to tolerate seven miles an hour?  Didn't I love the autobahn when we lived in Germany? Is Melanie really, really "onboard?" 
Well, we've now made three trips on Indian Summer and spent several weeks onboard, and I can report: No leaks! Other survey anxieties have dissipated as well, and so has my "need for speed." Most importantly, Melanie has had a blast. She is embracing with gusto exploring all the lifestyle adaptations we must take to become true liveaboards.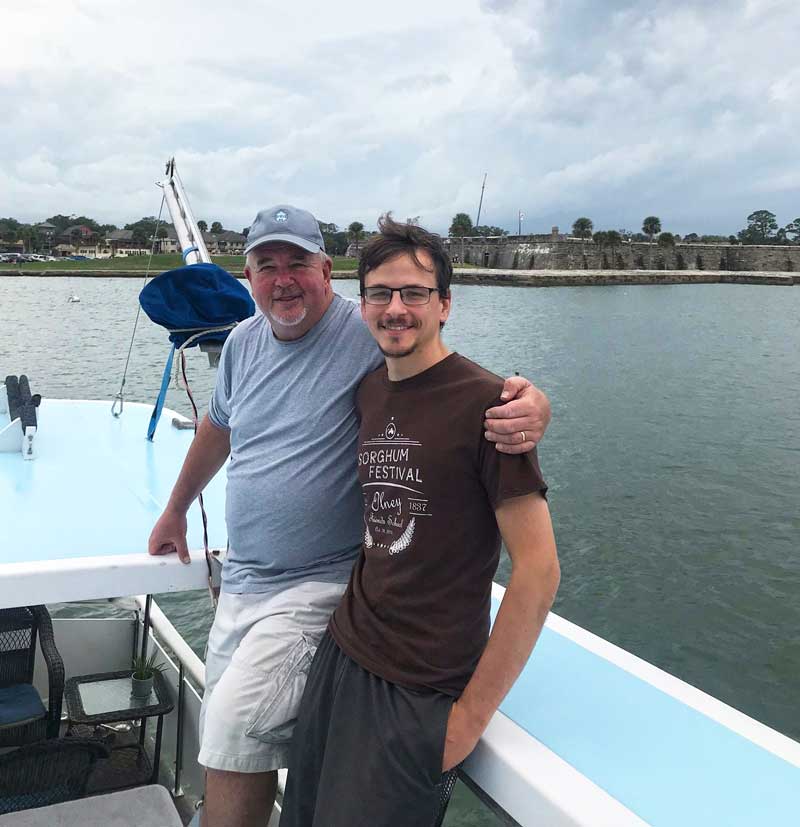 We just got back to Ohio from a fabulous little run in Indian Summer from Ortega Landing in Jacksonville, FL,where she was when we bought her, and, as it is a fabulous marina, we'll keep her there for the time being. We headed up the St John's to anchor out three nights, first in Black's Creek, then next to one of the Seven Sister's Islands, and on the return, in Doctor's Lake. We took another nice overnight trip to St. Augustine with our son Grayson along for the ride. We love the relaxing slow pace. We love being on the water. And, though many more challenges await, together, we've tackled some issues well already, and are enjoying the prospect of having to learn, face new challenges, and tackle them as a team.
Back to the boat naming issue: I had plenty of names for our new toy, but upon reflection, Indian Summer won out. It won out in no small part because we sensed, through Mike, and through reading Charlie's articles in PropTalk, the true love for the boat that they had. We are honored to carry that forward as we write our own chapter in her history. The Iliffs were kind to leave several charts of the Chesapeake onboard, and we will no doubt put them to good use. However, Mike said that with all the cruising the Iliffs and Burnetts did in Indian Summer, to his knowledge she's never been fully around the Great Loop, and never crossed over to the Bahamas.   
Well, let's just see about that… stay tuned. 
By John Hart