Chesapeake Clean-Up Week, CCA Maryland's inaugural statewide trash clean-up will run July 7-13. Saturday, July 13, CCA Maryland has three designated clean-up sites that will be run by chapters from Kent Narrows, Annapolis, and Southern Maryland, in a statewide effort to empower our youth, engage a new audience, and create a cleaner Chesapeake Bay!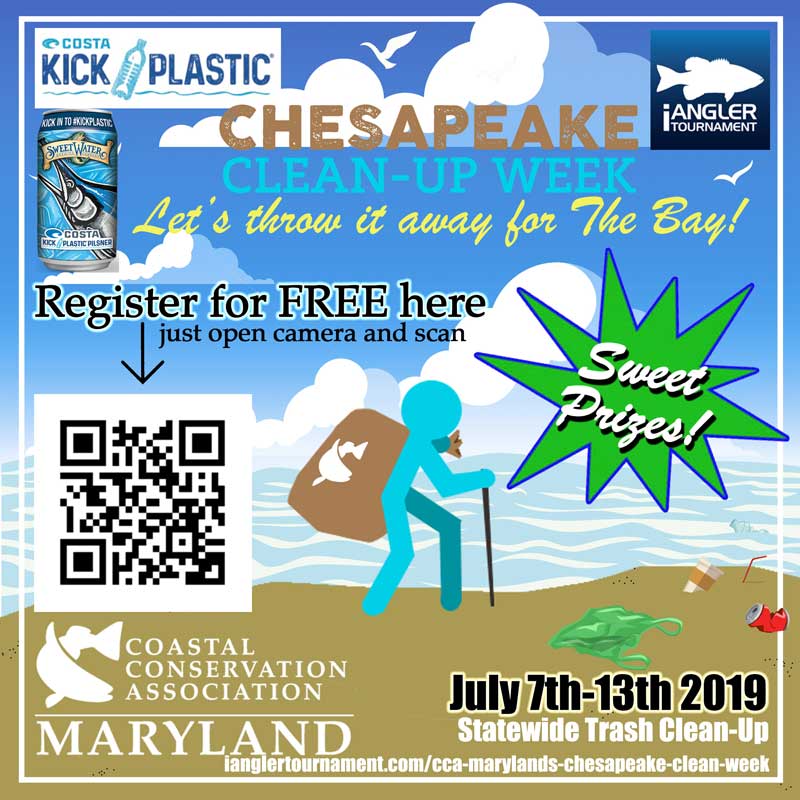 Via the technology of iAngler Tournament, a free downloadable application, CCA MD has created an opportunity for participation remotely and not just at designated sites on Saturday. Participants will download the iAngler Tournament Application, register, and log trash to be entered to win exciting prizes and help provide information to CCA Maryland on Bay pollution. Participants are also invited to the Picnic After Party awards reception at the Annapolis Maritime Museum's Ellen O. Moyer Nature Park at Back Creek from 4-7 p.m. on July 13.
Clean-Up site locations were chosen by local CCA leaders that identified areas in their communities in need of a little extra love. Their hope is that families, friends, and neighbors will join CCA efforts to renew some of our favorite places in Maryland.
Sunday, July 7, 2019 – Saturday, July 13, 2019
Participate remotely anywhere in Maryland with iAngler Tournament. Know a spot that needs cleaning up? Here's your chance to help and be entered to win cool prizes!
Saturday, July 13, 2019
Kent Narrows Chapter Site: Red Bridges, 26401 Red Bridges Road, Greensboro, MD, from 9 a.m. - 1 p.m.
Annapolis Chapter Site: Truxton Park, 273 Hilltop Lane, Annapolis, MD, from 8 a.m. - 1 p.m.
Patuxent River Chapter: Solomons Public Boat Ramp, 14195 Solomons Island Rd S, Solomons, MD, from 9 a.m. - 1 p.m.
What better time than summer to get out there and celebrate all that the Chesapeake Bay has to offer? CCA Maryland is looking forward to this opportunity to engage with volunteers, bring awareness to single-use plastic consumption, and to continue to conserve, promote, and enhance Maryland's marine resources.
Register for FREE here or download the iAngler Tournament app.