A few years ago, while preparing for his first voyage to the Caribbean, Dale MacDonald purchased a small RIB from Nic Stark at Maritime Solutions (now Annapolis Inflatables). Stark suggested a special propeller protector called a Hydro-Shield. Although MacDonald had never heard of the product, he trusted Nic implicitly and made the purchase, never imagining that in just a few short years he would own the rights to the product.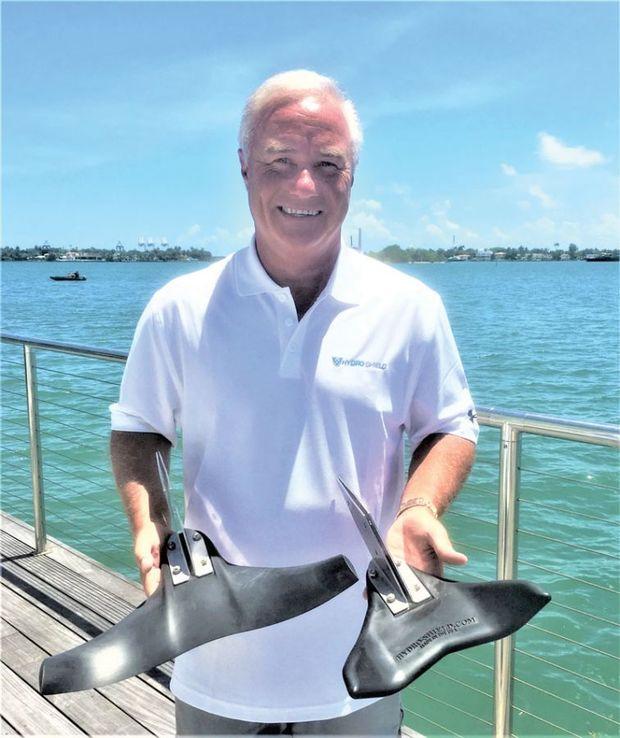 "I became a true believer in the Hydro-Shield during that first Caribbean cruise because I got to see its value first-hand," says MacDonald. "While motoring near Tortola, I hit a coral reef and tore up the back of my dinghy, but the prop was absolutely fine, thanks to the Hydro-Shield. When I replaced the damaged dinghy, I tried to get a buy a new Hydro-Shield, but I couldn't find one anywhere. Nic informed me that the original designer and manufacturer had passed away."
"In my quest to find a replacement, I tracked down the estate of the original designer and discovered that he was an engineer who created the product out of his garage in Florida, testing it by trial and error, running boats into sandbars and oyster beds. After his death, his wife had continued to run the business for a time, but then she had some of her own health challenges."
Over the course of several months, MacDonald met with the designer's family members, and together they considered different ways to get the business up and running. Eventually all agreed that MacDonald should acquire the rights to the product. About that time, MacDonald, who was nearing the end of a successful 30-plus year career in the chemical industry, decided he was ready to move to Miami and make a full-time job of designing, producing, and selling the Hydro-Shield.
"Besides protecting the propeller, Hydro-Shield helps boats get up on a plane and get in and out of shallow water. It also acts as a shock absorber and helps prevent marine life from coming in contact with the propeller. In addition, the mounting system acts as a skeg protector," says MacDonald, who has hired a design firm for utility and design enhancements. A hard launch is planned this summer at ICAST sportfishing convention in Orlando, FL. However, orders have been coming in through word-of-mouth, since sales began in January.
Learn more at hydro-shield.com or email [email protected].
---
For more product reviews, visit our Boating Gear Reviews page.