"It's a great time to buy a boat," is something heard often these days. But why? I put this question in front of an informal panel of boating experts—Bill Walczak and Chris Buchheister of Walczak Yacht Brokerage Service; Jeff Truesdale, general manager of Clarks Landing; and Jennifer Richards, of Hinckley—and they all agreed. It is a great time to buy a boat.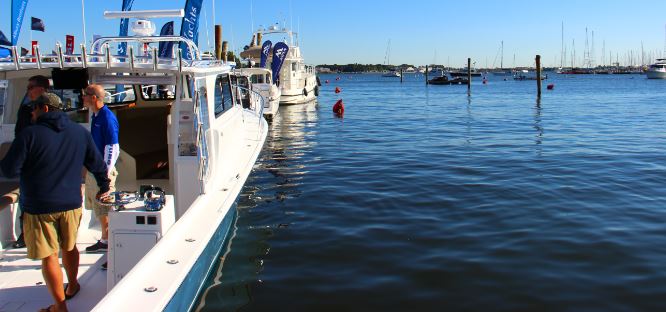 Picking the Perfect Platform. 
If you are contemplating your first boat purchase or considering replacing your existing boat, here is some food for thought on how to buy a boat. There are nearly 250,000 boats registered in the state of Maryland. Nearly three-quarters of those boats are less than 20 feet in length, trailerable, and powered by an outboard motor. The average boat owner uses his boat between 50 and 100 hours per season. After the initial purchase of the boat, the average owner spends between 15 and 25 percent of the purchase price annually on operation costs, such as fuel, insurance, dockage, maintenance, and storage. Given those sobering thoughts, as you contemplate your boat purchase, it is wise to have a clear idea of what you want your boat to do and what your expectations are.
For most of us, our first boat is used and purchased locally for cash from a private owner. Most of this process, unless a large loan is involved, is very much a do-it-yourself operation. These boats are typically found in newspaper classifieds or classified sections in boating magazines. The first step is to decide how you will use the boat. An active young family with kids may find a bowrider or similar small, fast runabout to be the ideal introduction to water sports. A fisherman may prefer a center-console. If you want to spend weekends living aboard and exploring new coves and harbors, a small cruiser or sport boat of some type will fill the bill. If you want to extend your cruising, a trawler may be the best bet. You can fish from a runabout or water ski behind a center-console, but thinking this process through will give you a clearer idea of what type of boat best suits your needs.
Requisite Research. 
Now you are ready to begin serious research. Once you have a general idea of the type and size boat you are looking for, start going to boat shows, reading the ads and boat tests in boating publications, scouring the Internet (bucnet.com and yachtworld.com are two of the most comprehensive boat sites), and talking to people who have boats like the one you would like to have. While determining what you can afford, don't forget to factor in the annual operating and maintenance costs. You are more likely to enjoy the boat if it is not a financial disaster all the time.
When you have finally located a prospective boat, look it over carefully. Always ask for a sea trial (nautical talk for a test ride) before you close the deal. Sometimes the boat that looks perfect on paper, or on the trailer, just doesn't feel right on the water, and you should keep looking. If your lender requires a condition and valuation survey, you should plan to absorb the cost of that survey. A surveyor is the nautical equivalent of a home inspector, and he or she works for you, not the seller, so listen carefully to what he has to say. If the purchase price is small enough, the cost of a survey may not be reasonable, especially in the case of a used boat purchased from a private owner. In that case, go over the boat carefully. Even though you are definitely in "buyer beware" territory with a used boat, there are many very good used boats out there awaiting new owners. Used boats often come with additional equipment and improvements added by previous owners and often will give many years of satisfactory service.
New Boat, Used Boat
If you have moved up in size to where the cost of the boat may approach what you paid for your home, you are looking at a major life purchase, and it is time to leave the do-it-yourself realm and utilize the services of a dealer or an independent broker to help you deal with the information overload. If you like a particular brand of boat, especially if you are purchasing a new one, you should talk to a local dealer. Truesdale of Clarks Landing, a Sea Ray dealer, explains some of the advantages of buying from a dealership.
He says, "We sell a lot of boats, both new and used. We have a lot invested in our operation; in our marinas and our yacht yards. We try to give the boat buyer a full experience. With our brokerage (used) boats, our service department is onsite, so we can launch the boat for the customer, sea trial the boat, haul it, and get estimates right here. We also have a finance manager here. The whole transaction can be a lot smoother, rather than driving all over trying to find a yard to haul the boat, or trying to get an estimate from an outside service guy."
Richards, from Hinckley (Naples, Florida), describes the slightly different approach her company takes. "Our boats are semi-custom, and everything we build is being built to the customer's order, which means the sales operation takes a while longer on the new boat side. There are customers on the brokerage (used) side who may take years to find the right boat. Every once in a while, you will find some people who know exactly what they want, because they rode on a friend's boat or saw a boat at a show and they want that exact boat. Matching the customer to the boat is a very personalized process."
A third option is to use an independent yacht broker. According to Walzack of Walzak Yacht Brokerage Service, "Using a broker is not for everybody. We have quite a few people who enjoy doing things themselves, and they have the time. But our typical clients are very busy in their everyday lives, and yachting is something they do for fun. They want one point man to handle the whole transaction… and one person to yell at when the boat isn't selling. They carry that broker through their whole yachting career. But, if you have all the time in the world, like doing your own tax returns, you do your own root canals, fine, you don't need a broker."
Buchheister, also of Walckzak Yacht Brokerage Service, says, "Brokers have outstanding product knowledge. We can ask questions and find out if the boats that our clients are hunting for will in fact meet their needs. If someone has their mind set on a certain boat, we know the full spectrum of boats available around the country. As part of the normal process, we'll sift through a lot of frogs before we find that one prince of a boat. A broker will find you the best value for your money, with a boat in the best condition possible and help you meet your goals."
How Much Is This Going To Cost Me?
But what about commissions—aren't those expensive? Buchheister explains, "We are paid a 10-percent commission by the seller, which is sometimes split many ways when more than one broker is involved. Our job is to match buyer and seller, much like a real estate broker, so we have a strong motivation to work with the buyer to find exactly the right boat at the right price." He further explains that most reputable brokers belong to the Yacht Brokers Association of America. "The Association sets the standards for our profession. It provides a code of ethics, standard contract forms, and other standard tools for the industry. Yachting should be fun, and a good broker can remove a lot of the hassles from buying and selling a boat," Buchheister concludes.
Once you've located the prefect boat, whether she is new, or new-to-you, you'll be faced with financing and insuring her. Check out the next issue of PropTalk, where we'll help you navigate getting the best deal on money and avoid the potential pitfalls and confusion of marine insurance.
by Capt. Rick Franke