Honda Marine announces the introduction of the Honda BF350, the newest high-power outboard motor to join its comprehensive lineup. Now the company's flagship model, the BF350 is the first Honda V8 motor to be made available commercially, offering premium power and unparalleled performance for extraordinary boating experiences.
The Honda BF350
The Honda BF350 is an all-new, high-power V8 outboard—the first Honda V8 engine available commercially—marking the newest evolution in the company's product line. The sleek, new model integrates a host of exclusive, innovative features that deliver premium power as well as unparalleled performance and operation for extraordinary boating experiences. Honda Marine sets another benchmark of engineering excellence with the BF350, making it the company's flagship model and Honda Marine's most powerful, technologically advanced outboard. The BF350 offers the target sector of 25-feet+ boats (for both pleasure and utility applications) a number of benefits including a broader, flatter torque curve; smoother power delivery throughout the engine's operating range; ergonomically designed controls; excellent fuel efficiency; and improved reliability, ease-of-use, maintenance and ownership. Whether boaters are weekend cruisers or commercial users, the all-new BF350 V8 motor delivers what every marine enthusiast wants—maximum time on the water.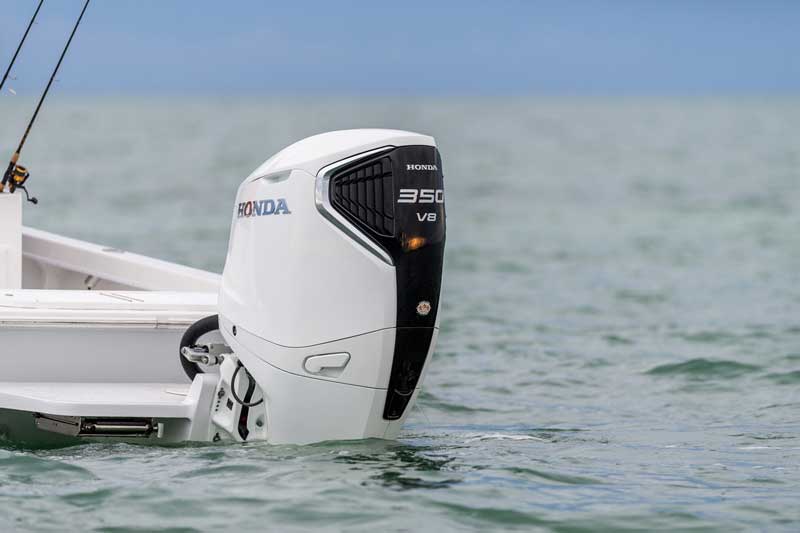 Power
The all-new Honda Marine BF350 5-liter V8 outboard delivers 350-hp at the propeller shaft while operating on 86 octane unleaded gasoline (vs. premium unleaded octane). With a rated high-power output of 350-hp at 5500 RPM, the newest Honda Marine outboard provides exciting, high-propulsion operation with smooth response and exceptionally robust torque.
Adapted from Honda automotive platforms, VTEC® (Variable Valve Timing & Lift Electronic Control) is an exclusive Honda technology incorporated into the design of the all-new BF350 outboard. Lending itself to improved power, VTEC® uses a mild cam profile to operate intake valves at low rpm and engages a high-output cam profile for higher-RPM operation. The result is a broader, flatter torque curve and the delivery of smooth power throughout the engine's operating range (across all RPMs for peak power). In addition, the BLAST™ (Boosted Low Speed Torque) System, another Honda technological advantage, dramatically improves the performance and acceleration of the BF350 by advancing ignition timing during 'hammer down' acceleration. The Engine Control Module (ECM) steps in to increase injector timing, creating a more potent air/fuel mixture. The resulting boost in available torque at low rpm contributes to a strong holeshot rapidly getting the boat up on plane.
Performance
When it comes to performance, the all-new Honda BF350, with a four-stroke, single overhead camshaft engine, boasts incredible speed, superb acceleration and excellent fuel efficiency. The model's unparalleled performance stems from the integration of another Honda exclusive innovation, Lean Burn Control technology, which automatically adjusts the air/fuel mixture according to speed and load while maximizing power throughout the acceleration range. This combination of features optimizes fuel efficiency in cruise mode (2000 to 4500 RPM). Programmed Fuel Injection (PGM-FI) also delivers precise amounts of fuel and air to each cylinder, resulting in quick starts, instant throttle response, and low fuel consumption. Further, PGM-FI employs microprocessor technology to accurately control the ignition timing during start-up and across the entire RPM range.
Further, the new Friction Reduction Technology, achieved through advanced plateau honing on the engine's cylinder bores and application of ion plating on the piston rings, also contributes to increased fuel efficiency of the motor, extending its range, resulting in fewer stops for refueling and more time to enjoy boating. This superior fuel efficiency, along with the use of 86 octane unleaded gasoline (vs. premium unleaded octane) reduces operating costs for owners, while low noise at cruising speed (especially for larger boats) provides a more pleasant experience and benefits the environment by reducing noise pollution. The engine also delivers improved high thrust at medium and high speeds, resulting in superior boat maneuverability and easier positioning and stopping of larger, heavier boats.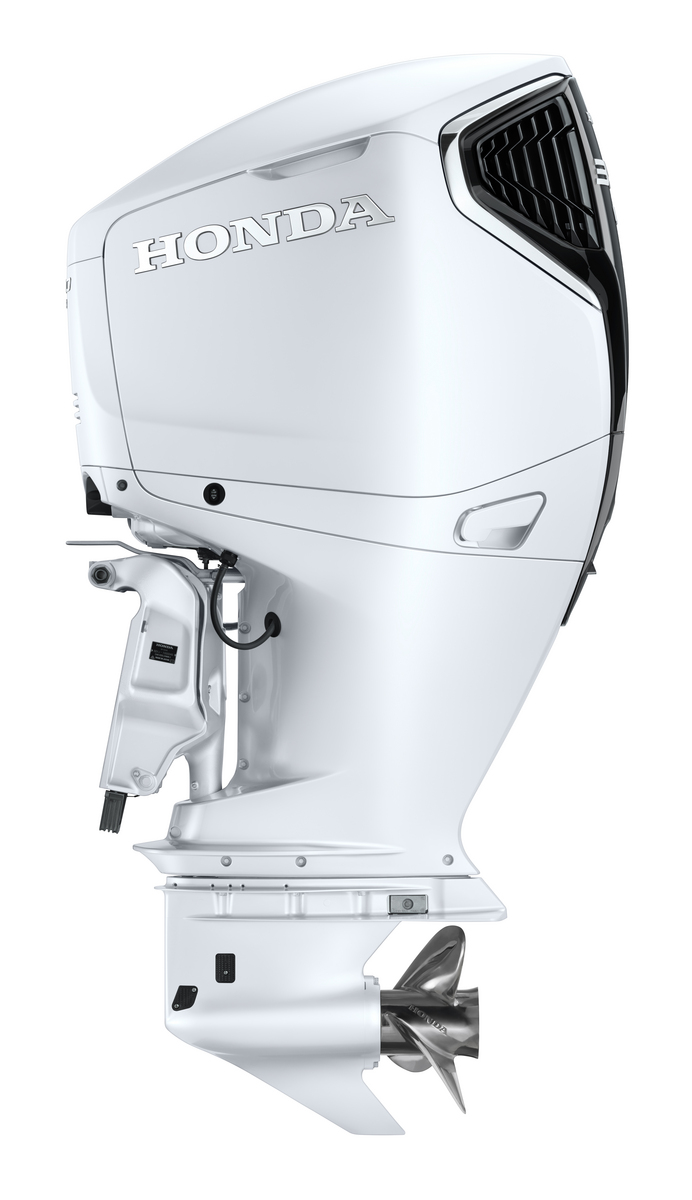 An additional complement to the outstanding performance of the BF350 outboard is the Honda Intelligent Shift & Throttle (iST®) command and control system, providing superb control and plug-and-play installation of Honda Marine products and third-party controls and devices. The iST® system enhances operability and performance, including effortless shift and throttle control; fine tuning of throttle settings at any speed; and enhanced docking and slow-speed control.
The iST system on the Honda BF350 incorporates an all-new, ergonomic, top-mount, easy-to-operate and intuitive controller with five buttons for control of functions including trim support, automatic tilt, cruise control, and trolling mode. This controller also integrates with an all-new, HD-5 multi-function gauge with menu options (in English plus six other languages) that allows customers to monitor engine parameters; set and activate auto trim limits; customize and select trim support maps; monitor cruise control settings; and view enhanced engine fault notifications. Breaking down several of these options in more detail, users can easily operate and control:
Trim Support—the trim operates automatically according to engine speed or boat speed; there are three factory presets, customizable by the user, and presets can be fine-tuned with the power trim tilt switch, adapting to changing sea conditions every time.
Automatic Tilt—two button presses produce easy tilt-up/down operation when storing or mooring; the motor design allows for a quicker full tilt, even in cold temperatures, improving the operating speed (as compared to the Honda BF250 model).
Cruise Control—allows boaters to maintain their preferred cruising speed or RPM for tow sports, while trolling for fish, taking tight turns or boating in rough water.
For multi-engine installations, iST® provides one-switch trim control on the throttle handle, trimming all engines simultaneously. Individual trim switches allow for the fine tuning of each engine's trim position. The system also provides engine speed synchronization and single-handle control of all engines while synchronized. In addition, Honda Marine multi-engine configurations equipped with iST® are compatible with the Optimus 360 by Dometic® joystick system.1
The Honda BF350 is available with an immobilizer ignition system that requires a remote transponder key to start the engine. The theft-deterrent immobilizer is designed to prevent the engine from being started without the owner's smart key. If an attempt is made to start the engine without the smart key, the immobilizer disables the engine.
The all-new Honda BF350 features high-charging performance through large power generation capacity, a maximum of 70A with AMP+® for charging at idle, exceeding the needs of typical onboard electronic devices. The Honda BF350 also is National Marine Electronics Association (NMEA) 2000® certified. This accreditation means the product has been tested to meet specific critical safety criteria and to correctly implement network management and messaging. NMEA developed this open architecture electronic protocol to allow engine data to interface with a wide variety of name brand marine electronics. In meeting this certification, the all-new BF350 model does not require the added expense of proprietary gateway devices.
Extraordinary Experiences
The Honda Marine BF350 experience is rooted not just in powerful, reliable performance but also strongly tied to harmony in motion where elegance, comfort, ease of use and peace of mind intersect—connecting people to nature for more time on the water and aligning with the Honda vision of becoming the leading marine mobility leader.
The design of the all-new Honda BF350 is one of quality and streamlined appearance, featuring a new, ultra-slim, single-line silhouette that effortlessly adapts to various hull shapes and environments, creating a stylish, yet powerful appearance for any watercraft, particularly the target sector of larger pleasure or utility boats, larger pontoons and FRP vessels. Honda's newest outboard delivers exceptionally quiet operation with low vibration while cruising for a comfortable, enjoyable, and relaxing boating experience. The new outboard's fully balanced, 60 degree offset crankshaft, built using the same crankshaft alloy and tested to the same strength specifications as the engine in the famed Acura NSX high-performance supercar, eliminates the need for counter balancing and seamlessly integrates with the 60 degree engine design and nonlinear engine mount to provide exceptional performance with minimal vibration.
On the cover and under the cowling, the all-new Honda BF350 outboard incorporates design modifications (as compared to the Honda BF250) for better reliability, durability, ease of maintenance, and accessibility:
an enhanced engine cover design, with handles located on the top and left/right sides, and an improved striker guide for easier lifting-off and replacement;
increased cover rigidity and newly designed grommets for better sealing and waterproofing;
simplified access to anodes for easier anode replacement;
the addition of an oil filter flange prevents oil dripping during oil filter removal;
a redesigned O-ring shape of the thermostat cover prevents water leaks, and new drainage piping eliminates residual water in the thermostat to prevent sticking;
an improved gearbox/gearcase shape reduces underwater friction and enhances fuel efficiency;
maintenance periods between many routine services are extended; for example, because wear-resistant iridium plugs now are standard, intervals between spark plug replacement are longer;
materials and finishes including anti-rust painting and anti-rust coating result in an improved, hardy anti-corrosion resistance; a chrome-plated, three-dimensional emblem and trim make for a premium, sleek appearance.
Availability 
In early 2024, Honda Marine will announce availability, on-sale dates, and pricing for the all-new BF350 V8 outboard. The newest Honda motor will offer an industry-leading True 5-year, non-declining factory warranty that is the same on the last day as it is on the first. Honda BF350 models will be available in two color options, Aquamarine Silver and Grand Prix White.