For the first few years after World War II boat sales increased rapidly. GIs wanted everything and had the savings. There was a pent-up demand for cars and houses and an expansion of hobby interests. But by the middle of the 1950s each boating industry manufacturer had to have a strong sales message to separate it from the competition. Sales growth was no longer automatic or predictable. New and higher-capacity engine models among the major manufacturers led the market, offering a greater variety of choices for outboard-powered boats vs. inboard boats. As higher horsepower outboard engines became available, a greater variety of boat designs naturally evolved that were both bigger and heavier. One example of this demand is reflected in the explosive growth of Evinrude in less than 20 years. At the beginning of WWII Evinrude had 1800 workers; by the end of the 1950s, the company employed more than 9000 men and women.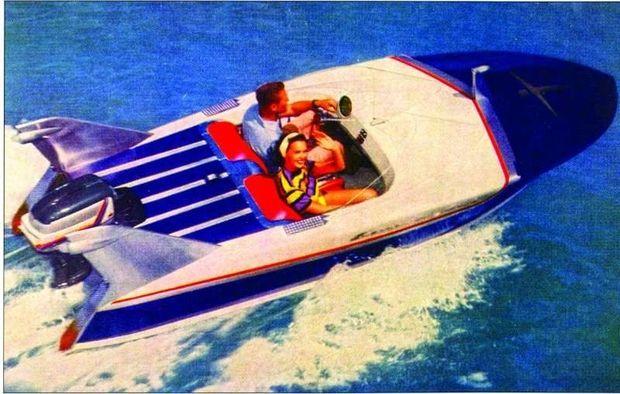 A great success story
In the early 1950s, industrial designer Brooks Stevens was charged with designing a show-stopper "Boat of the Future" specifically to sell more deluxe Lark outboards and attract boat show attendees to the Evinrude engine display booth. Evinrude's marketing strategy was to show a futuristic boat powered by an engine that the public could buy right then—giving boaters immediate access to a new era in boating—and thereby stimulating sales of the new outboard. Stevens had already been the longtime engine stylist for the Evinrude line of engines when Ole Evinrude asked him to help with this marketing strategy. And Stevens "knocked it out of the park" with his new boat design, the Evinrude Lark Boat, which became the style leader for boaters in 1956. The Lark Boat had a "wow" impact that accomplished the goal, attracting large crowds to the Evinrude display when it debuted at the premier New York Boat Show, and consistently attracting similar attention in Chicago and at the other major annual shows. The Lark Boat created such a "gotta have it" demand among boaters that 38 boat builders asked for and received boat plans from Evinrude to make a production boat from the design. But replicating Stevens's boat wasn't as easy as these boat builders had hoped—it was simply too expensive and involved to produce for a mass market. As it turned out, only two copies of the original concept design were built for the boat shows. Interest among the other boat builders eventually fizzled out. One boat builder created less than a handful of lesser-grade production copies that just didn't have that "wow" impact. But Evinrude's marketing strategy worked exceptionally well nonetheless. His introduction of a new, top-of-the-line outboard engine produced a bang of new engine sales and set the high mark in power boat design during the '50s. How successful was this Holy Grail of 50's boating? Just check the number of magazine covers that featured it back then. [gallery type="square" link="file" size="large" ids="12447,12446"]
Bring the Lark Boat back to life
Since both of the original Evinrude Lark Boats are now lost, what you see here is an outstanding re-creation of the original Lark Boat by boat builder/restorer Gary MacNorious. Her owner, Shannon Steele, now carries the torch and displays her Lark Boat at classic boat shows. This reproduction began as a 1950s era 16-foot wooden boat. It was then cut and modified with more wood, fiberglass, metal fins, and trim added as accents to create the Brooks Stevens design. No detail was missed in recreating this special boat. For example, the wood transom was moved forward a foot to create the correct transom look. A new opulent interior was added to replicate the original style, and the windscreen is pure custom. MacNorious's genius is reflected in how he scaled and fabricated all the various parts and details of this boat with only some old photos as a reference. The fins were formed progressively over an English wheel by an outside automotive classic car metal restoration specialist using a fiberglass mold hand-made by the builder himself for the desired shape. The dramatic fins are made up of many smaller pieces of aluminum welded together and then shaped to that mold's requirements. Once the aluminum was welded and formed, the mold was junked. MacNorious then added the working taillights, grills and trim. He had the task of polishing all of this to a show-car shine. All the lights in the fins work. The lights are LED and shine brightly at night, along with the LED light at the windscreen.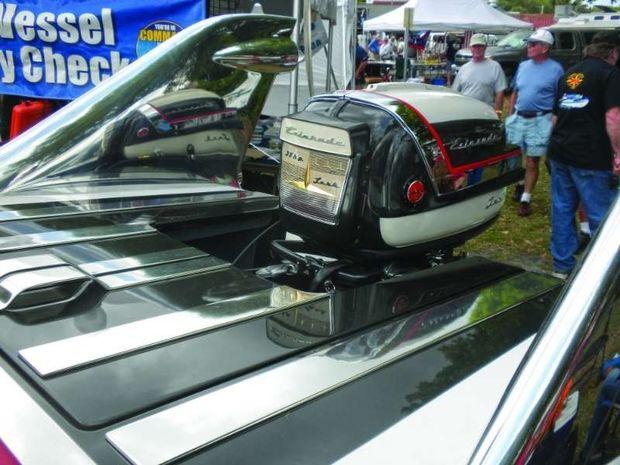 The other metal pieces were re-created in a variety of ways. MacNorious patterned the stainless steel script and then cut it out of sheet metal stock with a water jet. The step pads are also metal and custom to this boat. We are fortunate to have it available for our appreciation and enjoyment 60 years after the original was displayed. Now for the surprise of this boat. Some of the shiny-looking "chrome" metal trim is actually fiberglass painted with a special process to mimic chrome—it even looks like a perfect chrome trim when one stands close-up to the boat. This finish was produced by a company called Coat of Chrome.
Here's what Coat of Chrome says:
"This finish is
NOT a spray paint or vacuum metalizing
. This finish is the combination of special catalyzed base coatings; a
silver metal deposition
(similar to the material used in mirrors) and a protective acrylic urethane top coat (similar to the industrial clear coat on your car). The combined layers result in a durable, non-peeling coating that will not flake or yellow." Coat of Chrome really stands out as a finishing vendor in using this process. The paint finish on Shannon's Lark Boat is also first-class, worthy of a showboat. Black and other dark colors typically show structural and finish imperfections more than any other color. One only needs to look at this boat to imagine the hours of sanding, buffing, and polishing that went into building this boat show-quality winning finish. It is made up of high-build primer, a base coat, and then a clear coat over that. The mastery of this boat's finish was mostly due to the builder's hands and his skilled eye, both developed after years in the auto- and marine-finishing industries. The interior vinyl, pattern, stitching, and support pieces are also all made from scratch. The bold color and big harlequin pattern is as Stevens penned it. The steering wheel and control mounting are also unique to this boat. Remember, it was designed to stop traffic and draw attention.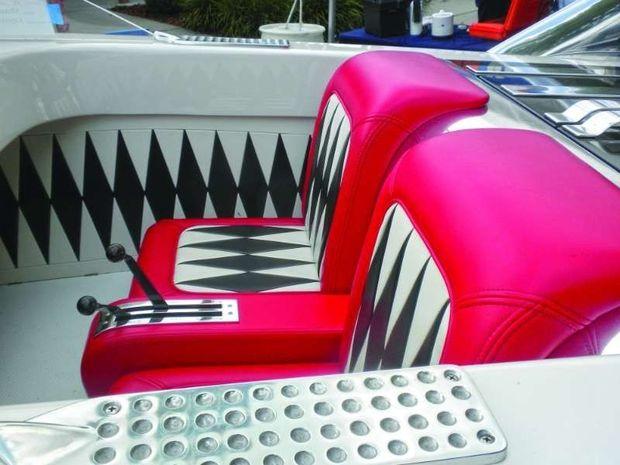 Taking the promotional aspect even further—to create excitement around the new Evinrude Lark outboard motor—the Lark Boat's colors also mimic the engine's colors. She is a two-cylinder, electric-start engine featuring what was then a fairly new design for a remote fuel tank with F-N-R shifting. This particular engine has an original NOS engine cover. Take a look at this engine in a boat show—you'll find it hard to believe, but it is the original finish on this outboard motor's powerhead cover. Shannon's Lark Boat and Motor are displayed at boat shows on a period-correct Tee Nee trailer. To and from the shows, she is carried in a motor home designed to carry the B-M-T inside the main trailer, but separate from the living area. This style of motor home is called a "Toy Hauler." Shannon Steele of the Crystal River area of Florida is the owner of this rig and has spent the past year showing her pride and joy at Classic Boat Shows from Texas to Florida, including our own Chesapeake Bay Antique and Classic Boat Show in June at St. Michaels. Now she wants to go cruising using her very special Evinrude Lark Boat.
by Chris "Seabuddy" Brown