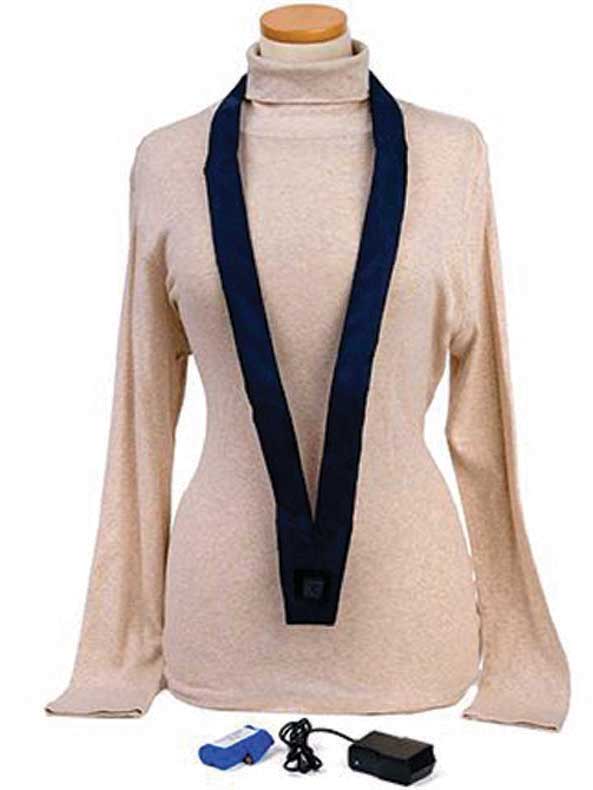 We recently had the opportunity to test out the Thermal Hoop by Bodywarmer—a nifty wearable to keep you warm in the winter months, or even just out on the water on a chilly spring day. The Thermal Hoop is just like it sounds in that you slip the hoop over your head and wear it around your neck under a jacket.
There are three temperature settings depending on how warm you wish to be: blue for moderately warm, white for warmer, and red for warmest. The Thermal Hoop warms up in minutes and can keep you warm for hours, depending on which temperature setting it's on. At the warmest setting, the charge will last for approximately two hours, three to three-and-a-half hours on the medium setting, and approximately four to four-and-a-half hours on the lowest or blue setting.
I tested the Thermal Hoop on a late spring boat ride; it was evening and pretty gusty out, so even though it was May, I was certainly glad to have some extra warmth. I found that you really need to wear a jacket over the Thermal Hoop, which makes sense, or all of that precious heat will escape. I also noticed that it works best if you wear it over a light layer underneath your jacket. When I initially tested it, I was wearing a bulky sweater with the Thermal Hoop on top and found that it took longer to feel the benefits of the heat. When I wore it over a thinner long sleeve shirt and then added more layers on top, I was toasty on the boat all evening.
The Thermal Hoop 380 retails for $59.95, with the guarantee that you can try it for 30 days and if it doesn't keep you warm, you can return for a full refund. Learn more at bodywarmer.com. ~K.J.