We recently had the opportunity to test out the CGear Sandlite Sand-Free Mat, a beach mat that claims to offer a sand-free experience. It did not disappoint.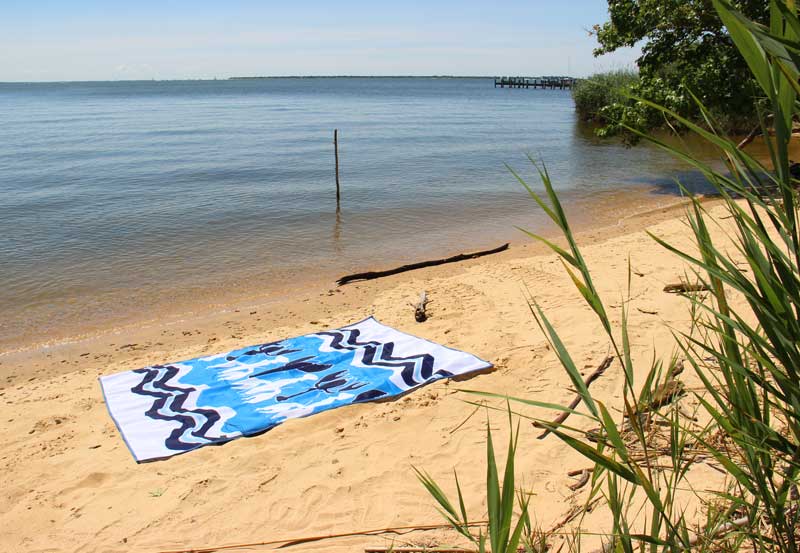 CGear products are made with a patented dual layer design. The technology was originally developed for helicopters to prevent dust clouds and wayward grit during landing. Now it has been adapted for everyday use. All it takes is a quick sweep of the hand and unwelcome sand filters through two layers of durable, water-resistant weave. A second bottom layer prevents all the dirt and dust from resurfacing. Each layer is designed to allow particles of sand, dirt, and dust to fall through the fabric rather than sit on its surface.
Because the layers are staggered, sand can only go one way (down), not back up. And because CGear use polyethylene, sand doesn't stick to the material. It falls through naturally and is quickly removed with the swipe of a hand. The fabric is soft to the touch, water resistant, UV resistant, and made from a mold-free material.
Another bonus—your new mat won't turn into a sail at the beach thanks to its patented weave which allows air to pass through the layers, alleviating the need for weights or tie-downs. When you're finished for the day, each mat features a convenient carrying handle and elastic loop closure which keeps them rolled tightly and securely.
I was able to test out the Sand-Free mat during a few recent island excursions in the Upper Bay. I left my mat on the beach while exploring and it stayed put despite a gusty breeze. I was impressed with how lightweight it was for the size, and even more impressed that the sand feel effortlessly through with a light swipe of the hand; no harsh rubbing or scrubbing required. After trying it out myself, I can say this would be a welcome addition to boaters who enjoy raftups and beach days around the Chesapeake or trips downy 'oshun.
The mat comes in three sizes—small, medium, and large—and ranges in price from $50 to $85 depending on the size and color. You can find it online at cgear-sandfree.com. ~K.J.