When it's powerboating play-time on the Chesapeake Bay, few designs are as versatile as the ubiquitous bowrider. It's an excellent option for everything from watersports to day-cruises to lunch on the hook. Bowriders maximize seating space aboard by adding a comfy bow cockpit to the aft seating other designs offer. And most are small enough that they're easy to handle and economic to run. Go shopping for a new bowrider, however, and you'll discover so many options, makes, and models that it's tough to differentiate between them. Until, that is, you see one like the Four Winns Horizon H230. How does this boat differentiate itself from a very large pack? Let us count the ways.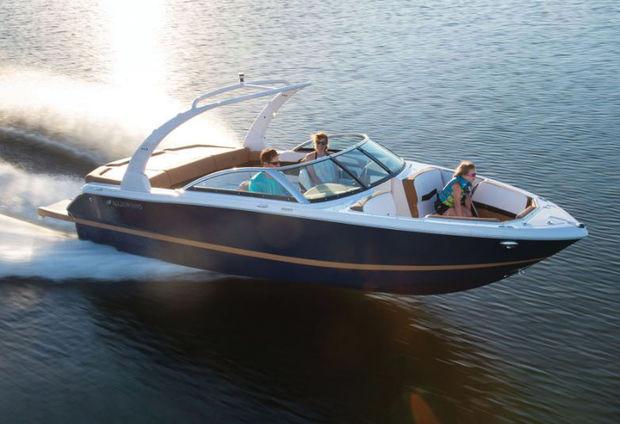 For starters, jump aboard a Horizon 230 and take it for a spin. One thing you'll quickly discover is that Horizon's "Stable-Vee" hull design delivers more just than a fancy name dreamed up by the Four Winns marketing department. It consists of several key elements beginning with vented after-pods that extend back under the swim platform on either side. These add buoyancy aft which helps the boat get on plane faster with less bow rise, but they're slightly higher than the hull bottom, so they don't add drag at higher speeds. Crank a hard turn while on plane, however, and they meet the water again to help prevent the boat from leaning too much. More important elements of the Stable-Vee design include bottom width, which is maximized moving forward to minimize roll, and a deadrise angle, which remains constant as far forward as possible. These two features enhance stability and minimize rocking and rolling.
The Stable-Vee is nothing new—it was introduced back in 1993 and the next year won a Popular Mechanics Innovation Award—but it's proven so successful that Four Winns still uses it today. Now set all of that aside. Get on a H230, take it for a sea trial, and you'll feel the real-world result underfoot as you bring the boat onto plane, carve out turns, and float in a beam sea.
Another way the H230 sets itself apart from the crowd is in the detail work. When we checked this boat out, we were particularly impressed by the helm and passenger's stations, starting with the comfy, flip-up bolster bucket seats. Then we took note of the vinyl dash, brow, and trim with contrast stitching. The lighted switches. And the LED accent lighting. Plus, even with the standard-issue package, you'll discover a long list of feature items that many builders consider cost-adding extras: an iPod-ready stereo with MP3 port, Bluetooth, and four speakers; a depth sounder with shallow water alarm; and a tilt steering wheel are all present and accounted for. One other detail we like is the fact that compared to most competitors, you'll find a lot more stainless-steel on this boat and a lot less plastic. Look to the through-hulls and cup holders, for examples.
The inclusion of generous standard features continues throughout the boat. At the stern you'll find a swim ladder that telescopes down deep and is angled away from the swim platform, so it's easier to re-board. Lift up the sundeck stowage compartment hatch, and you'll see mesh-sided bags for stowing wet gear. Sit in a bow seat, and you'll discover a built-in arm rest with a cup holder and a stainless-steel hand-hold strategically positioned nearby. Oh, and did we mention that the boat comes packaged with a tandem-axel trailer with brakes and a swing-away tongue? (Eliminate it if you don't need it, and save $2585). Note that in an unusual move, Four Winns builds its own trailers so each one is properly matched to the hull that sits on it.
Of course, no boat is perfect for all right out of the box. While the H230 comes with a standard tow-eye, watersports lovers will probably want to pony up an extra $1177 to get the wakeboard tower. Spending an extra $608 for the swim platform mat would probably be a good idea too. And if you ever plan on enjoying lunch on the hook, you'll also want the ($585) table and bracket mount.
What about performance? The H230 comes with a stock 250-hp 4.5L Mercruiser with an Alpha One drive, which certainly will get the job done and provides top speeds in the low 40s. Upgrade to a 300-hp powerplant, and you'll see a top end in the upper 40s and a cruise in the mid 30s. For many boaters, more important than raw power will be upgrading from the Alpha drive to a Bravo Three or Duoprop, which will significantly enhance dockside and slow-speed handling.
If you've been shopping for a bowrider, you've probably been a bit overwhelmed with the huge number of choices and options that are out there. It can be a long search trying to find the one that's just right for your personal needs. Just make sure that somewhere in that search you spend some time on a H230. While it may or may not turn out to be the ideal boat for you, one thing's for sure: this is one boat that won't get lost in the crowd.
Four Winns Horizon H230 Specifications
LOA: 23'7"
Beam: 8'5"
Draft: 2'9"
Displacement: 3850 LBS
Max HP: 380
Fuel Capacity: 52 GAL
Price: $61,254
by Lenny Rudow