When we first heard the term "extreme flip flops," it sounded like an oxymoron. We generally associate flip flops with hanging around dock bars and flipping burgers in the backyard rather than mountain climbing or white-water rafting. FlipRocks aims to change that image.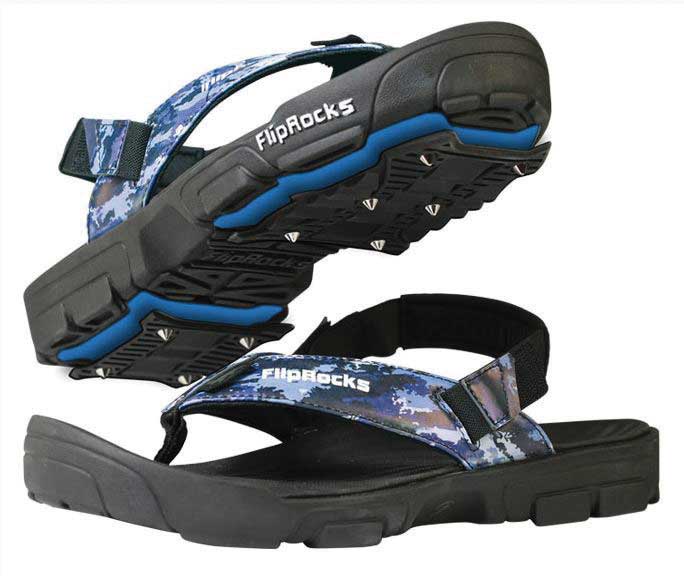 The company based in Sandy Hook, CT, has designed its outdoor footwear with comfort, protection, and support in mind. The shoe features a removable ankle strap so that if you are fishing in a stream or hiking up a hill, it's not a true "flip flop," but rather a supportive sandal that stays on. You can remove that via Velcro to make it back into a flip flop. There's also a toe-guard to protect you from bloodying your big toe on rocks or boat cleats.
A particularly innovative feature is the series of removable and replaceable "GripToeNite" gripping pads that provide traction for any outdoor environment: the Timberline gripping pad with all-around tread for hiking and daily use; the Water Trekker with stainless steel spikes to provide additional traction for river fishing, surfcasting, or other rugged pursuits; the Marine Sportsman felt-bottomed tread for kayakers and boaters; and others listed on fliprocks.com. 
To be able to switch out foot pads for different sports is an intriguing concept, as is the idea of only having to pack one pair of shoes for a long weekend in the great outdoors. While admittedly we only tested the Timberline and Marine Sportsman (it grips the deck well and the lighter version is non-marking), we could see how the Water Trekker with metal spikes would work much better than ordinary outdoor sandals if you were walking across or casting on a muddy bank or creek bed. 
FlipRocks has partnered with Clean Trails, a nonprofit to promote environmental stewardship by raising awareness of litter and waste on trails, and offers discounts to its members. The sandals cost $89; gripping pads cost $24.99 each. ~M.W.
---
For more product reviews, visit our Boating Gear Reviews page.