You don't need a 70-foot Spencer to access tuna off the coast.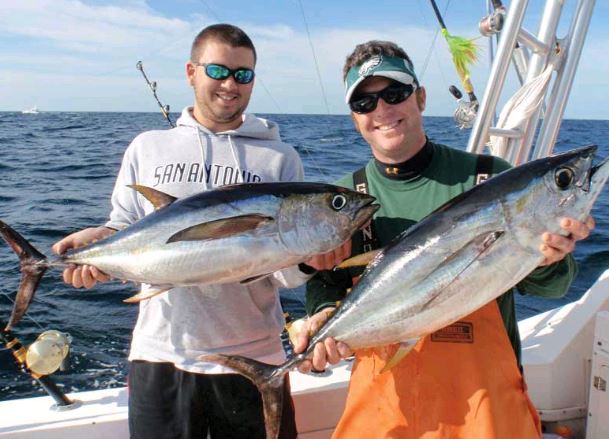 During the early summer, bluefin and yellowfin tuna show up close to shore in areas easily reachable by trailerable boats. Back in the day we caught bluefins between A Buoy and the Delaware Lightship Buoy, no more than 20 miles from the entrance to Indian River Inlet.
Today you have to travel a bit further to reach Massey's Canyon out of Indian River, the Hot Dog out of Ocean City, or the Parking Lot out of Wachapreague. But all of these locations are no more than 30 miles out and make for an easy day trip.
First things first: Your boat must be capable of running a 60-mile round trip with sufficient fuel to troll all day and still have plenty in the tank in case of trouble. The biggest trouble will be afternoon thunderstorms that will make a straight run to port a dangerous idea.
The boat must also be seaworthy and for me that means a heavy deep vee hull. Three- to four-foot seas are common in the ocean, and if your boat is a flat bottom, you will be in for a long day.
Safety is always a top concern, so having an EPIRB onboard, plus filing a float plan is mandatory.
Before leaving the dock, make sure you have a Highly Migratory Species Permit from NOAA; this is available online. There are reporting requirements attached to this permit, so be sure you read and understand these regulations.
As far as tackle, 30-pound gear should handle any tuna you may encounter on the inshore grounds. I used Penn Senator 113H and 114H reels filled with 30- and 50-pound mono. Braid is fine if you want to take out a second mortgage on the house to fill four or five of these reels. I know you can use a top shot of braid over a mono backing, but what advantage is that when trolling or chumming?
Trolling is the best technique early in the season when the tuna may be spread out. The top trolling lure is a cedar plug worked right in the prop wash. Set the rods in the stern holders and use transom clips to keep the lures running close to the stern.
I use Mold Craft Chuggers set from the outriggers to run on the third or fourth wave back. Set the lures on the back of the waves so they don't tumble around but rather run behind the wake creating a bubble trail.
My way-back lure will be a bird with a Green Machine trailing. I set this where the prop wash is disappearing. As a general rule, this rig will not get many hits, but the ones it does get will be from a bigger class of tuna.
Tuna, like all fish, love structure. Inshore structure will be the edge of the various upwellings found from 30 to 50 fathoms. Work these edges by trolling across them in a back and forth pattern. Trolling speed will vary from five to eight knots depending on sea conditions.
Water temperature is also very important. On a trip out of Virginia Beach to the Triple Zeros we found a temperature break from the 50s to the 70s. When we ran from the cold water to the warm water, every line had a nice yellowfin, and we had a boat limit in short order.
After mid-summer, chumming will take over from trolling. This is a bit more labor intensive, but can be very effective.
You will need at least three flats of bunker or other frozen bait to get through a full day or night of chumming. I try to get fresh bunker for bait, but will use frozen if that is all that is available.
Anchor up on an edge, and let the chum flow from shallow to deep water. If you do a bit of prospecting before setting the anchor and find a good supply of bait, so much the better.
Get the chum chopped up and start tossing handfuls over the stern. Drop chunk baits on circle hooks back with the chum leaving the reel in free spool. When a tuna picks up a bait, let him run for a few seconds and then engage the reel and your fish will be hooked.
Make sure you have plenty of ice to keep the catch cool, and get ready for some of the finest eating you can get.
By Eric Burnley
For more from Eric Burnley, check out his column from last month, June on the Chesapeake.