Whether you prefer snorkeling or fishing, this paradise, also known as Abaco, Bahamas lies just off the Florida coast and offers terrific fishing opportunities.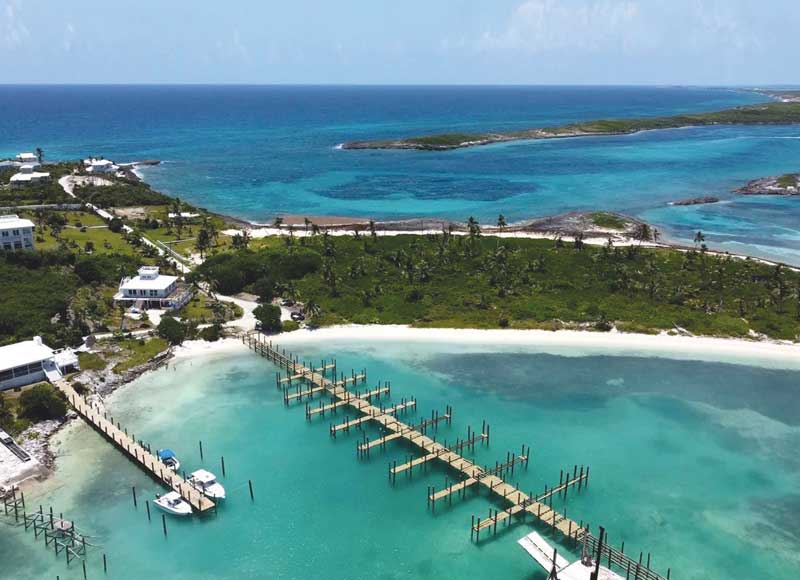 "Come with me on a trip into angling adventure! To ride the ragged edge where the fish are big and wild!" If this intro sounds familiar, it is from the television series, "The Walkers Cay Chronicles" which debuted in 1992 and thrilled millions.
I watched the show in awe of the turquoise waters and incredible fishing located in some far-off exotic destination. Imagine my surprise when I discovered this area to be in reach of my current powerboat (and probably yours!).
The Abaco Islands lie in the northern Bahamas, with the center 180 miles off the Florida coast, consisting of the main island, Great Abaco, along with smaller barrier cays (pronounced keys).  The northernmost cays are Walker's Cay and its sister island Grand Cay. Traveling south you will pass the inhabited islands of Spanish Cay, Green Turtle Cay, Guana Cay, Man-O-War Cay, and Elbow Cay. These numerous cays along with a massive reef system create the Sea of Abaco where you will experience these protected turquoise-colored waters.  
Any of the cays offers terrific fishing with Elbow Cay being the most visited as it is center to most of the boating activities enjoyed in Abaco and has numerous rentals, house or boat, available for your trip. If you have a specific species you are targeting, check the fishing calendar as many of the pelagics are highly migratory and might only be available during certain times of the year.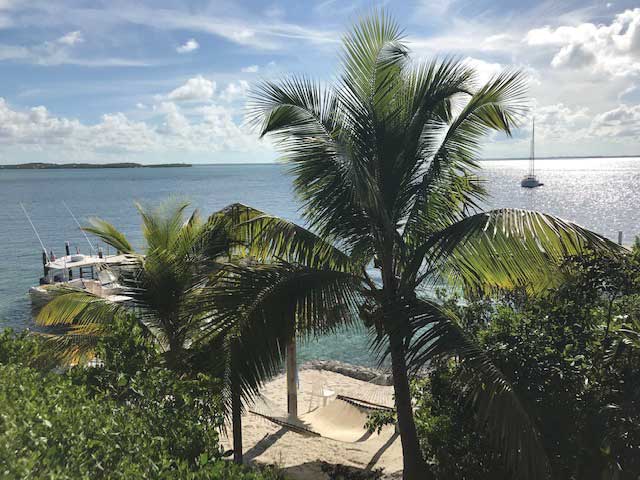 Begin your adventure by trailering your boat to West Palm Beach, FL, and run the 180 miles to Elbow Cay. This is not 180 miles of exposed Atlantic waters, as you spend most of the trip in the shallow protected waters on the Little Bahama Bank. If time is a factor, you could fly in and rent a boat or schedule a charter, but there is nothing like using your own equipment for the trip of a lifetime. The run across is easier than you may think, and I will cover the logistics in a future article, but for now sit back and read about what many of us watched on TV back in the 90s. 
Fishing in Abaco can be divided into three distinct areas: flats fishing, deep-sea fishing, and reef fishing. Unlike the fishing grounds off the Maryland coast, these fishing areas are in close proximity to each other and can be fished not just on the same vacation but on the same day. You can save a trip (and your pride) by dropping a few lines along the reef for grouper after a lackluster day in the canyons.  
Offshore fishing takes place within sight of land as the Bahamas Bank drops from a few hundred feet to over 10,000 feet only a few miles from the cays. A half-day charter can put you onto a marlin or tuna and find you back at your cottage for lunch (very important if you have a family waiting for you). Walker Cay hosted many blue marlin tournaments prior to the resort and marina being destroyed by back-to-back hurricanes in 2004 and replaced by Marsh Harbor which has been home to many marlin tournaments in recent years. I enjoy the summer months when we chase birds that signal blackfin tuna and mahi circling bait schools. I downsize my rods and take an assortment of International 12s and 16s along with even smaller lever drag reels that make this type of fishing both exciting and challenging.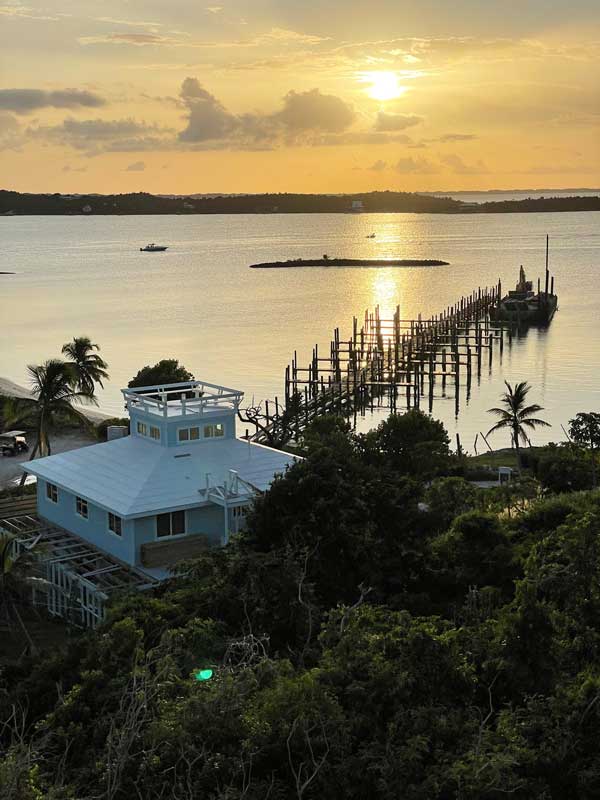 Flats fishing of interest? The world's best bone fishing is found in Abaco on the flats extending along both sides of Abaco continuing the length of the island. Crowds? You probably won't see another fisherman the entire day and guides are highly recommended. Many other species can be targeted in these crystal-clear waters, but bonefish reign supreme and attract fishermen from around the world.
Enjoy bottom fishing? This is unlike any Maryland reef fishing you have experienced as the list of species is as long as your arm and the abundance of fish is overwhelming. I divide reef fishing into two groups—inside and outside—and make my choice of which to fish by the weather and how much time I have that day.
The inside reef fishing consists of fishing the patches of reefs that are scattered inside of the barrier islands and well protected from wind and waves. These patch reefs can be a single coral head or a few acres of reef that lie in less than 20 feet of water. I often stop and fish some favorite spots on the way to our favorite snorkel spot or tiki bar as the bottom is littered with coral. Want something for the table? Grouper and snapper are always present as are barracuda and sharks who love to share your dinner. A newer method of fishing these reefs is to troll deep-diving plugs as you pass by the reefs which often results in 10-pound mutton snapper. Just be prepared to donate a few plugs to snags as you troll the shallows.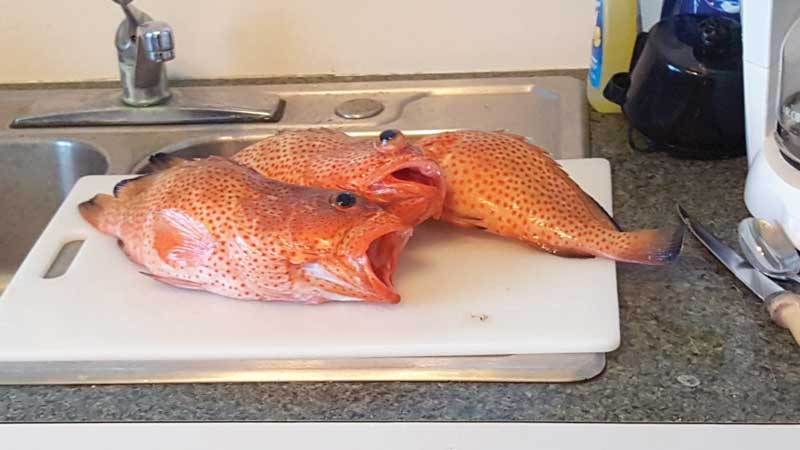 The outside reef fishing consists of fishing the reefs that lie just outside the barrier islands in an almost continuous line for 150 miles providing solitary and fantastic fishing. Your choices include fishing a reef line in 20 to 30 feet of water or dropping your lines beside enormous coral heads that rise up from the sea floor in a hundred feet or more of depth. There are too many varieties of fish to list, so I carry fish ID placards to assist in identifying the catch.  
If I make it sound like you can just drop a line and reel in a bucket full of fish, it can happen, but what also happens is the five-pound grouper you are fighting will be swallowed by the 75-pound grouper who is waiting for an easy lunch. The reefs contain some monsters that will quickly devour any free offering and retreat back to the protection of the reef cutting off any mono or braided line you use.  
Want to target a specific species? We enjoy strawberry grouper for our tacos and set up a drift to pass over the 180-foot line to the 220-foot line and catch all the strawberry grouper we can eat. We always have a stout rod and reel ready rigged with a live hook set-up when we catch a species we don't wish to eat. We will send the bait down on this heavy rig to see what will bite and are often rewarded with an incredible fight of giant grouper or barracuda. We lose more than we land as there are some giants swimming in these crystal-clear waters.
Spend the morning fighting giants and the afternoon swimming and snorkeling with the family in some of the most beautiful waters in the world. Whatever your pleasure, it lies just off the Florida coast. Tight lines! 
By Joe Borrison