Last month we covered Virginia Beach's Lynnhaven Inlet and the lower Chesapeake Bay. This month we shift our attention to the oceanside of Virginia and Rudee Inlet.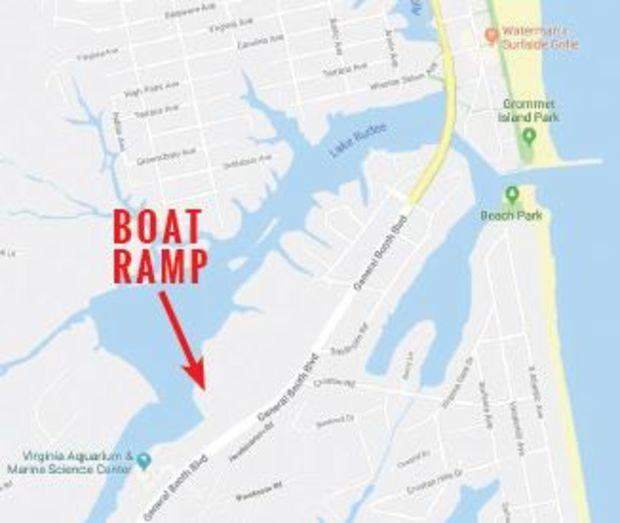 The boat ramp at Owl's Creek off of General Booth Boulevard has fair parking and excellent ramps. The lot can fill up on weekends, but there is another lot directly across the street that will be open under such circumstances. The run from the ramp to the inlet is short, and the waters of Lake Rudee and Lake Westley hold good numbers of speckled trout, flounder, and puppy drum in the fall and winter.
Spanish mackerel show up just off the beach in early summer and stick around until fall. They are easily caught on 0 Drone spoons pulled behind a planer or trolling sinker. Small blues often mix in with the mackerel. Cobia show up in late June and also remain until early fall. The best action in the ocean will be as these fish are arriving and departing. Look for them around buoys or in the Sandbridge area along tidelines. Sight casting is very popular, but trolling spoons or plugs will also work.
Red drum in the 45- to 55-inch class appear in big schools from spring until fall. This can be the most exciting fishing you will ever do. The schools can be seen on the surface where they will hit bucktails. These drum also take big surface lures, and the strike is awe inspiring. If the fish are not showing, they may be caught by chumming and fishing with live hard crabs.
The best of this sport is found east of the High Level Bridge and south of Fisherman's Island. During the summer the channel bass will hang around the four islands of the Chesapeake Bay Bridge-Tunnel (CBBT). Live bait fishing with spot or blue crabs can draw them to the hook. Jigging bucktails at the pilings of the CBBT is another successful technique. King mackerel arrive in the summer and are usually caught on live menhaden trolled very slowly. On occasion, they are found close to the beach, but it is more common for kings to be a bit further offshore along the buoy line or over shoals or wrecks. There will be times when live menhaden are in short supply. When this happens, I have had good success trolling with 3-1/2 or 4-1/2 Drone spoons or Mann's Stretch 25 or 30 plugs. The spoons are usually pulled behind planers or trolling sinkers, but on certain days just pulling them unweighted on the surface will draw strikes when nothing else seems to work.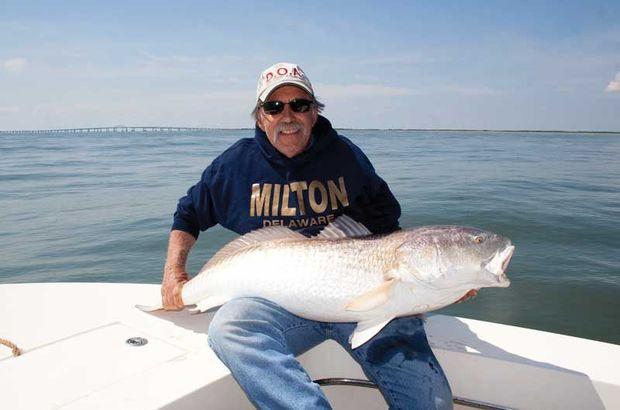 There are several wrecks and reefs within 10 to 15 miles from Rudee Inlet. They hold all sorts of bottomfish as well as blues, mackerel, and amberjack. All this structure can be found on the Captain Segull's chart #CMCH20. The Chesapeake Light Tower lies 12 miles off the bell at Rudee, and it is surrounded by several small artificial reefs. Of course, the tower itself is a big artificial reef that can produce spadefish along with king mackerel and amberjack.
I have saved what I hope will be the best for last. Striped bass will congregate here over the winter beginning as early as November, but most likely in late December on into February. These are the big cow rockfish that migrate from North Carolina on up to Maine. If conditions are right and there is lots of bait, the rockfish will be feeding along with the whales that also come here during the winter. Since Hurricane Sandy the rockfish run has not been good at all. It seems the fish have decided to stay beyond the three-mile-limit and not come in range of fishermen. I hope this year will be different.
The number one technique for these big rock is trolling with deep-diving plugs, MOJOs, umbrella rigs, or large swim shads. The fish seem to be always on the move; one day they can be in the rips right off of Cape Henry, and the next day they are down off of Sandbridge. You just have to get out and look for diving birds, whales, or blind troll until you locate today's feeding ground.
The lodging and restaurant selection is as varied as you could want. Offseason rates are very reasonable for oceanfront rooms, and you can find all sorts of food from 7-11 hotdogs to fancy French cuisine. Let's hope the rockfish show up, and we can find some of the excellent fishing we have had in the past.
by Eric Burnley