It's spring, about 65 degrees, and sunny. The yard at Holiday Point Marina in Edgewater, MD, is abuzz with activity. Young guys in Tyvek suits and dust masks sand bottoms. A young woman in jeans and a sweatshirt applies wax to topsides. A Travelift moves a Monk trawler from her winter stands into her slip.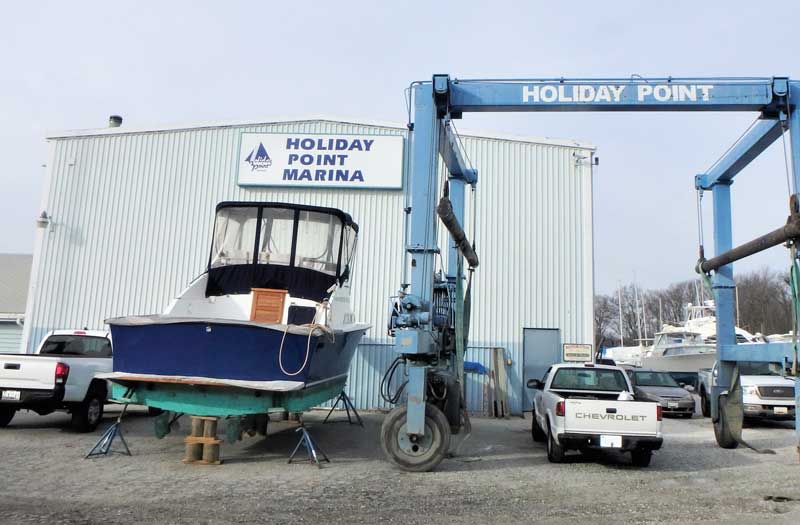 Pat Leitch sits at the desk she has occupied since a boat slip in Edgewater cost $125 a year. She is dressed as she has for work—sweatshirt and slacks—since she was 20 years old when she began work for her father at the old Timmerman's Marina in Woodland Beach. 
Pat has been around the marina business since Eisenhower was running the country. Pat and Ike have a few things in common. They both cut their teeth working on farms, in the military, and in small businesses, where they learned about common sense. Pat has been using her common sense since US soldiers returned from World War II.  
When Pat was a teenager, her father kept a wooden runabout at Timmerman's Beach. Her father, then age 60, was about to retire from the Government Printing Office. Like many who love boats and the water, he thought, "It would be nice to own and operate a marina." The Timmermans were looking for a buyer, and her father's dream became Pat's life. She moved to Woodland Beach with her mother and father where they set up housekeeping above the marina machine shop. Pat worked in Washington, DC, as a secretary for an insurance broker. Her outside income was needed to help the family get the marina going. After a year of commuting by bus to DC every day, Pat was invited by her father to join the marina office.
In those days, the local marinas stocked parts and employed shipwrights, painters, riggers, and machinists. It was the only place you could acquire boating supplies and services. Just about every marina had a chandlery, a store where you could buy most of the things you acquire today from West Marine, Jamestown Distributors, or Amazon. Pat was the inventory manager, secretary, administrator, and service manager. 
Marina life was different in the 40s and 50s. Boats were hauled and launched on railways run by electric elevator motors. They were stored in wooden cradles, not metal jack stands. The office had an old adding machine with mechanical keys and a cash register that went "ring" when the red "total" button was pressed. An old water-cooled soda machine stood in a corner of the office. Soda cost a nickel and came in glass bottles only. Names such as Rebel Craft, Pacemaker, Owens, ELCO, and Lyman adorned the mahogany transoms of the 150 wooden boats stored there.
Homer Leitch was a yard worker at Timmerman's. He "came with the marina," Pat says. He was 35. She was 20. They were married in the Community Church in Woodland Beach. It was the minister's first wedding ceremony. 
Homer worked at that marina for 35 years, even after Pat's father sold it to Bud Barthelow a few years after he acquired it. Bud put a manager in place, and Pat stayed on to help keep the place running smoothly. Pat's father died just three years after he sold the business. Eventually, the marina changed hands again. Pat and Homer stayed on when the Mershon and Sinclair families acquired the business during the big growth years of the recreational boating business in the later decades of the 20th century.
The phone rings. Pat answers in her best business voice, caring but assertive. I can tell this is not her first rodeo. She listens for a very long time. The voice on the other end is male, and he is telling a long story in a loud voice about a hatch repair performed on his boat. Pat permits him to tell the tale and predictably, blame the yard-workers who performed the work. She does not argue or deny responsibility. 
After what seems like a long time, Pat speaks firmly and politely. "Can you bring the lock into the office so we can take a look at it?" she asks. The boat owner hesitates for a minute then says, "I'll come by now."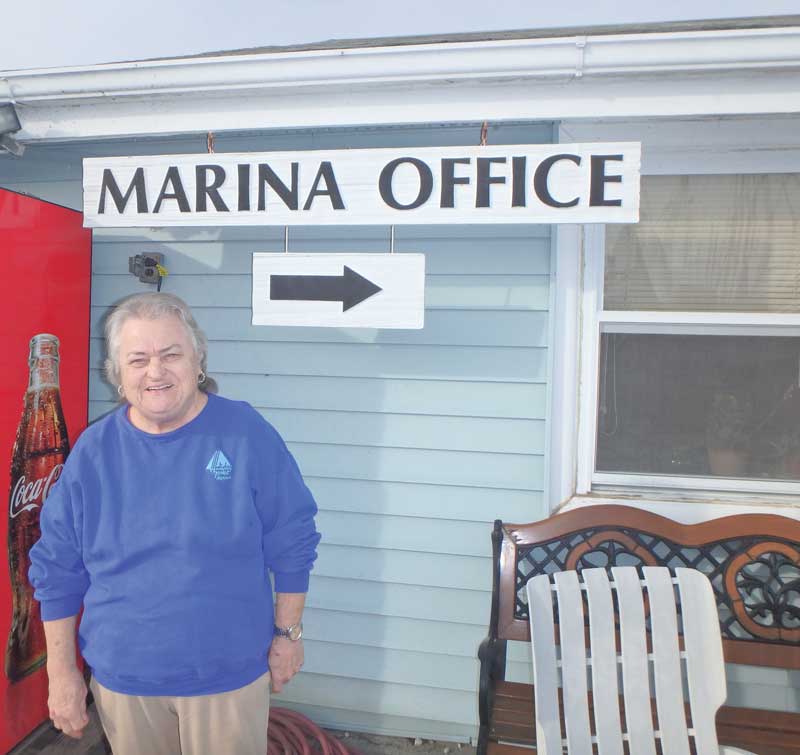 Within minutes, he appears in the marina office with a damaged hatch lock. Pat invites him to her desk where she inspects the damage. With deliberation, she studies the lock, turning it in her hands. "We'll replace it," she says to the boat owner, who seems surprised by the simple, direct response. 
"No paperwork?" he asks
"Nope," says Pat.
And it is done. The boat owner is satisfied. He leaves the office and returns to his car. Pat looks at me and says, "One of our guys probably whacked it with a hammer because he didn't have the key. That's our fault. Sure, we could demand proof that the owner didn't do it himself, but that would just make him angry."
"Common sense," I say to myself. 
Pat and Homer purchased a building lot near the marina in Woodland Beach from the Timmerman family for $900, built a home there, and raised a family. They worked at the marina together till Homer died at age 76, decades ago. By that time, the Mershon and Sinclair families had acquired and sold several South County marinas, including Holiday Point, where Pat still works and I keep Island Girl. 
Maureen (Mo) Mershon, a partner in Holiday Point, wanders into the reception area and sits next to Pat. Mo and Pat were born at roughly the same time and have become good friends over the years. I ask them how the boating business has changed over the last 50 years. 
Pat speaks about her deceased husband, with affection in her voice. "Homer did everything," she says. "He built cradles, repaired electric motors, painted boats, cleaned the bathrooms, winterized engines, and swept the floors. People won't do that anymore. Even if they could, they wouldn't. 
"Technology has changed everything about the way we live and work. Things are much more specialized now. An engine man will only work on one specific kind of engine. A painter will work with only one kind of paint. A glass man will specialize in either epoxy or polyester, gelcoat or layup. It's really hard to find qualified workers who want to work, who believe in the importance of showing up every day to serve others," she adds.  
Maureen says, "We are one of the only marinas left that keeps employees on the payroll year-round. We employ people we can trust, who are willing to learn different skills, and who want to remain with us for the long-haul." 
I reflect for a moment on the 50 years I have been boating on the Bay. I remember the boats I have owned and loved. In the same mental picture are the faces, voices, laughter, and stories of the people who worked at the marinas where my boats were cared for. Those sounds and images will never disappear from my mind.  
By Allen Paltell
---