Winter definitely has Chesapeake country in its clutches. However, there are hopeful signs around us already. The winter solstice is well behind us, and the days are getting measurably longer. Most of the winter boat and fishing shows have come and gone, and the first day of spring and the start of daylight savings time are not that far away. It has been a busy winter for area boat shops.
F&S Boat Works in Bear, DE, has had a busy winter with three major sportfish builds under way. Hull #27, the 78-foot Special Situation, was completed this fall and is now soaking up the sun and chasing the big ones in Palm Beach. Hull #28, the 61-foot Esme is nearing completion and hull #29 a 75-foot fly bridge has been flipped right side up and is taking shape in the shop.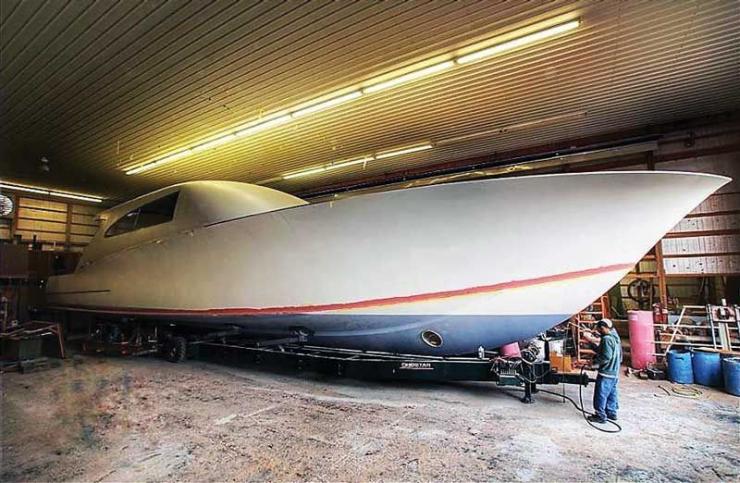 Alex Schlegel from Hartge Yacht Yard in Galesville, MD, provides an update to the work on the 1955 Trumpy Manatee and also describes an interesting retrofit project: "The portside is all planked up and only needs fairing and thru hulls installed. The starboard side has more than half of the frames and double planks installed. The condition of frames varies from frame to frame. In the worst case, we remove about eight feet of the broken and deteriorated frames from the keel to above the waterline, patch them together with strips of plywood to hold them in the right shape for patterns, and make new ones in the shop. Deep in the bilge amidships the frames lost their fair curve. Corrections are made for this as new frames go into place. When appropriate, new frames are sawn to shape, but some frames are laminated of nine quarter-inch thick layers of oak glued together with MAS Epoxy and are about eight feet long. The frames are secured to the floor timbers, stringers, and sister frames with bronze carriage bolts. This work is moving along well as Pete, Ernie, and Josh have worked out the processes and become more and more efficient.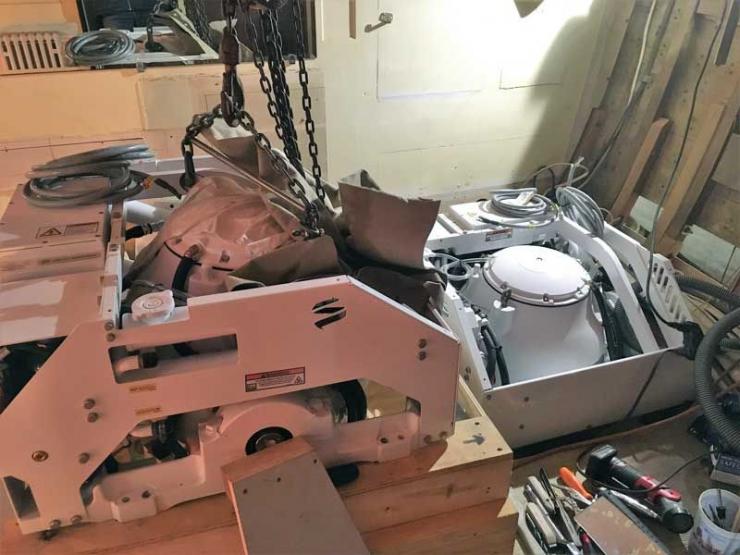 But there are always new things that interrupt the flow and keep the work interesting. We are removing old and installing new S.S. keel bolts that hold an iron ballast in place. They have some crevice corrosion in places and do not want to move after being undisturbed after 62 years. Also we are removing the original mild steel prop shafts that run from just inside the stuffing boxes to the engines, located under the wheel house way forward. The owner considered new shafts made of mild steel or Monel, but settled on Aquamet 22.
At the same time we are reconditioning fourteen 10- by 20-inch aluminum ports. These ports are elaborate. Each one consists of an eyebrow, outside trim ring, main body with spigot, opening hatch, bedding ring, and glass, plus fasteners and wing pins. Some ports also can slide sideways out of sight behind wood work. The ports were disassembled and sand blasted. Some welding (was done) to fill areas corroded away, corrosion spots filled, all parts primed and painted, new gaskets shimmed to fit, dogs fitted and installed, new glass custom cut, fit, masked off, and bedded with silicone. Some of the wood around the ports was damaged by the corroding metal and needs repair.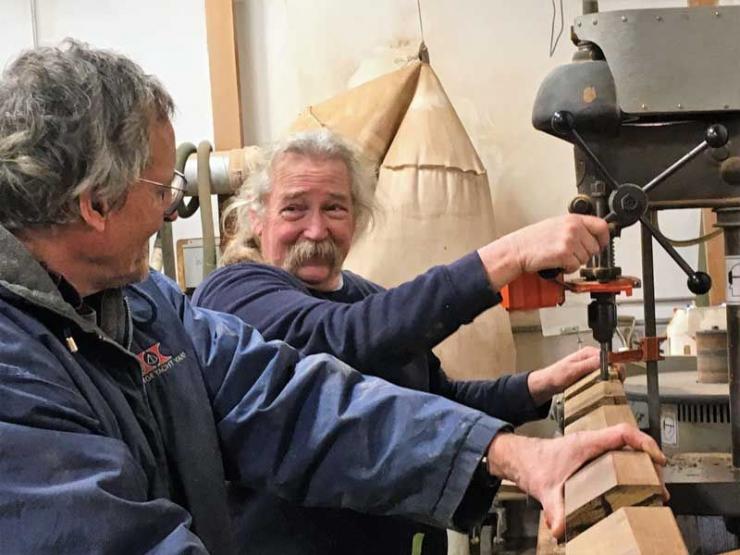 Round-bottom boats like this can roll uncomfortably in certain conditions. A very interesting project to this round-bottom Trumpy houseboat is the strengthening of the owner's cabin area structure to support two gyro stabilizers. These 30-inch wide by 30-inch long by 24-inch high gyros weigh about 870 pounds each and will be installed under the bunks amidships. They fit well there, only requiring the bunks to be raised a bit. Gyro stabilizers lift as well as press down on the boat to keep her from rolling. They can generate 3820 pounds of vertical force as well as 2335 pounds of longitudinal force. The structure has to be strong enough to transfer these considerable forces to the whole boat. We are building beds for the gyros that are bolted and glued with 3M 5200 adhesive to everything in the area including stringers, frames, planks, and bulkheads."
Nancy Bray Booth checks in from Galesville, MD, with a long list of winter projects. "Hartge Yacht Harbor has a variety of winter projects lined up for 2018. As soon as the refinishing of the bottom of a 55-foot Stephens Bros. custom wooden boat is finished, it will be launched and head to Georgia. Then we will begin painting the hull sides of several boats: a Chris-Craft 26 and a Beneteau 47 in flag blue and a 34 SeaQuel catamaran in white. The side of a Sea Ray 44 will be cut open in order to replace the leaking fuel tanks. In addition, we will replace the wet core on the fly bridge deck of a Viking 44 Sportfish.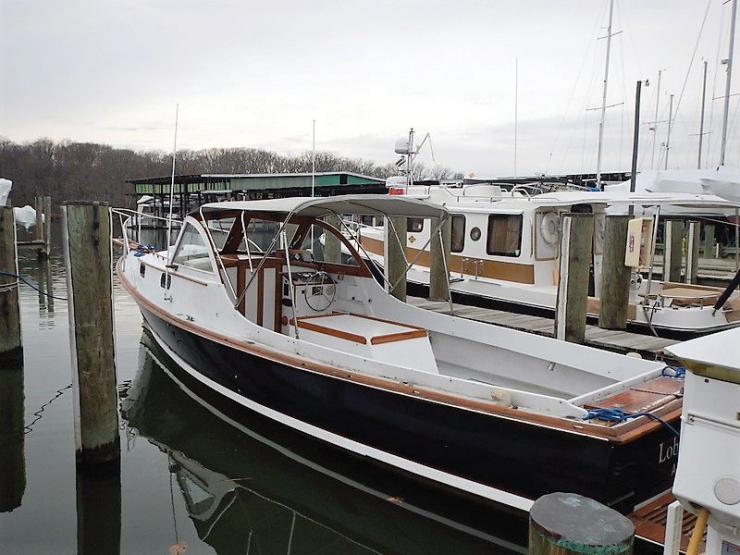 A Kadey-Krogen came to us in need of a deck replacement on the bow which will involve removing the bow and installing a new core, fiberglass, and gelcoat. There is a beautiful down east style Wasque 32 which will have her decks painted, headliner replaced, and exterior teak refinished. Fortunately Hartge Yacht Harbor has a large paint building and additional indoor workspace to accommodate our busy winter schedule regardless of the weather."
Brit Lilly of Lilly Sport Boats in Arnold, MD, sent us this interesting story courtesy of Poker Runs America, an online magazine. "At the 2017 Superboat International 37th annual Key West World Championships in Key West, FL, driver Brit Lilly and throttle man Ron Umlandt claimed their second straight offshore racing world title in the Superboat Vee class. They ran their 30-foot Extreme, LSB Hurricane of Awesomeness, to three first-place finishes during the Wednesday, Friday, Sunday race schedule, sweeping the class."
"'I never dreamed to have this kind of competition this often,' said Lilly. 'It's like a one in a lifetime kind of race where you battle back and forth, especially in a place like Key West, I'm thrilled to be a part of it.' Two weeks before the race Brit took his boat out to test a new motor and a belt broke. The engine overheated and was blown. With less than two weeks before the starting gun, the engine was disassembled, the cylinders were re-honed, and within 13 days LSB Hurricane of Awesomeness had a virtually new engine. A small chip on the bottom turned out to be delamination. According to Brit, 'within seven days, I cut about a six-foot section out of the boat, repaired the bottom and re-vacuum-bagged it, and blueprinted the whole bottom.' All this was completed in time to compete and win the championship."
The following story, reprinted from the Dorchester Banner, details an ongoing project at the Ruark Boatworks in Cambridge, MD. "The 'turning of the hull' of any boat is a proud event in any boatshop, and it always marks the start of a new phase in the boat building process. Once the hull is turned, the fitting of the interior can begin, and it means a clear vision of the end of the project and the launching of the new boat. Hull turning is usually done with a certain amount of pomp and circumstance, no matter the size of the boat, and this morning invited friends and well-wishers stopped by the Boatworks to help celebrate the event. Miss Polly is the name of a new lighthouse tender, now on the stands inside Ruark Boatworks. The Boatworks is a part of the Richardson Maritime Museum and was named after Harold Ruark, a local boat designer and modeler and the designer of the skipjack Nathan of Dorchester."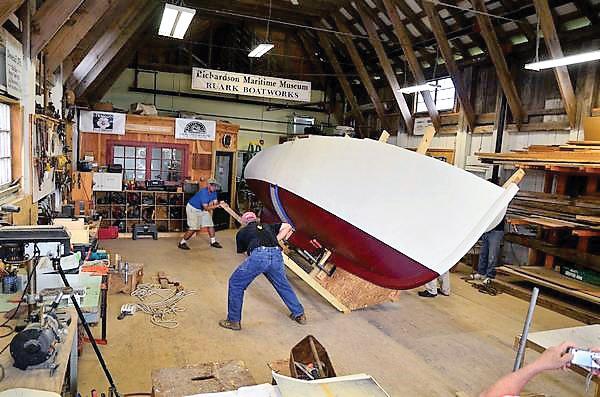 "How did Miss Polly come about? Board member Peter Zukoski tells the story: 'The lighthouse committee approached the Richardson to build a boat to hang from davits at the lighthouse at the head of Cambridge Creek. They provided us with the plans that were originally designed in Newport News in 1940. It was a lighthouse launch, or tender; it was used by the men to get out to the lighthouse. They had to be pretty good sea boats. At any rate, they provided us with the plans. We met with them and discussed building an actual boat, but we decided that would not be the best way to go about it because the boat they wanted wouldn't be any more than a model—a full sized model, but it wasn't going to be a usable boat,' said Peter, since the lighthouse intended to hang it from davits as a display, more or less. This is the first boat to be turned out of the Ruark Boatworks in their new location, and the team hopes to see Miss Polly finished and launched this fall."
By Captain Rick Franke