Most of us think of winter as a time to slow down, stay indoors, and try to hibernate in front of the fire. For area boatshops winter is anything but a slow time. As a matter of fact, many shops report this winter to be busier than ever. Captain Rick Franke brings us the February 2019 Boatshop Reports.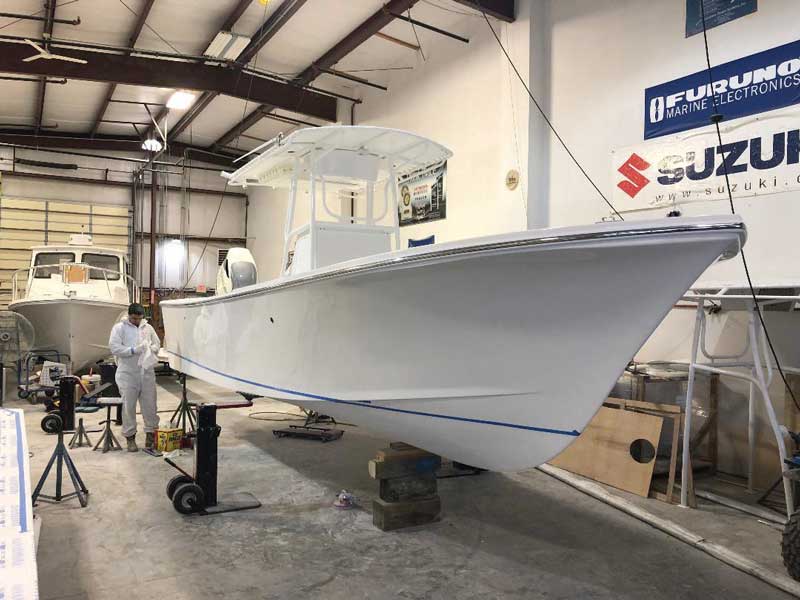 February 2019 Boatshop Reports
David Low from Herrington Harbour Yacht Center in Tracys Landing, MD, starts us off with this busy report. "Activity at Herrington Harbour Yacht Center continues to keep our staff working throughout the winter. Demolition of the original F dock is almost completed. Dredging begins in a few weeks and then the arrival and installation of our first new floating dock to provide 43 new 40-foot slips for the 2019 season. More than 1000 boats were hauled and stored for the winter, (with) water and electric within 50 feet of each boat. That represents more than 8000 jack stands needed to safely secure all of these boats on land. Our onsite contractors are working on many projects preparing the boats for spring launches."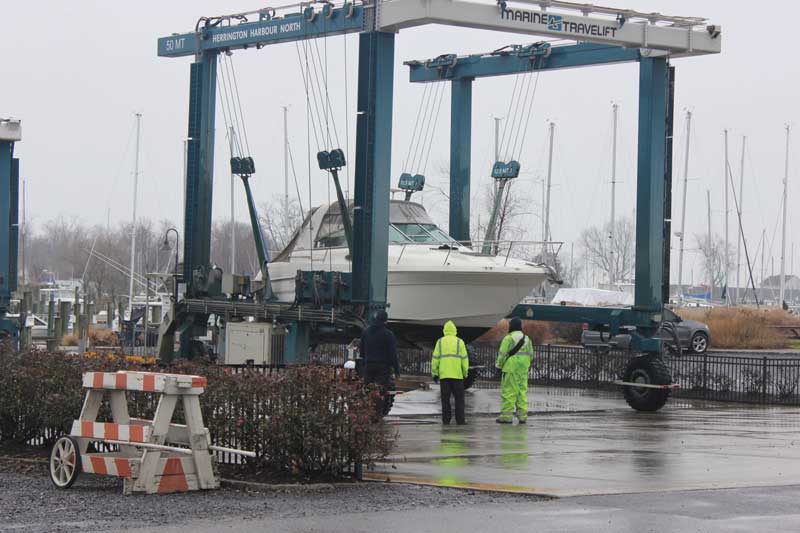 Susan Campbell from Campbell's Boat Yards in Oxford, MD, sends us this quick update. "Campbell's is having a busy winter! We are currently installing a new teak cockpit sole in a 1957 Chris-Craft sedan. We are also doing some restoration work on the 1922 log canoe Flying Cloud. We have several paint and varnish jobs lined up for the winter. We recently finished two bow thruster installations and installation of a teak cockpit and coamings on a Cambria 46."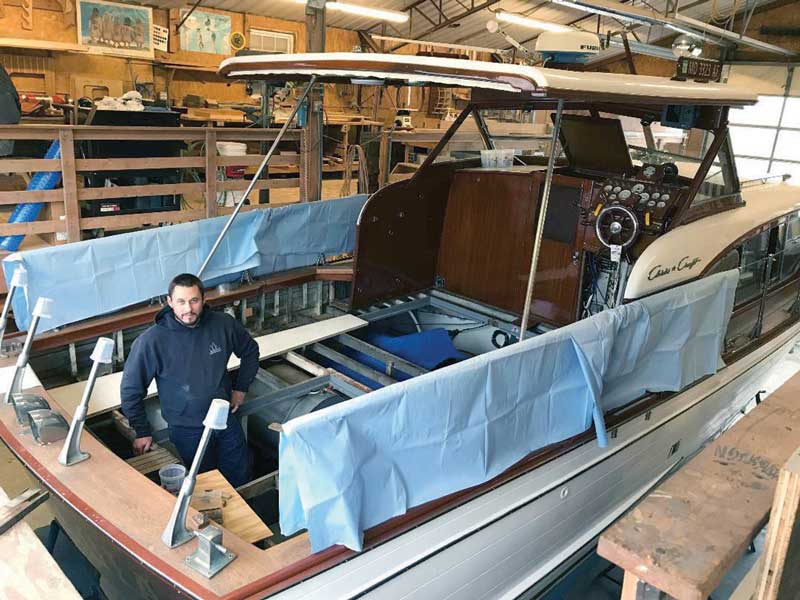 Bethany Ziegler of the Chesapeake Bay Maritime Museum (CBMM) reports on the museum's boatshop in St. Michaels, MD. "Chesapeake Bay Maritime Museum Shipwright Duncan Macfarlane, the lead on CBMM's restoration of 1912 river tug Delaware, reports that much prep work was done for the project early this year. In January, Delaware's hull was moved to her space adjacent to the marine railway by the middle of January, after the completion of a grading project. Her cabin top was removed by crane in the fall of 2018 to allow shipwrights greater access to work on the stem-to-stern restoration.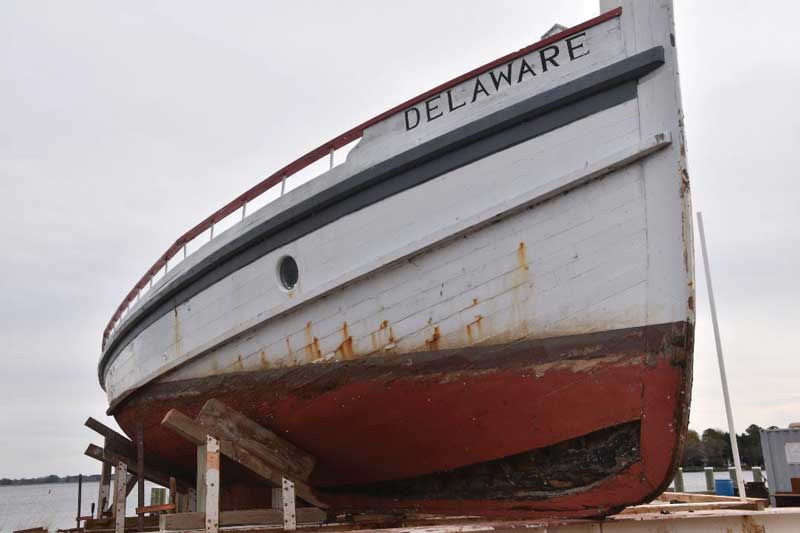 Shipwrights and apprentices are now building a pavilion around the boat and setting up their workshop while they source the appropriate timber for her backbone. Early in the year, they also felled some donated ash trees to be milled up for framing stock from a farm north of Chestertown, MD. CBMM recently launched a new website dedicated to its shipyard, where regular progress updates on Delaware and other current projects can be found. To learn more, visit cbmmshipyard.org."
We haven't heard from Alex Schlegel at Hartge Yacht Yard in Galesville, MD, for a while. This month he shares some insight into what goes on at a busy yard this time of year. "As you would expect, work decreased in the recession 10 years ago. Two years ago in November our work suddenly increased by about 20 percent. Most of the increase has been in Awlgrip painting and carpentry work, but all aspects of our services have experienced an increase in demand. It seems people are using their boats more. We have done more haul outs for repairs to bent props than usual, and only a few were due to the Susquehanna debris. This winter's work load is also filled with paint and woodworking jobs.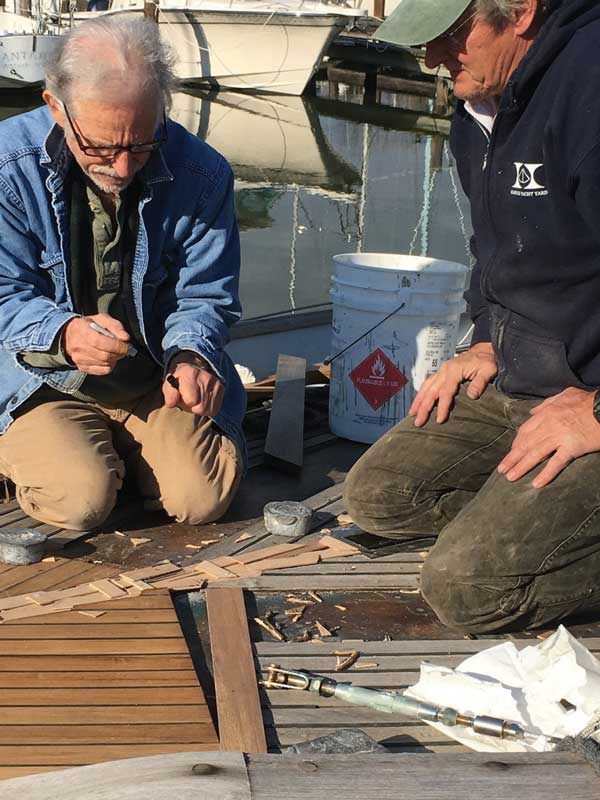 "Kelsey Averill is in charge of the winter haul outs for the first time since Nick Schlegel, who had been doing the job for more than 40 years, passed away last winter. Kelsey is ably assisted by Dave Voss. There is a lot more than meets the eye regarding winter haul out: scheduling, coordinating with the winterizing crew, moving boats to the yard from other marinas, un-stepping of masts, removing of sails, precise sling placement to miss the running gear, not lifting the boat with slings on the lightweight trailing edges of keels, dealing with the slippery curves to the forefoot, and blocking the slings away from vulnerable spray rails. Boats must be blocked level so decks and cockpits drain properly. 
"There is also the problem of dealing with never enough room, planning for placing boats that come out late and stay on shore late so they do not block other boats that come out early and get an early launch. Regardless of wind, rain, or freezing weather, they have to keep working to get everyone hauled on time. It is a hardy group of guys that do this work!"
At Osprey Marine Composites at Herrington Harbor North in Tracys Landing, MD, shop manager J.J. Wilson conducted a quick tour of a very busy shop. In the main bay is a Nordhaven 40 in for multiple gel coat repairs, a Wellcraft 22 in for extensive warranty work, as well as a Twin Vee Catamaran having fuel tanks replaced. In a smaller bay is an Outbound 47 with a hole in the port side caused by hurricane damage. Next door is a Formula 40 Performance Cruiser with extensive damage to her starboard side after being blown onto the rocks by a microburst during a thunderstorm. In the last bay, a Mainship Pilot II 34 named Rum Runner II was just brought in for a new coat of Awlgrip.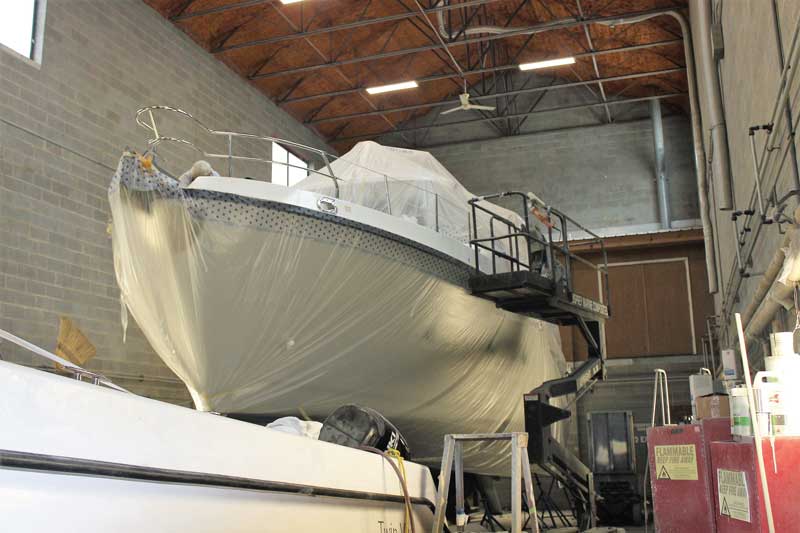 J.J. explained that, while they still do a number of fuel tank replacements, they have a variety of projects from simple maintenance to major repairs and plenty of work to keep his crew busy all winter. "Winter is our busy time," he said. "That's when owners want to get the work done, so the boat will be ready to use in the spring."
John Patnovic's marina newsletter from Worton Creek Marina in Chestertown, MD, also reflects a busy early winter. "We were very busy in the boatyard, and the cold snap (in November) caused us to up the pace to make sure none of the boats still in commission froze. It got pretty frantic around here for a few days, but it paid off with no freeze damage to boats or the marina. A low 20s freeze in November was a real surprise, and in the 21 years Libby and I have owned the marina I don't think we've ever seen it happen before January. Work on the Spencer continues, and we are actually preparing final punch lists. We're almost ready to plug the boat into 240 volts and start testing our new wiring. We're also busy running air conditioning ducting and will soon install the chilled water air conditioning system. We're also getting ready to install the three under-counter refrigerator and freezer drawer units in the galley."
At Phipps Boat Works in Deale, MD, the pace has not slackened with the colder weather. A Grand Banks 50 trawler fills up the work bay. Buster says she's in for extensive woodwork repairs, window replacements, and varnish work. He also reports that he has three more Grand Banks jobs lined up for the winter and it will be a busy one.
Hank Reiser of Marine Service, LLC at Pocohontas Marina in Edgewater, MD, reports that the transom rebuilding underway on the 1951 Chris Craft Commander is nearly complete. The rest of the hull has been surveyed and the many layers of old paint soda blasted off. "We should be finished with the Chris by March, when we get busy recommissioning again," Hank explained. "The owner plans to show the boat at the Antique and Classic Boat Festival in June," he concluded. Other projects in Hank's shop in Edgewater include the restoration of Stand Fast, a 1957 Lyman 23, and replacing the seized up Yanmar Diesel on a 70s Tanzer 28 with a rebuilt three-cylinder Universal. 
So even if your winter sport is sitting in front of a roaring fire, the cold weather will not last forever. The days are getting longer, and spring is not that far away. Our busy boatshops are doing their part to make sure our boats are ready when it arrives.   
By Captain Rick Franke