When recreational boaters need a tow home, a battery jump or fuel drop-off, captains from the red TowBoatUS on-the-water towing fleet are there 24-hours a day to provide routine assistance. Ten TowBoatUS captains who acted as Good Samaritans to save lives in 2017 were recently honored by their peers at a ceremony held at the annual BoatUS Towing Conference in Jupiter, Florida, on January 18. Two of those captains were father and son Dale and Austin Plummer of Baltimore, MD.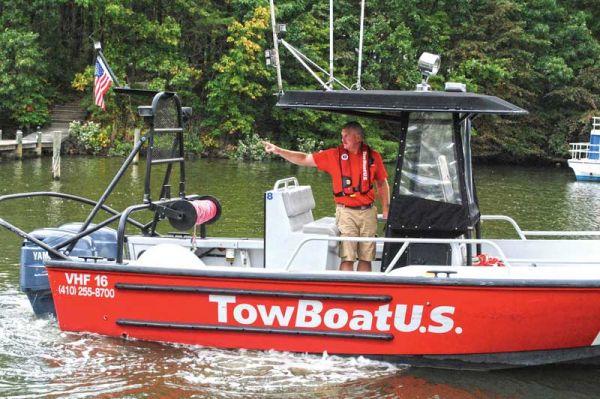 The two captains were given a meritorious service award for lifesaving actions undertaken in the Chesapeake Bay on July 28, 2017, as described by BoatUS: On the Chesapeake Bay, an empty sailboat careens ashore, it's sails aloft and fully rigged, with a wallet, a life jacket, and a cooler with cold drinks, all left behind in the cockpit. If it didn't happen on a Thursday summer afternoon, you could have the thought we had the great beginnings of an Agatha Christie novel.
However, here's what the state police report said: On July 28, a sailor left Hammock Island in Bodkin Creek and anchored at Pleasure Island overnight. John Dalmas told his wife he planned to circle another nearby island and then return to the marina. She last contacted him at 10 a.m. Friday morning. At 4 p.m., Dalmas' 25-foot sailboat was found just south of Pleasure Island on Sparrows Point with sails rigged, wallet, coolers, and lifejackets aboard. A search for the missing sailor ensued. The first Pan-Pan went out at 4:10 p.m. and Captain Dale Plummer of TowBoatUS Baltimore and his 19-year-old son, Capt. Austin Plummer, volunteered to join the search effort. With a few hours of sunlight left in the day, the TowBoatUS crew joined the search at 5 p.m. The men launched from the Magothy River and searched an area that stretched roughly from the mouth of the Magothy to the mount of Patapsco River. Conditions were poor. It had been storming with wind gusts of up to 30 knots most of the afternoon. The pair decided they would search until it got dark out.
Around 7:30 p.m. near last light, the father and son spotted Mr. Dalmas in the water about 200 yards from the shore of North Point State Park in Baltimore County. The man said he had been in the water for roughly seven hours. He was exhausted but able to walk, and unharmed. Dalmas told the Plummers that other vessels had passed within several hundred yards, but none had spotted him until the red towboat came along. Congratulations to both Captain Plummers on your Meritorious Service Awards!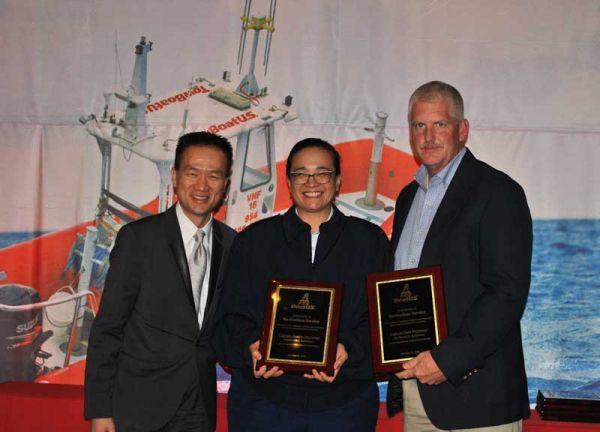 For more on Captain Plummer, check out this article from Captain Art Pine.