Alan David "Mort" Deckelman Sr. of Rock Hall passed away on Tuesday, Jan. 3, 2017. According to Kent County News, "Mort enjoyed participating in and watching workboat racing at a younger age and boat docking contests. He also enjoyed antique cars and working on trucks. He held his captain's license and was a longtime member of the Maryland Waterman's Association." To read the full obituary, click here.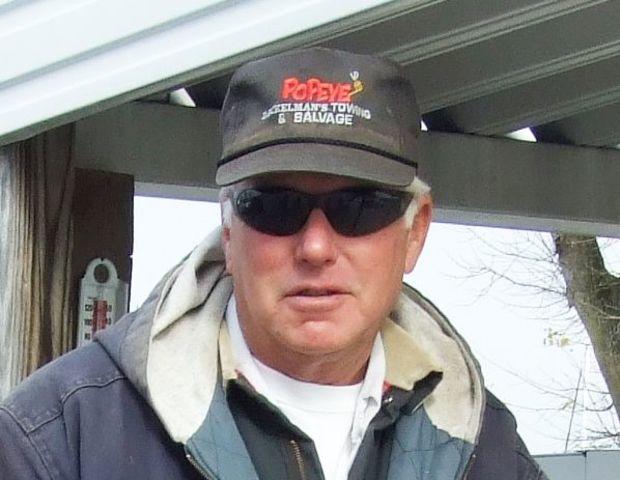 Our deepest sympathies go out to the Deckelman family. In the May 2008 issue of PropTalk, Mark and Suzanne Einstein of Rock Hall, MD, profiled Capt. Mort and we wanted to share that article for those who might have missed it the first time around.
Capt. Mort Deckelman: The Pioneer of Long Cove
"If the customer wants it done, we can make it happen."
Twenty-eight years ago, Captain Mort Deckelman navigated his way into Long Cove, a well-protected inlet just off the Chester River's north shore. By the 1970s, Long Cove's once vibrant commercial fishing harbor near Rock Hall had become a virtual ghost town of abandoned oyster shucking houses, dilapidated piers, and sunken boats. At the helm of the now famous original Deckelman workboat, Popeye, and towing a Deckelman-built pile driving barge, the captain stopped, looked around, and asked himself, "Can I do it?" Since then, Deckelman and his family have turned the 25-acre site into the foremost salvage, repair, boatbuilding, and marine construction facility on the Eastern Shore—not to mention, an idyllic, full-service, deep-water yacht harbor accommodating dozens of slip holders each year.
The Deckelman tradition began during the Depression on the western shore of the Chesapeake Bay. John F. Deckelman established the original boat yard that continues to operate on the Middle River, near Baltimore. Captain Mort spent the early days of his life there with his father, John F. Jr., and his brother, John F. III, better known as Jack. Today, Jack and his son Jeff run the Middle River yard, while Captain Mort and his two sons, Mort Jr. and Bill, keep busy with the Long Cove operation across the Bay.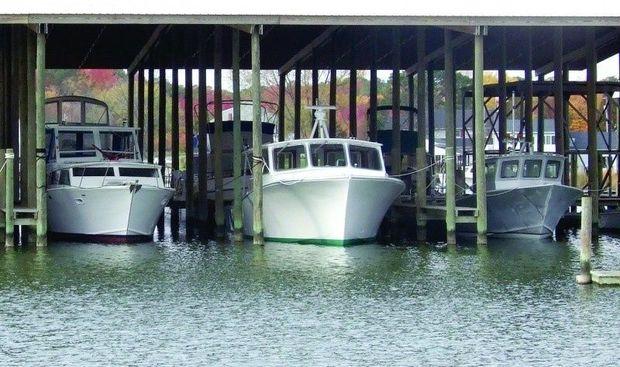 On a crisp autumn morning, Captain Mort, rugged yet laid-back and easygoing, invited Suzanne and me into the 8000-square-foot workshop that is the centerpiece of the Long Cove site. He wore a basic-issue work coat and a ball cap that read Popeye. Removing his dark glasses, he smiled and said without exaggeration, "If the customer wants it done, we can make it happen." "We've been towing boats all our lives," he continued, "My grandfather, my father, and my brother Jack and now, my boys and Jack's two boys are with us. That's four generations."
The Deckelman-run salvage and rescue group, Chesapeake Bay Assist Association, operates with more than a half-dozen Deckelman boats and additional privately contracted vessels on both sides of the Bay. The program enrolls over 3000 members between Deckelman and the affiliate towing companies. Deckelman boats are built under the direction of Mort Jr. at Long Cove. They are usually made of aluminum, and they are rarely painted. "Our boats are built to be tough," boasts Captain Mort. "Boats like these don't need to be painted."
The distinctive Deckelman workboats are often prizewinners in the waterman's docking contests around the Bay. The Deckelman family has built boats from wood, steel, fiberglass, and aluminum. Captain Mort and his boys provide most of the labor. "We'd like to hire more employees, but nobody wants to work the way we need to work around here." Mort laments. "Good workers are getting really hard to find."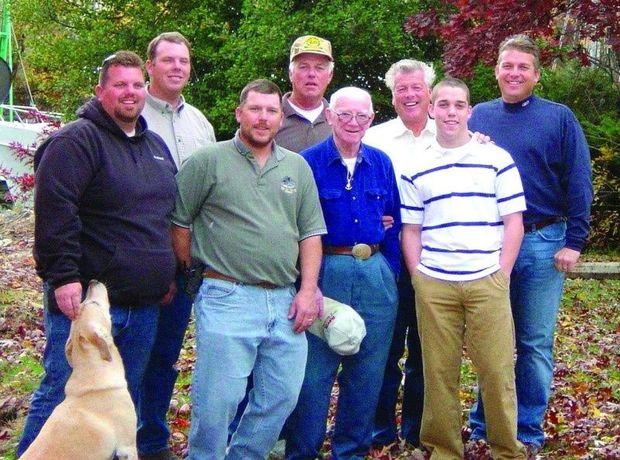 We climbed into a golf cart for a short ride; first to Bill's high-tech prop shop and then across the yard to the office to see some old photographs. Captain Mort pointed to a boat on our right—"That's one of our barges over there. We use it when we bring sunken boats up to the lift. First we raise them up, then we put them on the barge with one of our cranes, and then we tow them to the lift.
Next on the tour was a 70-ton travel lift with a 22-foot span, one of the largest on the Bay. Deckelman keeps it ready for emergency action at anytime on any day, 365 days of the year. Then he pointed out a multicolored pile of debris heaped on a wooden pallet—"That's the speed boat that got wrecked up the river a couple months ago. You must have read about it." He said. We stopped to take a closer look and some photos. "The poor guy was by himself…got killed jumping over a boat wake."
We scootched past Earl, the yellow Lab mascot stretched comfortably across the lawn, so Suzanne could take a photo of the Captain. As the camera shutter clicked, he smiled and said, "The only thing that upsets Mort Deckelman is when people don't pay their bills."
I asked him to tell me about his most memorable salvage job. He thought for a moment before bringing back the tale of a 45-foot wooden trawler that blew to pieces at the dock where the owner had been charging his batteries. A spark ignited a cabin full of flammable hydrogen gas after hours of overcharging. "The blast blew the whole deck apart and sunk everything else. We got to pick up the pieces." He added, "Anything can happen when it comes to boats. It's always a challenge; that's why we do it."
The Rock Hall Prop Shop, situated in a smaller building, is clean and orderly. Here, the Deckelman team, under Bill's direction, services any kind of propeller with computer-assisted precision. Mort informed us, "People send their wheels here from all over the Bay and from out of state. The boys, in many cases, even pick them up and drop them off."
We continued to the ship's store where the aisles were well stocked and organized, with everything from cleaning supplies to completely new diesel engines. There are photos, old and new, on the walls. An album filled with images depicting the transformation of Long Cove sits on the counter. On the wall is a faded Kent County News photo from 1978 of a shoreline strewn with hundreds of broken and submerged pilings, abandoned buildings, and derelict hulks. Captain Mort pointed to the beautiful rows of docks and pilings. "That's what it looked like then, and this is what it looks like now," he said, proudly, "We pulled every one of them pilings out ourselves, over 500 of them… and loved every minute of it."
Indeed, a family tradition of hard work, resourcefulness, strength, and versatility runs deep at Long Cove Marina. Moreover, the 59-year-old Captain Mort reminded us that the challenges do not get any easier with time. He gazed across the calm water and told us of his most heartrending challenge. Within the past year he lost his mother, Stella, and his wife and business partner, Maria, within a few days of each other.
"It's knocked hell out of me," he confessed. "It's changed everything… but you've got to keep getting up in the morning." Captain Mort Deckelman represents a heritage that is unique to life on the Chesapeake Bay. "We've seen it all," the Captain admitted as we said farewell, "In this business, you never know when the phone is going to ring, and you never know how bad it's going to be. You never know until you get there. That's why we are prepared for anything."
About the Authors: Mark and Suzanne Einstein live most of the year in Rock Hall, MD and operate a scenic charter boat business (bluecrabcharters.com) from the Waterman's Crab House.