Lake Vienna is a serene man-made lake along Route 50 near Cambridge, MD, designed exclusively for waterskiing activities. Longtime Lake Vienna Ski Club member David Williams sat down with PropTalk to discuss the club and the lake.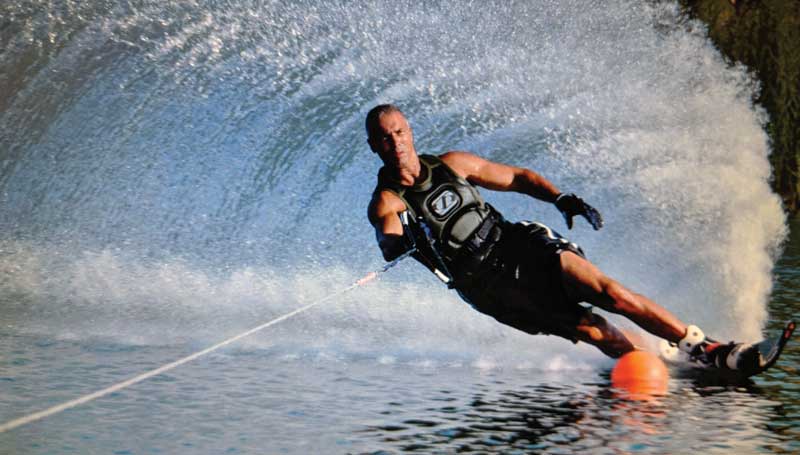 How long has the club been in existence? 
Probably close to 20 years. The club was originally privately owned for about 10 to 12 years. The owner then sold it to the Delmarva Power Company. We have been leasing it from them for about the last eight years.
What is the cost of membership?
The annual fee is typically about $2000 per family. Depending on how many families are involved the price may fluctuate a little. Our current membership is at 13 families, but ideally we are looking to get to 15 to 18 families. The club leases the lake from Delmarva Power for seven months of the year and maintains the property, the boat, and all the equipment and/or gear.
Talk about the lake and your members.
Lake Vienna is a man-made freshwater lake, designed exclusively for watersports. It is about a half-mile long and about 1000 feet across. Fresh water means no nettles, and with our boat being the only one on the lake, pristine glassy water is easily had. It is a premier place to learn to ski.
Most club members consider themselves serious waterski enthusiasts, and a number of them are competitive slalom skiers. We run a six-buoy slalom course and shorten the rope (to increase difficulty) after successful runs through the course. Most of our slalom skiers bring their own rope handles and skis. We also have some wakeboarders and tubing for the kids. In the past there was also a ski jump on the lake, but it is no longer part of the current layout of the lake.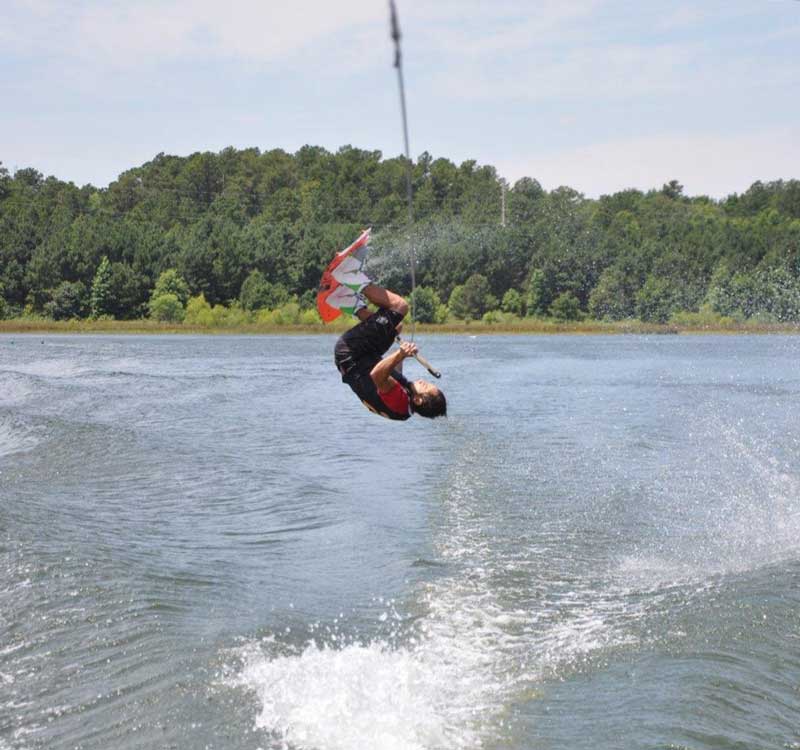 Tell me about your equipment—boat and skis.
Our boat is a 2015 Mastercraft Prostart ski boat purchased from Annapolis Watersports. Twenty feet long, she's powered by a 270-hp inboard motor. Equipment-wise, we have more skis and equipment than anyone could ever need. Years and years of accumulation mean we have skis for every type of skier and all skill levels, from beginners to experts.
What days do you go out?
Typically there is someone on the lake most every day during the season, weekends being the busiest. The lake has a nice covered pavilion and grill that allows for spending the day there. In the fall, we'll often have football games on the flat screen. It's very low key and laid back, very family friendly.\
What kind of events do you host?
We have hosted waterski tournaments and charity events. Our tournament was simply called the "Crabfeast Tournament," a waterski competition and crab feast. For charity, we have hosted "In His Wakes," which specifically targets inner city kids and teaches them how to ski. Finally, we have also played host in the past to disabled folks and have been able to accommodate their unique skiing requirements. In short, we are open and will try to accommodate anyone who wants to be out on the water.
Each year we take donations and typically bring in a professional waterskier. This year Mike Kusiak joined us on Friday, June 14. The event always sells out and is a great day of skiing and professional instruction. 
How does one join the club?
One can inquire directly to the following members: David Williams at [email protected] or (410) 212-8317, or Mark Engberg at [email protected] or (410) 430-8559.
Interview By Dan Brougher