At its biennial Latitude Adjustment Party at the Eastport Yacht Club (EYC) to send off the Annapolis Bermuda Ocean Race competitors June 7, the EYC Foundation honored the 2018 class of Outstanding Marine Wizards. Congratulations to this year's class: Austin Angermier of Bay Shore Marine, Tripp Ewers and Matt Weimer of Annapolis Yacht Sales, Michael Johnson of Port Annapolis Marina, and Mark Miller of Ferry Point Marina.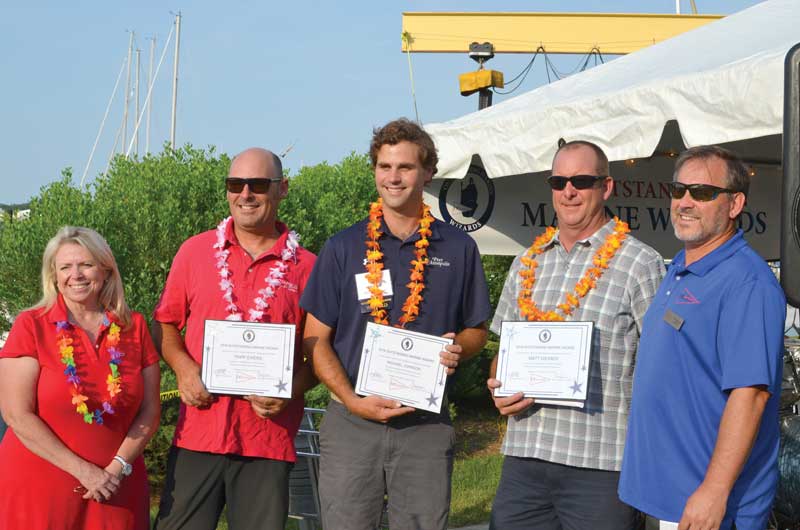 EYC Foundation introduced the naming of Wizards in 2008 as part of its Marine Skills Training initiative. An Outstanding Marine Wizard is defined as "someone who has outstanding marine skills that every boater wishes he or she had and offers these skills for hire." Once named, a Wizard remains a Wizard throughout his/her career. A new class is added every two years through nominations in the spring by regional boaters and votes by a group of industry leaders.
Ewers, a rigging specialist who commissions new boats for AYS, says that earning the Wizard distinction was "a total surprise." Ewers describes his work as "the end of the production line." He'll do anything from adding electronics to working up and down the rig to set up new Beneteaus to customer specifications and ensure the boats are ready to go sailing. 
"(The award) really is an honor," says Ewers. "I found out after the fact that we were nominated by the public, but those who did the voting included past winners. I respect those who've gotten the award in the past, so it was great to hear that."  
Weimer has been in the marine industry for 30 years. He has worked as a sailing instructor and private boat captain on race and cruising boats; worked for charter, tug, and rigging companies; and sold commercial marine supplies for 10 years. At AYS for four years, he now readies new sailboats and powerboats for owners and gives them orientations.
To be chosen as an Outstanding Marine Wizard was "really cool," says Weimer. "It's kind of fun to have random people in the grocery store coming up to say 'congratulations!'"
To learn more about this, visit the EYC Foundation.