We've all heard of three-foot-itis, the disease that strikes every boater, when they desire a boat with at least three more feet of LOA. The urge to get a bigger boat hits all of us, whether we own a kayak or a yacht. Of course, there's nothing you can do about three-foot-itis short of buying a new boat. Or, at least there wasn't, until Evo Yachts rolled out the Evo 43. This boat provides instant gratification when the disease strikes, by actually growing larger.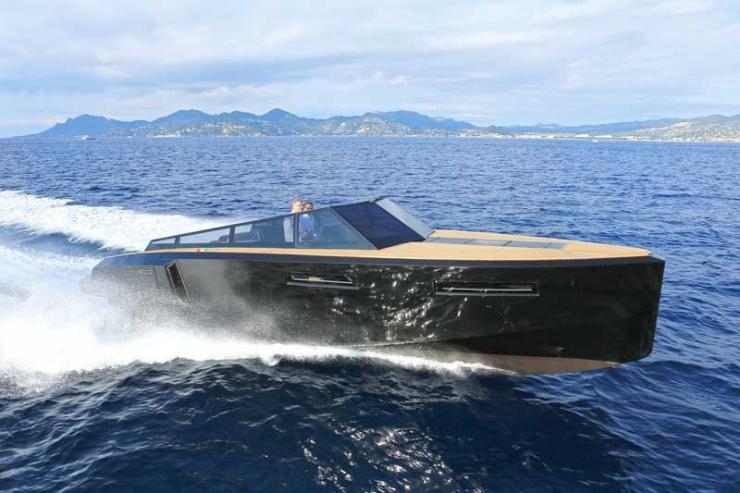 Yes, the Evo can actual grow, shape-shift, and transform. At the press of a button or the swipe on your cell phone (yup, there's an app for that) hydro-electric actuators push the cockpit gunwales outboard and previously hidden additional deck sections fold down out of the inwales. Then, the aft center section of the cockpit swings up and out, creating a "teak beach." Between the two expanding sections the boat's aft deck space increases by 40 percent. You want a bigger boat and you need instant gratification? Boom—in 30 seconds, you've got it.
Aside from its unique transforming appeal, the Evo 43 is interesting as a Euro-styled day boat. Powered by a pair of Volvo-Penta IPS 600 drives (joystick controls included standard), it cruises at 30 knots and can hit 38 knots. That's not too shabby for a boat of this size. The 18-degree transom deadrise hull is designed for sporty handling to match the speeds. Styling is, no question about it, modern chic from the opposite side of the Atlantic. A plumb bow transitions to angular hullsides with rectangular ports, capped off by a flat foredeck. The furnishings inside and out are uber-modern; steps leading into the cabin are illuminated Plexiglass, and there's a constant clash between polished stainless-steel and black gel coat throughout the boat, even in the anchor locker, which some might feel is more stylish than the staterooms in some American-built yachts.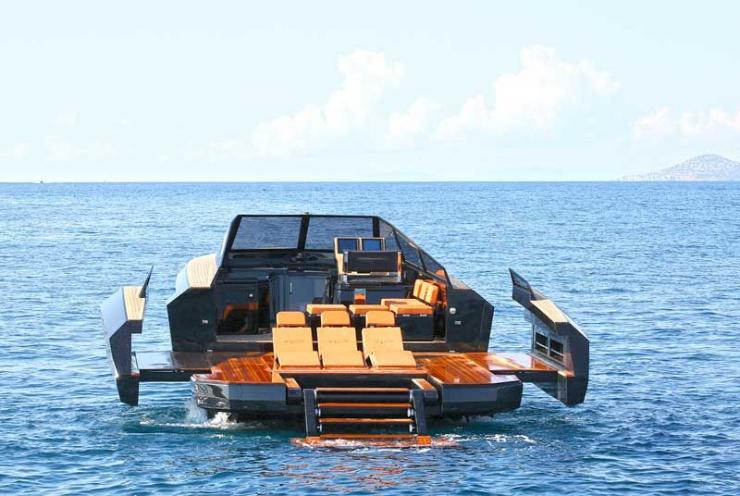 Another unusual trait delivered by the Evo 43 is its transom or the lack thereof. The boat is essentially open at the stern, with a single step down from the bridgedeck to the cockpit, where you can choose to have a pair of aft-facing loungers or a gunwale-to-gunwale sunpad. Yes, this does offer the ultimate in unimpeded access to the water while at rest, and yes, if we had little kids aboard this boat we'd want to keep an eye on them at all times lest someone take a tumble off the back. There are modular cockpit components which can be dropped into deck sockets to form a barrier of sorts between the helm-deck and the cockpit, yet we still can't help but feel that the Evo 43 is designed more for chic couples than corralling kids.
Two versions of the Evo are available: the standard 43 with a flush foredeck, and a Walk Around model with sidedecks and a tanning pad on top of the cabin top. In the standard trim the cabin has forward and amidships staterooms each with a full berth, a stand-up head to starboard, and a small settee to port. In the walkaround version the forward berth becomes a V-berth, which can be outfitted with a pedestal table that drops down and can be topped with a filler cushion. Either way, four people can spend the night aboard in comfort. What about the galley? As has become the trend in recent years, it's an al fresco design, and all food prep takes place abovedecks. There's a galley unit on the port side of the bridgedeck housing twin electric grills, a sink, and countertop. But the reefer is located under the helm seat, so be sure you grab your drinks prior to getting underway.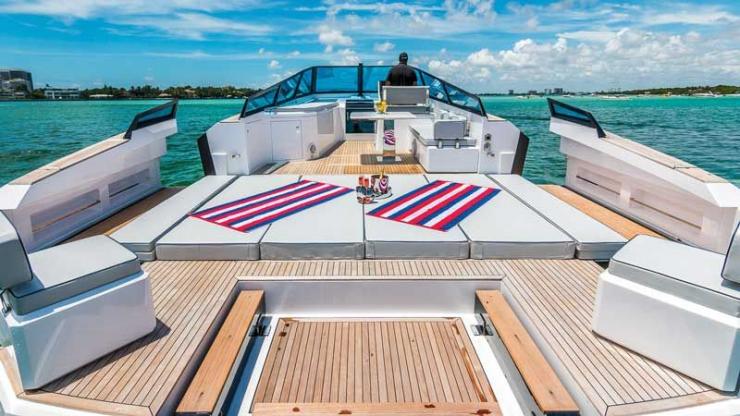 If you want to take cousin Billy Bob fishing, the Evo 43 will not be your boat. If you plan to take the kids out waterskiing or for a joyride on the tow-tube, the Evo 43 will not be your boat. And if you plan to guard your bank account against all excesses, the Evo 43 will not be your boat. But if you want the slickest, most contemporary, fashionable look possible—as well as a perpetual cure to three-foot-itis—the Evo 43 will be difficult to top.
Evo 43 Specifications
LOA: 43'0"
Beam: 14'10" (20'8" expanded)
Draft: 3'6 Displacement: 24,912 lbs
Max HP: 870
Fuel Capacity: 264 gal.
Price: Approx. $800,000
For more boat reviews, click to proptalk.com/category/boatnotes.
By Lenny Rudow