Evinrude is an iconic name in the world of outboard motors. The company's first outboard motor was introduced in 1909 by Ole Evinrude, and after all these years, they continue to serve as an innovator in the field. New to the lineup is the Evinrude iDock joystick piloting system. 
This system is available on boats with twin Evinrude E-Tec G2 150 to 300-HP engines and is designed to make joystick technology available to more boaters. As senior editor for PropTalk, I had the opportunity to demo this new technology in early June in Stuart, FL, on a Bennington 27QSR and a Scout 255LXF. The joystick system allows users to side-step the boat or pivot in place with control at their fingertips. Advanced aircraft gyroscope sensor technology makes iDock more intuitive to pilot by automatically compensating for wind and current. If extra power is needed to overcome wind or current, boaters can push the stick further into boost position to double the thrust.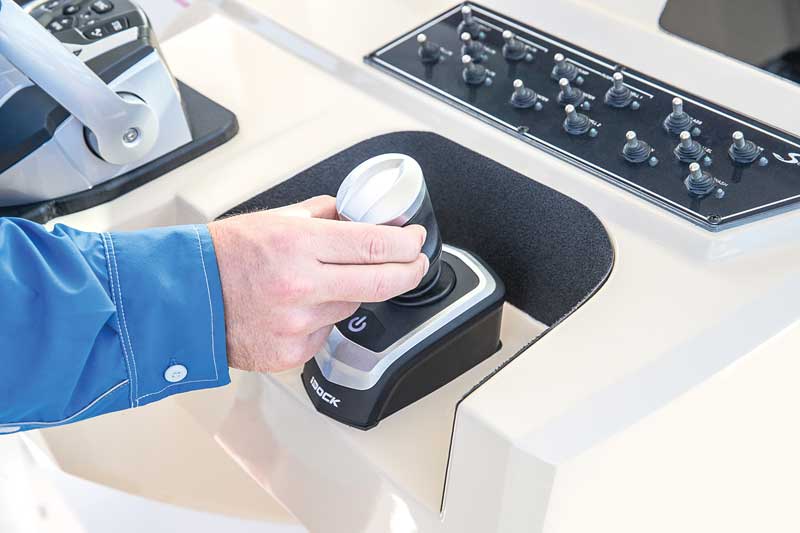 It was a windy morning when I tested the iDock on a Bennington pontoon. Because of the high wind, I could feel a slight delay when trying to maneuver, but then boost mode would engage and the joystick made docking a breeze in those less than ideal conditions. I can only imagine how smooth it would feel when wind is less of a factor. And while I hadn't used a joystick system before, I found that there was not a steep learning curve to get accustomed to the handling.
One of Evinrude's goals with this new system was to give novice boaters more confidence and less stress when docking, because as many of us can attest, docking is often the most stressful part of an outing.
"Our goal with the Evinrude E-TEC G2 engines was to design a platform with unlimited potential for continued technological enhancement and innovation," said Olivier Pierini, Evinrude director of global marketing and strategic planning. "The intuitive nature of the technology will give even a novice boater immediate confidence in their ability to dock any boat equipped with Evinrude E-TEC engines easily. And by using technology that is already built into the engine, it is significantly more affordable than any other joystick system on the market. This all adds up to a level of on-the-water confidence you can't live without." 
The iDock is a fully integrated system that connects with the existing internal hydraulic steering feature of Evinrude E-TEC G2 engines, reducing cost of parts, removing clutter on the transom, and freeing up precious storage space. And, because it leverages existing E-TEC G2 architecture, installation time is minimized. iDock models follow the same installation process as Evinrude E-TEC G2 engines and typically requires less than one hour of on-the-water setup.
Evinrude will be offering this system at an MSRP of $5999 for all iDock components which includes the joystick, module, and hydraulic hoses. The technology was priced to be within the grasp of any boater. The E-TEC G2 iDock model engines are sold in pairs and will be available fall of this year.