Every boy, it's said, deserves a Whaler. Having missed out on that birthright in my youth, I'm making up for it now. As a kid, all I ever had was beat-up wooden rowboats. I didn't get my first Boston Whaler until I was in my 40s, when a 15-foot Supersport with a 70-horse Johnson popped up at an affordable price in the classifieds in the Washington Post, which was where you looked for used boats before PropTalk or Craigslist.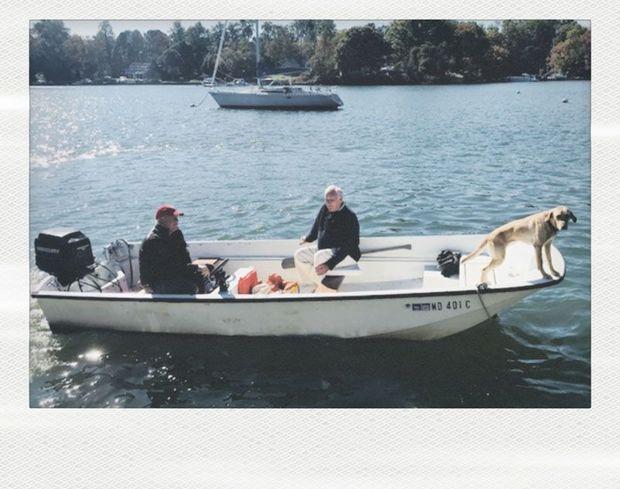 That was the prettiest, fastest Boston Whaler I ever saw, with bright, varnished seats and console, royal blue, custom canvas seat covers, and a stainless steering wheel that was all but blinding in the sunlight. It had been garage-kept, with nary a scratch.
My daughter Laura was (and still is) married to one of the Mighty Mighty Bosstones, the New England-based ska band. We named the little sled the Bosstone Whaler and made up for lost time by blasting around the East Coast from Florida to Maine, hauling it everywhere on a trailer. We even took it in the ocean one day, the wife and I, out Indian River Inlet through the breakers in Delaware.
A 15-footer is a kid's boat, though, and after a few years an aching back told me it was time to move up to a 17 you could drive standing up. My first 17 was a dud, purchased in violation of a cardinal rule: Never buy anything used on the Eastern Shore. (Once an Eastern Shoreman is done with something, it's generally done-for.) The boat was waterlogged, overweight, and overpowered with a 115 Evinrude. Lesson learned.
After that I ran through a bunch of Whalers, all 15s and 17s. None met the standard of the pretty first one, but I loved them all. One thing I noticed: the older the boat, the better. It seemed the old ones were lighter but still plenty stiff and easily powered.
The proof of that theory came in a 1964 17-footer I found up in Pasadena. It'd been slathered with house paint, and the bottom was so old, the gelcoat was crazed like a mosaic. But the guy was willing to take $2000 all up, boat, motor, and trailer, and I was Whalerless at the time. Why not?
A few weeks later I noticed a serious flaw: a small but significant hole in the transom where it met the bottom. Water seeped out when it sat on the trailer. I went to the Continuous Wave website, informational home to all things Whaler.
The advice was to expand the hole enough to poke a thick, wire hook in and start digging out all sodden foam from inside, then squirt new foam in and seal it with a fiberglass patch. I expected to dig out buckets of soggy foam, but barely got a cupful before hitting dry matter. This, it turns out, is the beauty of the closed-cell foam Whaler pioneered. Water gets in but migrates nowhere.
The 70-horse Johnson that came with that boat lasted three years before blowing up one day when I took my boss out fishing (ouch!). I found a used Mercury 60 to replace it, which had plenty of power.
I loved that boat and should have kept it, but someone came along and offered more than I'd paid for it and I let it go the year before it turned 50. I had regrets, knowing I'd probably never find another one that old. Then an ad popped up in Craigslist for a 1962 17-footer.
According to Continuous Wave, 17s (actually, they're 16'7") were introduced in 1961. Could I become proud owner of the oldest 17 on the Bay? This one was the original Currituck model, with twin mahogany benches and a side console. It was simple, sturdy, and ran like a scalded dog with a two-stroke Mercury 50. Sold!
Which brings me to a final subject: weight. My longstanding belief that old Whalers were lighter than the new ones defies logic. Technology makes new stuff better, lighter, stiffer, right? Well, another visit to Continuous Wave revealed this remarkable statistic. Hull weight of a first generation 17-footer was 500 pounds. That jumped to 550 in 1973, and then ballooned to an astonishing 850 to 950 pounds, depending on the model, in 1999.
Which explains why I can zip around at 35 mph in my '62 Currituck with a 50-horse Merc, while a newer Montauk takes 90 or 115 horsepower to do the same.
Happy? You bet I am. First of all, I own a Hunt-designed yacht, the late Ray Hunt being the heralded designer of a dozen or more fabulous 20th-Century hulls in addition to the original Whaler, including the Bertram 31 and the Surf Hunter. Second, even though it looks a wreck, I have a boat that takes me safely out and back in almost any Chesapeake condition. And finally, it's a boat we can use for everything—crabbing, fishing, or taking the ladies to brunch on Sundays, and be assured we're riding in boating royalty, however scarred. Everybody deserves a Whaler.
by Angus Phillips