Only one percent of plastics are recycled, with the rest ending up in landfills and our oceans, resulting in large floating trash gyres. ECOlunchbox's mission is to help people reduce the use and disposal of plastic food containers by providing non-toxic, plastic-free lunchboxes that are healthy for people and the planet. 
Founder Sandra Harris started the company with the notion that change can begin at lunchtime. When searching for a waste-free lunchbox for her children, Harris was surprised to find little to no plastic-free options, and thus the company was born. Today, they have sold more than 482,000 lunch boxes which translates to roughly 32 million pounds of trash averted from landfills and the ocean. 
The results of a study by ECOlunchbox show that a typical family wastes about $450 on throwaway containers and creates thousands of pieces of lunchtime garbage every year. Investing in reusable lunch containers translates to more money saved in the long-term cost analysis.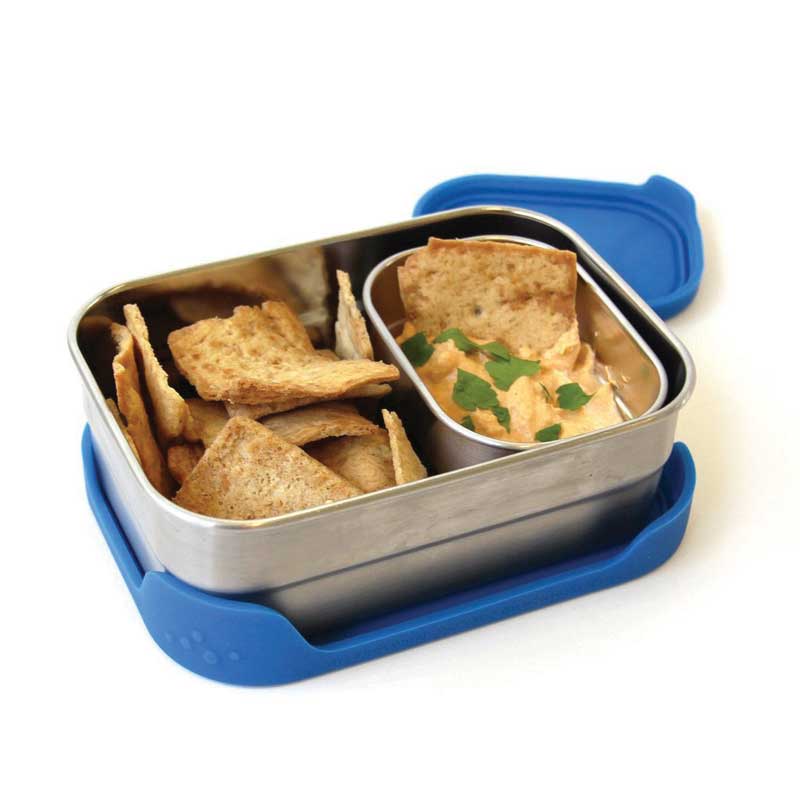 We recently tested the Blue Water Bento Splash Box and Splash Pod. The Blue Water Bento product line, made of recyclable stainless steel, is designed for the ocean with a water-tight silicone lid design, easy-to-grip corner tabs for opening and closing, and portability. All containers are free of plastic, BPA, and phthalates, are lightweight, and are dishwasher and oven safe. Two Splash Pods are designed to fit inside the Splash Box for space saving. You can also opt for the Blue Water Bento Lunch Bag, which is created through a melding of hand-printed textiles from India with modern design influences. The combination promotes environmental sustainability and supports these artisans and their textile arts.
So—is the ECOlunchbox actually leakproof? We filled our Splash Pod with hummus and placed it in the Splash Box where we filled the remaining space with chips; then sealed the lid and tossed it off our kayak into the water. The verdict? It is indeed leakproof and quite the nifty snack container to bring out on the water. The added environmental benefits make this a win-win in our book. The Splash Box retails for $22.99, the Splash Pod for $11.99, and the Lunch Bag for $15.99. ~K.J.
---
For more product reviews, visit our Boating Gear Reviews page.