Father's Day: June 2020. The whole family—my husband, daughter, son, and I—went boat shopping. To me, it wasn't really shopping. We'd talked about buying a boat and decided that we weren't ready. I'd planned the activity because my husband loves boats and would enjoy his time at the boat yards.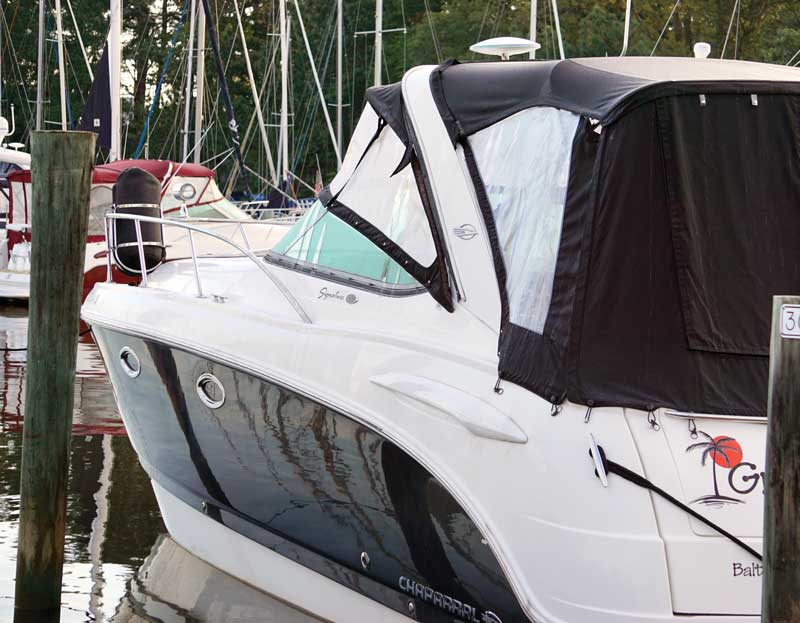 I was right. He did enjoy looking at boats that day—too much. After boat shopping he got serious about buying a boat. I figured if he was ready, then I was ready. I began a search. We wanted a powerboat with a nice cockpit and cuddy cabin that would sleep the four of us. We searched for 28- to 35-foot cruisers and spent our weekends at the boat yards. So did everybody else. In 2020 everyone wanted a recreational vessel that would facilitate social distancing. We bid on boats, only to have them bought out from under us. 
We were trying to keep our prospects to vessels under 10 years old, but by July there were none left. We found two 2007 Chapparal Signature 330s, one with 600-plus hours on the engines and one with 300-plus. I wanted the lesser-used boat, but she needed some cosmetic work, and the 600-plus was in perfect condition. We bought the turnkey version. Group Therapy was beautiful. Black-hulled and shiny white, she looked majestic and luxurious.  
We went through the buying process: inspection, sea trial, etc. She passed them all. We got a loan, and she was ours. It was mid-July when we took delivery at Herring Bay in Rose Haven, MD. I had big cruising plans for the summer. We'd take a weeklong vacation around the Chesapeake Bay, spending our nights at different marinas. We'd explore islands and quaint historic towns, feasting on crabs and oysters, all in our new aquatic home. 
We'd never piloted a boat this size. Before kids, we'd had a 15-foot bowrider, but our new boat was twice her size. Surveying the harbor with its multimillion-dollar yachts, we were understandably nervous. Could we pilot our pride and joy without destroying someone else's? We hired a captain to teach us how. Lesson day came and I came down with a cold. My husband and 13-year-old daughter went out with the captain. They learned how to pilot the boat in open water, but during docking lessons, the starboard inboard gave out and the captain had to dock the boat for them.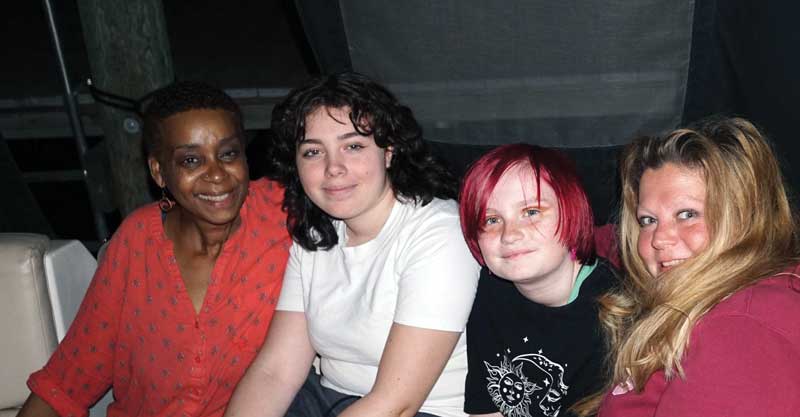 The engine needed a complete rebuild or replacement. We chose replacement, and the mechanic said he could get the boat back in the water by the end of the season. After much discussion, we decided not to pull her. One impetus for the boat was to have a floating apartment to use for solitude. There were no camps for our kids, my husband worked at home, and everyone was together all summer. I needed alone time and there was nowhere to get it in the house. I'd go to the boat to get my "mom time." Spending time on the boat felt like vacation. My husband would visit the boat at least twice a week, sometimes working on Wi-Fi from the deck. Our marina membership saved our family that summer (not just with sanity breaks for Mom and Dad). We went to its pool almost every day. It was the only safe place to go for fun. 
At the end of the season, we had the boat pulled and repaired during the winter. Spring came, and my visions for boating season bloomed. It would be a summer unlike any other. We'd take friends out, fish, and use the inflatable towable. After delivery, the mechanic took my husband on a shakedown run and the new starboard engine ran well but the port engine gave out. Once again, we had a lame boat in the water. Disappointed, frustrated, and on my husband's part, a little relieved about the multimillion-dollar yachts, we vowed to use the boat sometime that summer. 
Building on the principle that we enjoyed spending time at the harbor and knowing our friends were waiting to be invited, we decided to use the vessel to entertain. We invited close friends for a floating happy hour. It was hot. That was the day we realized we needed a fan or two for the deck. But they enjoyed drinks and appetizers, we enjoyed having them, and the kids enjoyed spending time in the air-conditioned cabin on their phones. 
Our marina's Fourth of July fireworks presented another entertainment opportunity. We usually spent the Fourth with another family at their bayfront house viewing the Chesapeake Beach fireworks. This year we invited them to the boat for the marina's fireworks show. Our kids had lost electronics privileges, so we asked our friends not to bring tablets. That was a mistake. While the adults enjoyed drinks and snacks on deck, the kids spent time below watching TV, eating junk food, and melting down every hour, so the moms had to put out fires. Lesson learned. Forget responsible parenting. Electronics keep the kids happy.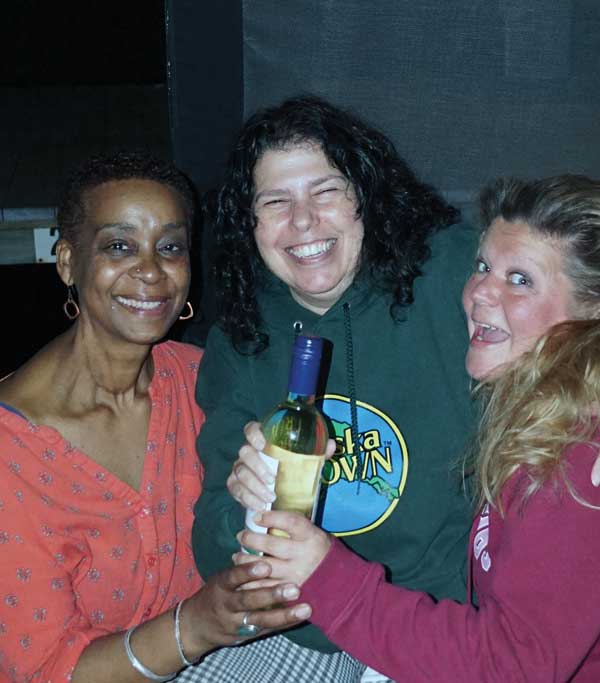 We didn't take the boat out that season either. During the repair process, one thing or another would break, rendering our vessel undriveable again. My husband had an epiphany. He theorized that the boat remained broken so that he could muster the courage to drive her. In the meantime, we continued to use Group Therapy as a solitude refuge and vacation spot, and we pruned up from all the time spent at the pool.  
Winter came, and we had her pulled, worked on, and bottom-painted. The third season came, and the mechanic was too busy to deliver her. By this time, we'd learned that a close friend was an experienced captain. He, my husband, and my daughter drove the boat from Herrington Harbour North on Tracy's Creek to Herrington Harbour South on Herring Bay. I was on car duty, so I missed that voyage. They successfully moved and docked the boat, without hitting any expensive yachts. 
A few weeks later we wanted to thank our seafaring friend, so we invited his family out on the boat. The guys went through the pre-launch checklist and when they opened the hatch to view the engines, they found an oil slick on its floor. They shut the engines down and once again, we entertained on the boat at the dock. 
Soon after, my friend requested a girls' night. We wanted to keep it cheap but couldn't do it at home because our kids (and husbands) would inevitably interrupt. My friend suggested we go to the boat. We were having a serious heart-to-heart conversation when small, unsupervised boys tried to jump off a neighboring sailboat. We leapt up to handle the situation until the parents came back an hour later. Moms will be moms. That was the first of two girls' nights on the boat. 
We left the boat in the water this winter as a solitude refuge. Both my husband and I use her. It's freezing, but it's private. 
This summer we'll take her out for sure. But just in case, I'll insist on taking this year's first voyage across the harbor to her new slip. 
By Maria Bellos Fisher