Shallop, shallop, shallop! Those were actual words spoken at the PropTalk world headquarters in 2007 as we extensively covered the recreated John Smith Chesapeake voyage of 1608 in the 28-foot replica vessel. That summer, twelve modern explorers set out in a not-so-modern wooden shallop, powered by sail and oar, to revisit Smith's two voyages covering 1700 miles—and to introduce the Captain John Smith Chesapeake National Historic Trail, established by Congress the year before to commemorate Smith's epic voyages and their impact on American history.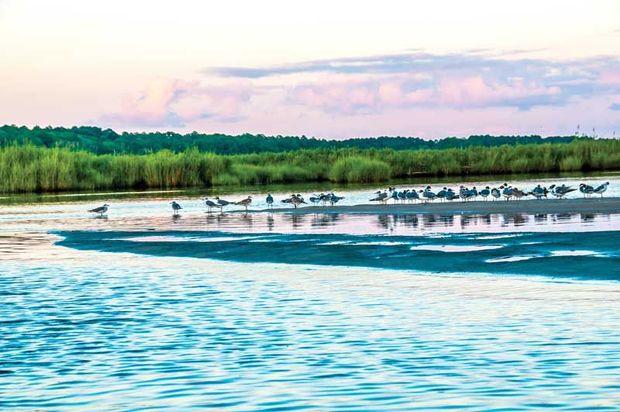 Since that summer when the shallop made PropTalk headlines again and again, the Chesapeake Trail and its offerings have grown for those who like to explore by kayak, canoe, paddleboard, other small boats, and even land yacht. As you plan your own 2018 expedition calendar, here are some highlights to consider:
Map it out
It is a trail honoring Captain Smith, so of course, it starts with a map. At Find Your Chesapeake, you may download the official John Smith Trail Boater's Guide, as well as one for the Anacostia River Water Trail, Blackwater Wildlife Refuge Trail, Chester River Water Trail, James River Water Trail, and many more.
Geocaching
For the uninitiated, a geocache (pronounced geo-cash) is a hidden treasure you find with a GPS device. Geocaching is a great way to get outside with the family and hunt for treasure together. The Maryland Geocaching Society has teamed up with the Chesapeake Conservancy and the National Park Service to place geocaches at more than 40 sites on five rivers representing stories or scenes from Smith's adventures 400 years ago. To learn more and download a CJS Geotrail Passport, visit
nps.gov/cajo/planyourvisit/geocaching.htm
.
Making his "marke"
Smith's 1612 map, "Virginia Discoverd & Discribed," presents our earliest picture of the Chesapeake Bay. There are 27 "Maltese" crosses scattered over it right to left, top to bottom. Smith tells us in his map key: "Signification of these markes,/ To the crosses hath bin discoverd/ what beyond is by relation." His journal tells us the "markes" represent actual crosses left in those places during his exploration, either of brass or as a shape carved in tree bark. Historian Ed Haile, with former Chesapeake Conservancy chairman Charlie Stek, put together a plan to restore 24 cross sites with stone markers right where Smith left the originals. Through the help of Haile and fellow project volunteer, Connie Lapallo, the conservancy is working to mark each spot using square granite pillars. These will make the trail more real for people and enhance geocaching adventures.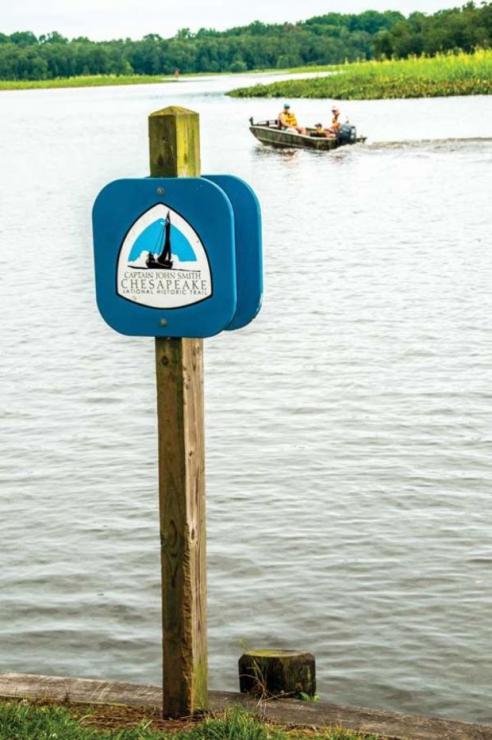 Trip ideas
It's a challenge figuring out where to start on a 3000-mile trail. There's a search engine on
findyourchesapeake.com/things-to-do/smith-trail
to help you choose your destination. You may pick your topic of exploration—Bay geology, birding, biking, fishing, crabbing, among many—your type of journey from land to sea, and state in the region; then you will generate a detailed list of options. It's helpful to have in mind what you want to do before you begin. For example, if you've always been interested in American Indians of the Chesapeake, you can start by choosing that topic alone, and you will be given 18 destinations ranging from Historic Jamestowne to the Sassafras River Water Trail. If you search for kayaking and trails, you will find 28 water trails. If you know you will be traveling with someone who gets seasick and so prefer a land venue, you can narrow down your search to "historic towns and buildings" or "museums" to receive fewer options. Helpful descriptions are available for all destinations.
Like a food truck with no food?
Combining the popular (and low-cost) concept of the food truck with the idea of connecting more people to the Chesapeake Trail, the Roving Ranger mobile visitor's center was born. The vehicle will appear at Chesapeake Trail locations and at public events and festivals related to the natural and cultural heritage of the Chesapeake Bay—and it will be food-free but filled with goodies. At a Roving Ranger stop visitors may collect a National Park passport stamp, pick up a trail brochure and a Junior Ranger hat, participate in an interpretive ranger program, and learn about new experiences on the Chesapeake Trail.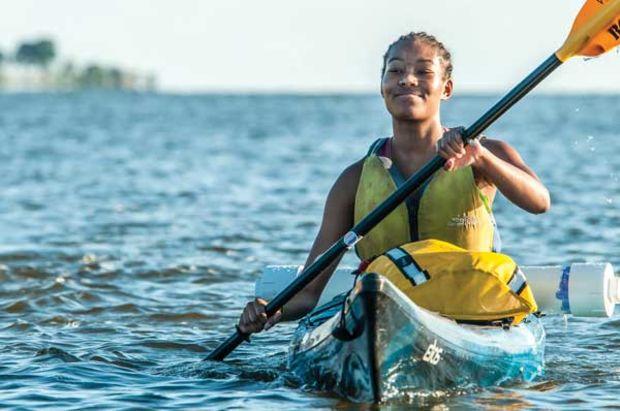 Smart buoys
The first of NOAA's yellow "smart buoys" were installed in 2007 along the Chesapeake Trail; now there are 10 of them from the mouth of the Chesapeake Bay to the Susquehanna River. These on-the-water platforms merge the modern technologies of cellular communications and internet-based information sharing. From your smart phone or tablet, you can check out real-time weather and environmental information such as wind speed, temperature, and wave height at any of the buoys. The smart buoys can also tell you something about John Smith's adventures during his 1608 voyage. The system provides voice narration—available via toll-free 877-BUOY-BAY or at NOAA's smart buoy website—of natural and cultural history for the area you're traveling through.
2018 resolutions to get outside
"As folks head into 2018 with their New Year's resolutions, we hope that people will make an effort to spend more time in the great outdoors, particularly on the Chesapeake Trail which offers miles and miles of recreation and beauty," says Chesapeake Conservancy director of communications Jody Hedeman Couser. "A great way to start is by signing up for our weekly e-newsletter done in partnership with the National Park Service called 'Trips & Tips,' which will keep you informed about fun ways to get out and explore our magnificent Chesapeake Bay. Visit
chesapeakeconservancy.org
to sign up. You can also visit a Chesapeake Trail visitor station at Zimmerman Center for Heritage on the lower Susquehanna, the Sultana Education Foundation on Maryland's Eastern Shore, and Gloucester Visitor Center in Virginia."