The boat shows have come and gone, daylight savings time is over, the nights are frosty, and rockfish season ends shortly. Boats are disappearing under shrink wrap cocoons, and oyster roasts are replacing crab feasts. Work continues in area boatshops at a different pace. Maintenance and long put-off repairs are addressed. And slowly, one day at a time, autumn slides into winter. As the fall layup season winds down, there is general agreement that it has been a good year.
Nate Baugher of Maritime Applied Physics Corp. in Baltimore, MD,
sent us this update earlier this fall: "Glad to report that the taxis are progressing nicely. Boat three was signed over to the owners this week after completing sea trials with great results and is now awaiting United States Coast Guard inspection for service. Boat four fabrication is about done, and we are in pre-paint assembly now. Delivery should take place before Christmas. Construction on boat five was started this month also, and hull plating is going on. We are continuing to dial up the electronics, mechanical equipment, and features as the fleet hours of use increase. Boat one has been in full service for almost seven months now and has logged over 1600 hours of use."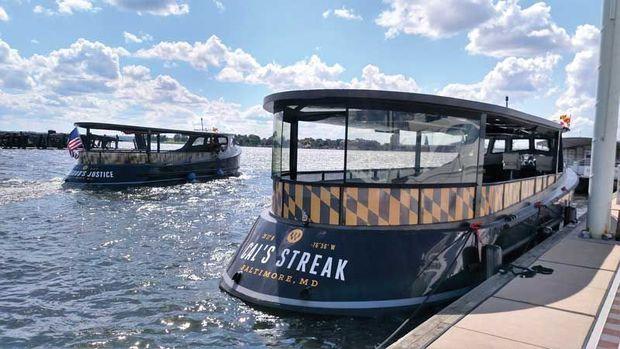 Captain Chris Parlin
reports that the refit on Jerry Herson's
Li'l Purely Pleasure
, a rare 4000 horsepower Maxum 60 was completed on time, and the boat spent most of the summer on the Chesapeake. Chris also reports "The boat returned to Key Largo in November to winter over. She will return to the Bay next spring."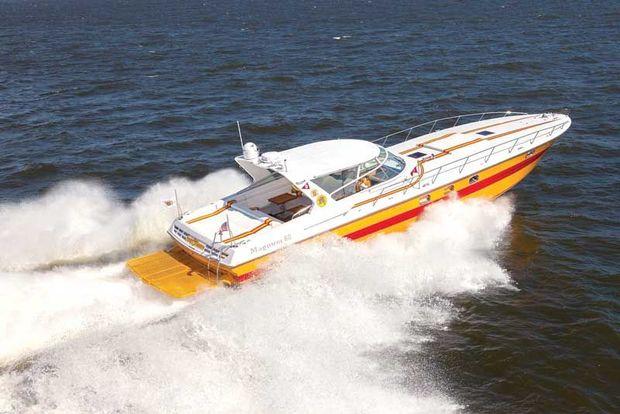 Traci Cimini from the Calvert Marine Museum (CMM) in Solomons, MD,
reports some good news about the electric crab scrape
Carol Jeanne
commissioned last winter at the Patuxent Small Craft Guild at CMM. "Congratulations to the Carol Jeanne for the first place win in the Picnic Class at the 2017 Wye Island Challenge Electric Boat Marathon in St. Michaels. She showed well against some 13 boats with a time of three hours, 55 minutes, with the required picnic basket and bud vase!"
BoatUS
sent us the following update late in October: "A month after Hurricane Irma struck Florida, the BoatUS Catastrophe ("CAT") Field Team is still hard at work. In Marathon's Boot Key Harbor, salvage crews from TowBoatUS Marathon raised a sunken sailboat and navigation hazard off the harbor bottom. Since the CAT Team's arrival in Florida the day after the storm struck, hundreds of recreational vessels have been recovered. After initially blanketing the state with BoatUS CAT Team crews traveling in recreational vehicles, recovery efforts are now focused on the Florida Keys where work is expected to be completed in about two weeks."
Boating stories and hurricane stories show up in all kinds of places. The following story popped up in the October
Smithsonian
online magazine. I couldn't resist it. "New radiocarbon dating of a dugout canoe that was found in Florida in the wake of Hurricane Irma shows it may be much older than previously thought. While researchers originally believed it was built during the 20th century, as Yelena Dzhanova at NBC News reports, the results of the analysis show there is a 50-percent chance the 15-foot, 700-pound canoe was made between 1640 and 1680, a 37.2 percent chance it's from between 1760 and 1818, and only an 8.6 percent chance it was made after 1930. Rick Neale at Florida Today reports that the canoe was originally found on September 11, along the shore of Indian River Lagoon near Cocoa, a city in Brevard County. Fine art photographer Randy "Shots" Lathrop was out bicycling and taking photos of the hurricane damage when he came across the craft, which had washed up along the road. After he and a friend moved it out of harm's way, they called the Florida Division of Historical Resources to come analyze and preserved the canoe."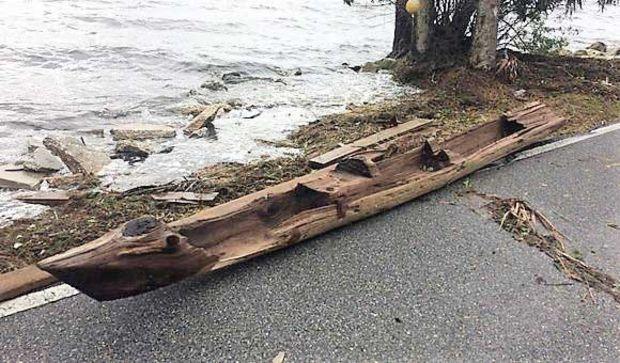 Dave Hannam with Classic Watercraft restoration in Annapolis
reports: "It's been a busy summer. Two Victorias have been through the shop. A cute little 1961 Penguin sailboat with that name has been completely rebuilt and delivered to its owner and is already sailing off of Gibson Island. The second Victoria is a 22-foot Chris Craft Sportsman Concours d'Elegance show boat and was just delivered back home in Hopewell, VA. The 1943 Montgomery Ward Sea Skiff 16 has all new coatings inside and a newly faired and painted bottom. The 1946 Century Resorter now has a fresh 327 flywheel forward back in and is awaiting a fresh bottom." [gallery link="file" columns="2" size="medium" ids="23496,23497"] "Update on the 16-foot Gar Wood Speedster, our fast li'l runabout is on its way to America's Packard Museum in Dayton, OH, to go on display behind Gar Wood's personal Packard sedan for the winter, where it will be on display with other historic automobiles, including mobster Al Capone's very last 1947 Packard Custom 8 Sedan, Very cool! So you might be asking yourself, what is the connection with Packard? Well in 1920 Gar Wood's Miss America V11 won the Harmsworth Trophy in England with his 12-cylinder Packard Engines and actually defended the trophy eight times. Next up in the CWR shop is a 22 foot Chris Craft Holiday, for a complete reassembly after hiatus in the owner's garage for the past few years."
Chad Brenner of Classic Restoration and Supply in Philadelphia, PA,
has a full shop to keep him busy for a while. "We are currently working on a 1936 Chris-Craft, doing a complete restoration. We are in the process of replacing all the frames, keel, and chine logs and then putting on new bottom planks using the 3M 5200 Method. We are also re-planking a Gar Wood and a Chris-Craft Holiday. We will keep you posted on the winter's activities."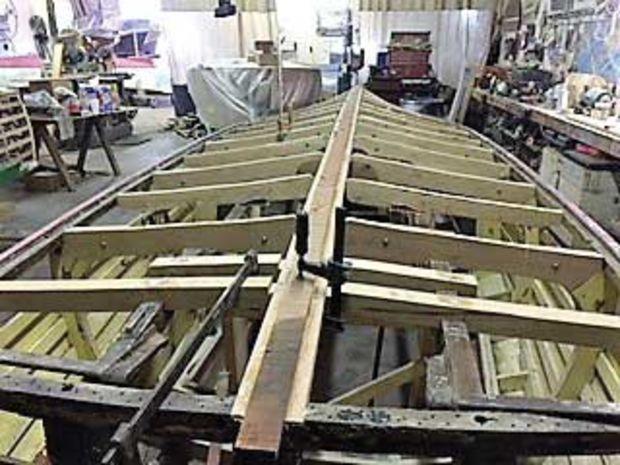 Bethany Ziegler of Chesapeake Bay Maritime Museum in St Michaels, MD,
brings us up to date on happenings at the museum's Miles River campus. "Chesapeake Bay Maritime Museum Shipwright James DelAguila reports that the museum's floating fleet of historic vessels is being prepped for the colder months after a full summer of upgrades. With CBMM's railway maintenance season wrapped up, new full-time marine mechanic Josh Richardson had the opportunity to do some much needed catch-up on systems maintenance before decommissioning vessels for the season. Richardson made sure that all vessels were in top shape for the fall's planned trips and continues to make sure CBMM's collection boats are able to continue traveling as ambassadors all over the Chesapeake Bay."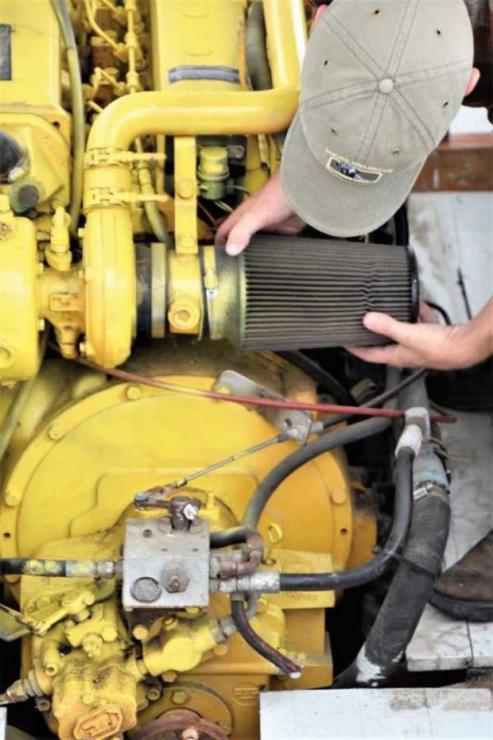 "Over the winter, shipwrights, apprentices, volunteers, and interns can spend a greater amount of time on the
Edna Lockwood
restoration, as the painstaking work of fitting and fastening her new log hull to her original topsides continues. All work is being done in full view of the public, with limitless opportunities to ask questions about this unique build. For more about Edna Lockwood's historic restoration, visit
ednalockwood.org
. To learn about CBMM, visit
cbmm.org
."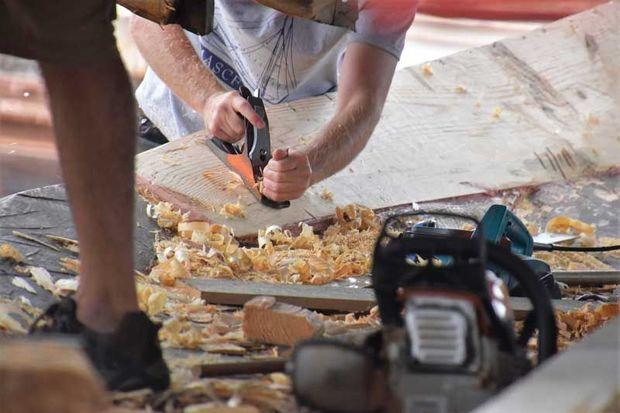 Mathews Brothers Boat Works in Denton, MD,
held its Fall Festival on the 28th of October. The website sends readers an invitation in the form of a question: "What's happening at Mathews Brothers? Quite a bit! Three new boats in construction, the Educational Passages project, and the beginning of rentals at the landing. We are certainly busy, but we always have room for new items to tackle. It's an exciting time, stop by and take a look for yourself." As we come to the end of this last column of 2017 I'd like to take the opportunity thank all the people in the various shops and marinas around the Bay who send their reports in to share, and to wish all of my readers and contributors a happy holiday season and a very happy new year. And, it was indeed a good year!
by Captain Rick Franke