On a humid, hazy Chesapeake Friday afternoon in early September, Tari-Ann, a 48-foot motorsailer ketch, eased into her berth at Clark's Landing's dock on Parrish Creek in Shady Side, MD. She has the high plumb bow, sweeping sheer and round stern with the pilot house and deck house right aft, of the traditional Chesapeake buyboat configuration on which she is based. As details emerged it was obvious that Tari-Ann had a story to tell: she was completed in 2019 and spent two years in a shed; her owner is Bahamian and has never seen her completed; she was designed and built in Nova Scotia. This was a story worth investigating.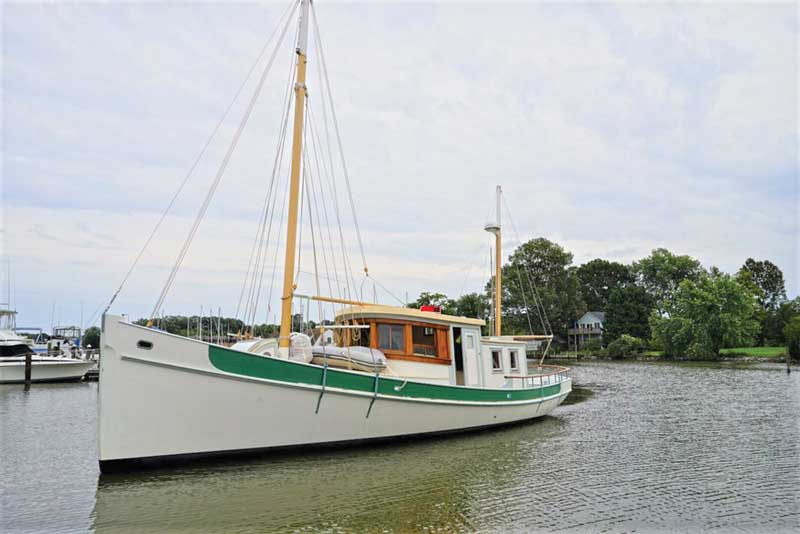 The story as told to me by Clark's Landing broker Paul Lash:
"Tari-Ann is a 2019 McGowan Motorsailer," Paul explained. "She is based on the design of the Chesapeake buyboats. Tom Goodwin of the Bahamas is the owner of the boat. He sketched it and had Laurie McGowan of McGowan Marine Design in Annapolis Royal in Nova Scotia draw her. Tern Boatworks in Gold River, Nova Scotia built it. He sent the drawings and specifications to Tern and they built to his specs.
"Tom's two brothers owned original Chesapeake Buyboats, and he wanted one as well," Paul said. "But he couldn't find one for sale, so he said, 'I'm building one.' Buyboats are common in the Bahamas, because, just like this boat, they can sit right on the bottom. It's got a full keel and bilge keels, and it's perfect for transporting freight and doing small jobs in the islands. They just run them up on the beach and unload, and when the tide comes in they float them off. So they are popular over there. Tari-Ann was his sister, and the boat was built in her memory. You'll see at the helm station there's a plaque in her memory as part of the wheel hub, that's pretty cool.
"They started construction in 2017 and completed it in 2019. She's cold molded, glass over wood, a composite build. Everything on this boat is absolutely first rate, all bronze fittings, everywhere. Every screw in the boat is bronze. The chain plates, all the rigging stuff, is all bronze, all top shelf," he concluded. "The boat was completed, and it sat at the Tern yard. Tommy, the owner, is a pilot and wrecked his floatplane. He's had numerous back operations. The guy can hardly walk now. He's never even seen this boat completed. It's been sitting in a shed up there at Tern Boat Works. I've had it as a listing for a while now," Paul explained.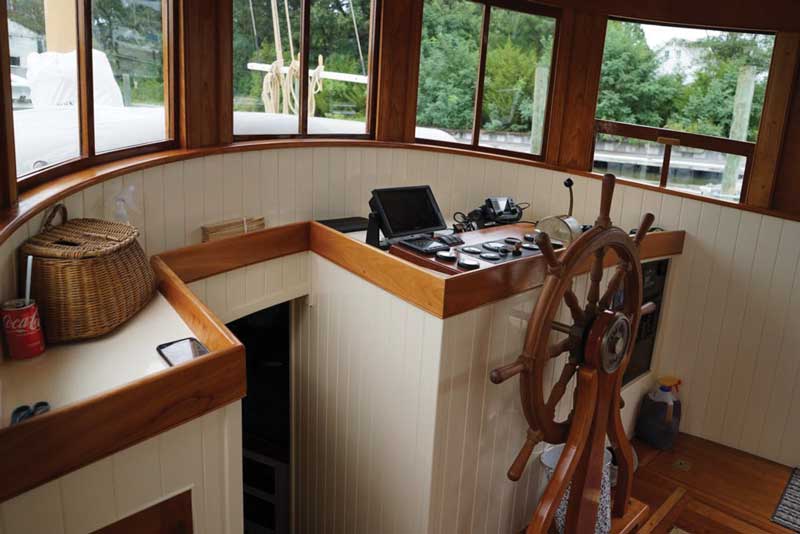 "I told Tommy that he needed to get her out of there and into an area where she'd be seen and appreciated. So about six or seven weeks ago Tommy's Captain, Dave Marchand, went up there with a mate. They commissioned the boat, outfitted and provisioned her, and headed south. The boat has a Delaware registration and taxes are paid. It only took them about 10 days to get here. They went through customs in Rhode Island. They probably put about 120 hours on the engine; there's only a total of about 150 hours on the engine and only nine hours on the generator. So, that's why she's been sitting in a shed somewhere and why she's here now. I talked to Tommy, the owner, this morning, and he's really chomping at the bit to see his boat.
 The Chesapeake buyboat filled an essential middleman role in the Bay's seafood industry in the early days of the 20th century. They would anchor in an area where tongers in skiffs and canoes were harvesting oysters or crabs. Some were independent operators and some were "runners" under contract to seafood packing houses. The tongers would sell their catch to the buyboat, thereby saving a long trip to the packing house and gaining more time to work their tongs.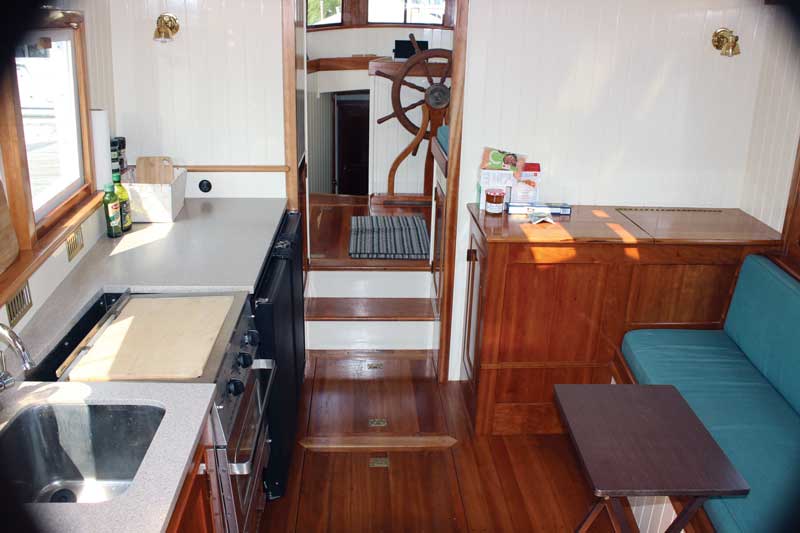 The boats were large, fully decked deadrise boats, usually in the 40- to 65-foot range with wide open decks, a large midships hatch and hold. The pilot house was right aft, providing maximum deck space for cargo. They were single screw boats with low horsepower engines, the emphasis being on cargo capacity rather than speed. The deadrise hulls had full keels and a sturdy skeg and rudder protecting the propeller for shallow water work. The earliest boats combined small engines with sails as auxiliary power and steadying sails. As engines became more powerful and reliable, the sails gradually disappeared, but the mast was always retained to expedite cargo handling.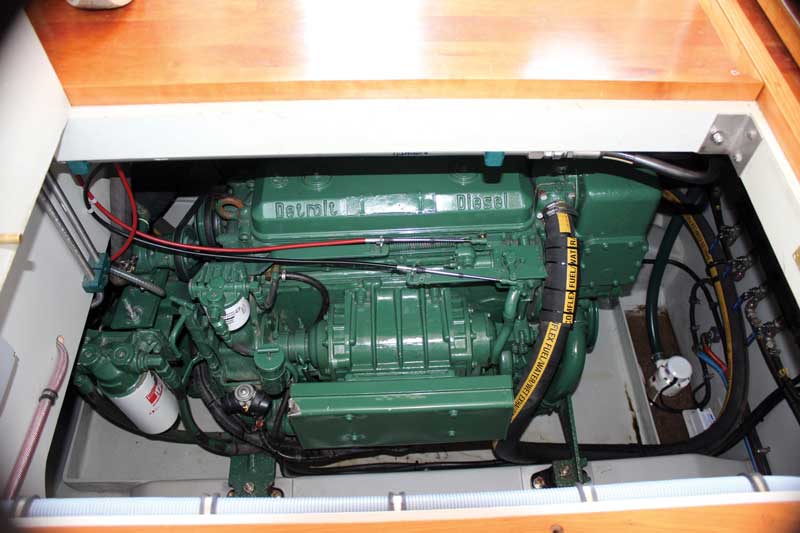 Just as the buyboats replaced the sailing bugeyes and schooners that preceded them, they too were ultimately superseded by powered tongers and trucks to transport the seafood to the packing houses. As the Bay seafood industry declined, many of the buyboats migrated further south and some even found their way to the Bahamas and the Caribbean. Many were also converted to liveaboard yachts. The practical, hard-working butboat design has always appealed to yachtsmen who want a comfortable, high endurance cruising boat like Tari-Ann.
By Captain Rick Franke