Courtney Stewart doesn't come off as your typical powerboat racing champion. She's petite (five feet and three inches) and has an excellent manicure. She's young (23) and soft spoken. She coaches cheerleading in her spare time. But her family is legend within the Chesapeake Bay racing community, and getting to know her, you begin to understand how she would fall into the long line of racers in her family, and why she would so quickly succeed.

"People get frustrated because all of our conversations turn to racing," Stewart says about dinnertime in her house. "Who's going to be there? What can I do to be faster? Why don't you try this prop? The most training I've ever done has been just talking it over with my dad, and then in my head." It's an education her father, Jimmy Stewart, received from his father.
"He used to go racing as a kid with my grandpa, who started it all (in our family). I used to go to my dad's races as a kid, 10 or 12 years ago, when he got back into racing. He used to drive the boat I'm currently racing, but then he got an opportunity to drive a new and faster boat, so I got the hand-me-downs." T
hose hand-me-downs are the Jersey Speed Skiff JS-721, Go'n Skiff'n Crazy, which Stewart runs out of her home on the Magothy River outside Annapolis. The inboard runabout carries a crew of two seated side by side, strapped inside a steel tubing roll cage with 300-plus horsepower attached. Jersey Skiffs run about 80 miles per hour, bumping and tossing themselves around the race course.
"I bought Courtney's boat back in 2002," says her dad, Jimmy, "and I was just wanting to get myself back into boat racing and fulfill a childhood dream of racing a Jersey Skiff. Peg (Ewancio) and I raced the 721 for years; I think it took us three years before we won our first race. We won a lot of races after that." Jimmy Stewart and Peg Ewancio have eight regional championships under their belts, with a second in nationals.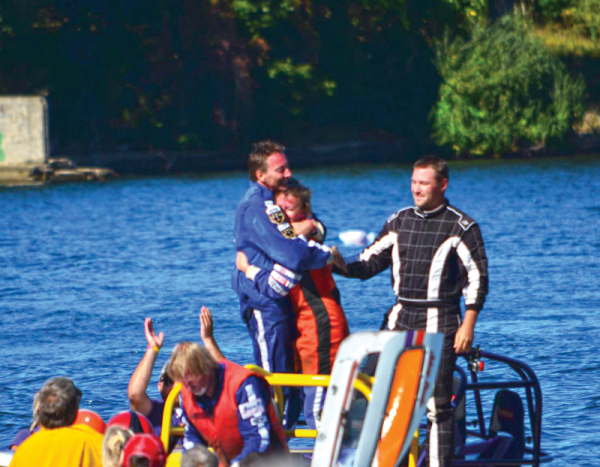 When Stewart took over racing JS-721 from her dad, she had some significant modifications to make. "The boat was set up for my dad and Aunt Peg. My uncle (Jerry Ewancio) even drove if for a while, too. I'm short, and my dad's 6'1." The first year that I drove it, we had to bungee cord a wheel chock to help me reach the pedal. That gave me a couple of inches."
Courtney officially started racing the boat in 2013, but because she was still finishing up college, she couldn't participate in all of the races. All of that changed in 2015, when she committed to the full year. "Once it was definite that I was going to drive it, we set it up for me, putting the pedals where they need to be. The original ones are still there, with my dad's extensions on them so I can get to them. We've had to do that with several boats…"
That's because Stewart doesn't confine herself only to the Jersey Skiff class now. She's also racing in her own 1.5-liter stock hydroplanes (T-class) T-720, Hang'n Loose, that she and her father spent a few years restoring. The all-wood hydro was originally built in 1972, and spent some years outside in the weather, so they took it down to a bare shell to remove much of the rotten wood before reassembling with an all new wood bottom and decks at the family garage. Stewart debuted her restored hydro in 2015, racing it to third place in National High Points in her first year with the boat.
These boats race at 90-plus miles an hour powered by a four-cylinder Toyota 1587cc engine. A driver is the only person in the boat, and he or she sits reclined with feet straight forward, leaning back. This is much different from the skiff, where the driver and rider sit upright in a cage, with the boat's maneuvers going up and down as opposed to the side-to-side motion of the T-class.
"They're both very different, and you're racing against different people in each class, which makes for an entirely different experience." The T-class also has a minimum age limit of 14, as opposed to the minimum age of 16 in the skiffs. Stewart notes that she's singled out in the skiff class as being one of the youngest, and certainly the only female driver. Although there are women riders, in Stewart's case it's the exact opposite: her rider is Richard Shaw of Centerville, MD. Shaw is her other set of eyes in the boat, communicating by hand signals only.
"We could not have done as well as we did if it wasn't for Rich," she says. Many of the other women in the class racing against her are family members, which makes the competition friendly. Sort of.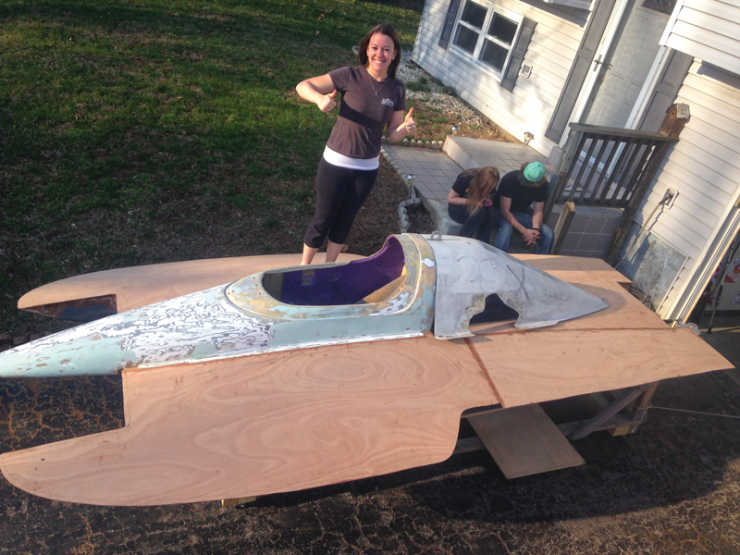 The Stewart and Ewancio families are intimidating competitors on the race course, racing together and separately. Her father was racing right next to her, but occasionally was her rider. Aunt Peg Ewancio was also present in the class, riding with Jimmy in JS-72. "I race against my cousin Samantha (Ewancio) in the T-Class and my other cousin Max drives a J-Stock outboard hyrdoplane, and my uncle used to ride with me. Now my sister Abigail wants to get involved in it, too."
Off the race course, the whole Stewart-Ewancio family sets up shop at the regattas, packing folding chairs and grills around their trailers and filling the bleachers. "It's like a family reunion almost every weekend." Knowing the competition so well helped give Stewart an edge to her own drive. "When my dad and I race against each other, he's always in the faster boat," she says. "But I'm always wanting to be better, to beat him, to be faster. It's only happened once or twice. I think he was bummed that he didn't win, but the fact that I was able to accomplish something made him more excited than if he had been in the boat."
She hasn't beaten her father often, but when she did, it really mattered. The race was summer nationals at Waterford, MI, a title event, and it helped Stewart accomplish something no other woman has done in the skiff class. "I don't think he even cared that he came in below me," she says. "It was a proud father moment for him."
The highlight of Stewart's 2015 racing season came at the very last event at Lake Hopatcong, NJ, where she was able to accomplish what only one other female has done in the 78 year history of the Jersey Skiff class in the American Power Boat Association (APBA). That was being crowned the national High Point Champion. This not only came down to the race weekend, but the last lap of the last heat that she competed in, narrowly edging out the second-place finisher by only 22 points. Winning that championship in her JS-721 was something that her father Jimmy and Aunt Peg, two-time National High Point Champions themselves in other skiffs, tried to do for six years, but were unsuccessful.
As a result of Stewart's accomplishment in winning the championship, she is able to change her boat number to reflect that she is the champ out of the other 21 skiffs that she raced against. She's now JS-1, signifying that both she and the boat are the best in the country.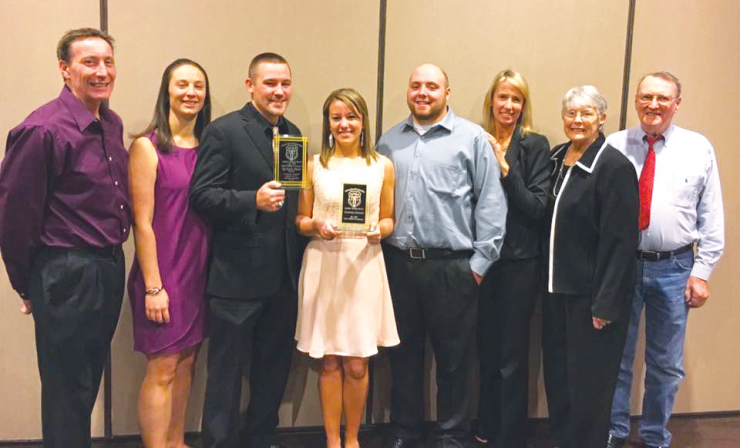 Stewart knows that she has a long season ahead of her, and that winning another title will all come down to the luck of the draw. "You never really know how the season's going to finish out," she says. "Two years ago, in 2014, I had a very good season with the exception of engine trouble at one race. That caused me to finish third instead of second in National High Points."
But all of the ups and downs, the luck of the draw and the hard knocks are worth it in the end, says Stewart. "I never in a million years thought I was going to get the championship in the skiff class just because the competition was really, really high. But I had to go for it. Being able to finish, to walk away not only with a trophy but with a championship ring on your finger, it makes you feel really good about yourself."
And her dad feels pretty proud of her, as well. "I never would have thought that my little cheerleader daughter who used to come in the garage to hang out with her dad but didn't want to get her hands dirty would grow up to be a real racer at heart, living and breathing the stuff. It's truly amazing. Hopefully Courtney and other female racers can be role models for young girls who want to get involved in all different types of predominantly male forms of racing. And know that racing is for everyone; not just boys and their dads, but girls and their dads too."
Courtney Stewart is changing the face of powerboat racing, both in the Jersey Skiff class and beyond, on the Chesapeake Bay and on the national scene. We hope that she feels good about herself, because she is doing something incredible for both her family and the extended family of powerboat racers around the world.