Correct Craft is well-known for its Ski Nautique brand, although the company produced a wide variety of classic fiberglass boats in the 1970s. Included in its array of boats were runabouts, cuddy-cabins, and center console models including Southwind, Martinique, Cuddy Nautique, Fish Nautique, Bass Nautique, and of course, the Ski Nautique.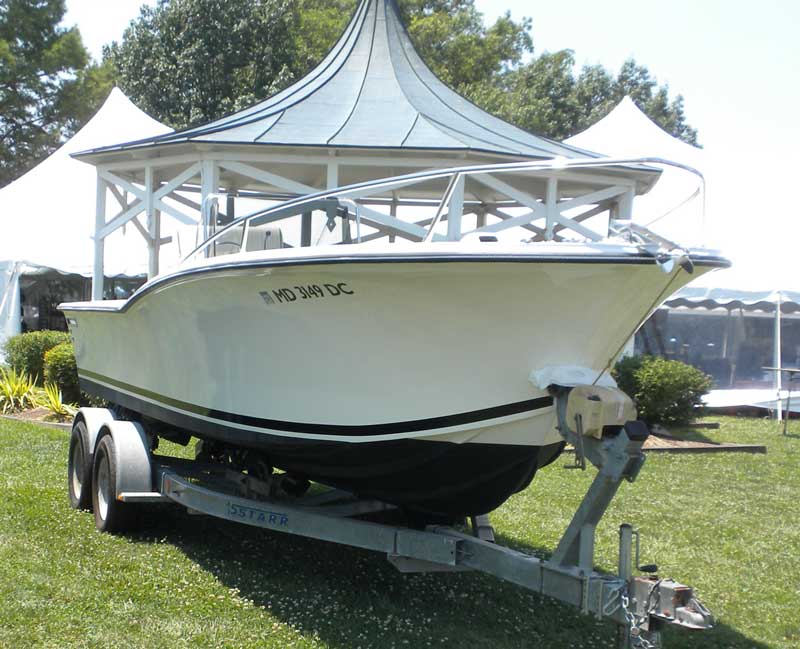 I have cruised the Chesapeake Bay as a passenger on this rare 1977 Fish Nautique with its owner, Jim Shiller, and had a wonderful time. She is soft riding and handles well in wakes, Bay chop, and rough waters on local rivers. Jim kept us and his open boat dry that sunny yet very windy day on the Bay.
She will cruise around 25-30 mph burning about five to seven gallons per hour. Top end is in the 40-45 mph range.
Reflecting Jim's sense of humor, he named her MUTT, short for Many Useless Things Together. And that's how Jim restored her.
Upon detailed inspection, she needed a lot of work. The trailer had four new tires, but that turned out to be the best of the boat's entire rig. The biggest challenge? Replacing the wood engine beds as a part of the engine stringers system.
Jim also had to remove over 200 pounds of bottom paint when he sand-blasted her. And since he's a casting fisherman, he relocated the boat's drain ports and some of the deck hardware. Now she's a very smooth boat that won't snap fish lines. Jim can easily cast a pole anywhere onboard, port or starboard, bow or aft, when he's fishing around the pilings of the Chesapeake Bay Bridge.
All of the hardware today on MUTT was repurposed from several other boat brands, but you'd never know it. She looks and performs good as a new boat! Best of all, Jim recently entered her in the juried Antique and Classic Boat show in St Michaels, where all his hard work and ingenious solutions earned him the prestigious Best Fiberglass Boat Award.
If you aren't familiar with Correct Craft, here's a bit of its impressive history…
Walter C. Meloon started the Florida Variety Boat Company in 1925. During the early days, the company built a variety of craft ranging from powerboats to race boats and even sailboats.
By 1936, the company narrowed its focus to powerboats. After hearing a radio ad explaining "the correct heel for your shoe," W.C. thought, why not "the correct craft for you?" So, the company name was changed to Correct Craft.
Despite the Great Depression, Correct Craft continued to grow. During World War II, Correct Craft's impressive reputation caught the eye of the U.S. government, which desperately needed storm boats. And the patriotic Meloon family was happy to help. In 1942, it secured government contracts and opened a second plant in Titusville, FL, to manufacture boats for the war effort.
In 1945, near the end of the war, General Eisenhower asked Correct Craft to build approximately 400 transport boats in 30 days to enable our troops to cross the Rhine River. At the time, Correct Craft was only producing 50 boats/month. Already a tall order, Correct Craft faced an additional hurdle: the plant was always closed on Sundays. Yet, they accepted Eisenhower's request. "Through prayer and remarkable ingenuity," Correct Craft created a new production process that enabled the factory to meet its required quota ahead of schedule. This event, which National Geographic later dubbed "A Miracle Production," solidified the company's reputation as a reliable, quality boat manufacturer.
Post WWII through 1957, the recreational boat business prospered. Fiberglass offered new possibilities to the marine industry in the 1960s. Correct Craft worked with designer Leo Bentz to bring Ski Nautique the first fiberglass ski boat—to market in 1961.
In 2010, following the Great Recession, Correct Craft began execution of a new growth strategy that resulted in the acquisition of the following brands:
2012: Aktion Parks
2014: Pleasurecraft Engine Group
2015: Bass Cat, Yar-Craft, Centurion, and Supreme Boats
2016: SeaArk Boats
2017: Bryant Boats
2018: Watershed Innovation
2019: Velvet Drive, Parker Boats, Merritt Precision
Today Correct Craft is celebrating 97 years of quality and innovation. The company is committed to being carbon neutral by 2025.
By Chris "Seabuddy" Brown