PropTalk editors see a dizzying array of new products every year at the U.S. Powerboat Show, which unfolded this year October 12-15. The CrewWatcher Overboard System stood out among many marine products for two reasons: we could see its usefulness right away, and it's reasonably priced.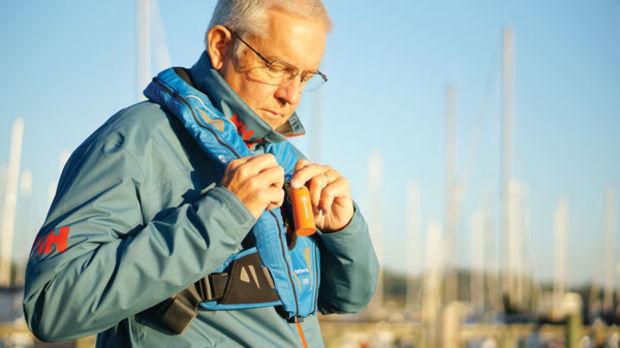 Here's how it works: You download a free app to your smart phone or tablet (you must have the phone with you on the boat for this to work). Your crew members clip a keychain-sized beacon to their lifejacket or put it around their neck—this also works for dogs (although they're not as adept at clipping the beacon to their collars without assistance).
If someone goes overboard, the smart phone or tablet will sound an alarm, provide latitude-longitude coordinates at the point of loss, and visually guide the rescuer to the crew overboard. If you set it up in advance, the app can also tell you which crew member is overboard. It works for a crew of up to five. You do not need cell phone service in order for this system to work.
The CrewWatcher was created by a company called PanPan. Right before the boat show, Weems & Plath, manufacturer of fine nautical safety and navigation products since 1928, signed an exclusive agreement to manufacture and distribute the system.
"Weems & Plath is excited to add CrewWatcher to our growing boating safety product line," said CEO Peter Trogdon. "CrewWatcher is the fastest way to save a person or pet overboard. It aligns directly with our mission of fostering safe boating around the world and creating superior products for life aboard."
The CrewWatcher responds 30 times faster than a Personal AIS Beacon at a third of the price. The CrewWatcher Single Pack Crew1, retails for $89.99, and the CrewWatcher Double Pack Crew2 retails for $149.99.