Lifelong classic boater Paul Warner has a Jim Wynne-designed Chris-Craft fiberglass hull and deck with inboard/outboard power for his current weekend runabout. The deck and the interior/exterior cabin were styled by in-house Chris-Craft staff, but the hull with its wave-splitting deep vee and its running surface was Jim Wynne & Associates all the way.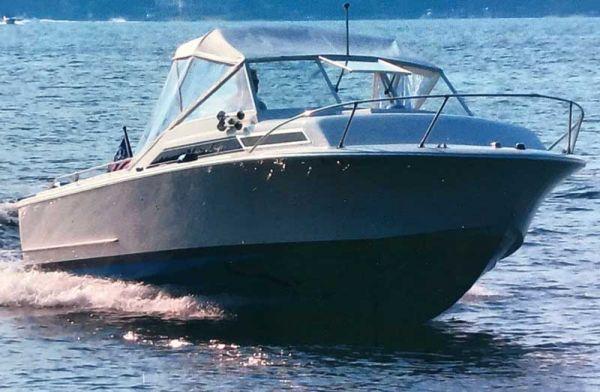 Paul tends to boat on the Severn River as well as the greater Chesapeake Bay. In fact, this Chris-Craft's name, Cocktail Island, is a nod to a lovely location on the Severn that has since disappeared. It was a memorable place.
Years ago, Cocktail Island was formed from a peninsula as storms gradually separated it from the mainland. Back in the seventies, it was the sunset and early evening destination for boaters and others to socialize, build a fire, and have cocktails. Although the island has unfortunately been reduced to just an oyster bed today, we can easily imagine enjoying those late afternoons on the Severn in the seventies. Cocktail Island on the Severn River was where Paul and his wife, Sandy, first kissed.
Paul's Chris-Craft enjoys a signature lineage as an offspring of Jim Wynne's legacy. The "Wynne & Associates" name and hull design was first offered in a 23-foot boat that lit this Chris-Craft boat series on fire. Wynne's influence extended across a wide range of models with various deck and interior choices and an extensive production history. The trailerable 23-foot hull was so popular that Chris Craft built over 2600 of that Wynne hull alone.
Cocktail Island is a 25-foot fiberglass Lancer Sportsman, Hull #27 of the 35 that were built in 1969, the inaugural production year for that boat length. Only 85 of this model were built during its three-year production run. This 25-foot Wynne & Associates hull was also used in two other Chris-Craft models. Builds of those three models totaled about 240 boats; this raised-deck, cuddy-cabin model proved to be the most popular. The wider beam and the boat's higher original price makes Paul's model more collectible today.
Most of these boats were built in the 183,000-plus square-foot plant in Cortland, NY, that Chris-Craft purchased eight years earlier. That plant already had a history of building fiberglass boats, since it was originally the Thompson Boat Company campus. And that was the reason Chris-Craft bought the business. Although Chris-Craft was recognized as the premier builder of wooden boats, there was a time when it wasn't building fiberglass boats fast enough to meet the expected shift in customer demand. Thompson, however, had already made the transition from wood to fiberglass production boats, so its acquisition offered Chris-Craft a quick way to gain a competitive advantage.
The performance of Paul's current power package is a 28 mph cruising speed and a 39 to 41 mph top end at wide open throttle. In the 25-foot models a popular engine was the Chevy 307. Marinized by Chris-Craft, it used a 283-cubic-inch bore size mated with a 327 crankshaft and a carburetor. In Paul's boat, that 307 has been updated to a 305 (with a 3.736 bore with a 350 Crankshaft). The 305 is also a Chevrolet engine, but marinized by Mercruiser and with EFI instead of a carburetor in the model Paul bought for his boat's repower.
The Cortland factory powered some of its fiberglass boats with a Volvo-Penta inboard/outboard drive unit that was called a "Transdrive" when used in a Chris-Craft brand runabout. When Paul upgraded his engine, the outdrive was also changed out from a Volvo-Penta / Chris-Craft Transdrive to a Mercruiser Alpha inboard/outboard drive. By the way, the boat also has trim tabs, although Paul reports that he doesn't use them.
Paul will have Cocktail Island on display in the water at the 30th Annual Antique & Classic Boat Festival this June 15-17 at the Chesapeake Bay Maritime Museum (CBMM) in St. Michaels. Expect to view about 100 boats at the show on land and in the water across the museum's 17 acres. The festival also includes access to 75 marine-themed vendors in The Arts at Navy Point. Stop by and talk with a happy classic boater!
By Chris "Seabuddy" Brown