Built to the E Class powerboat racing rules in 1928, Mis Leading Lady is a 26-foot restored Ventnor raceboat made in New Jersey. Everyone has heard of Atlantic City, but few outside of classic boating fans know about the town next door to the south: Ventnor City (simply referred to as Ventnor, NJ).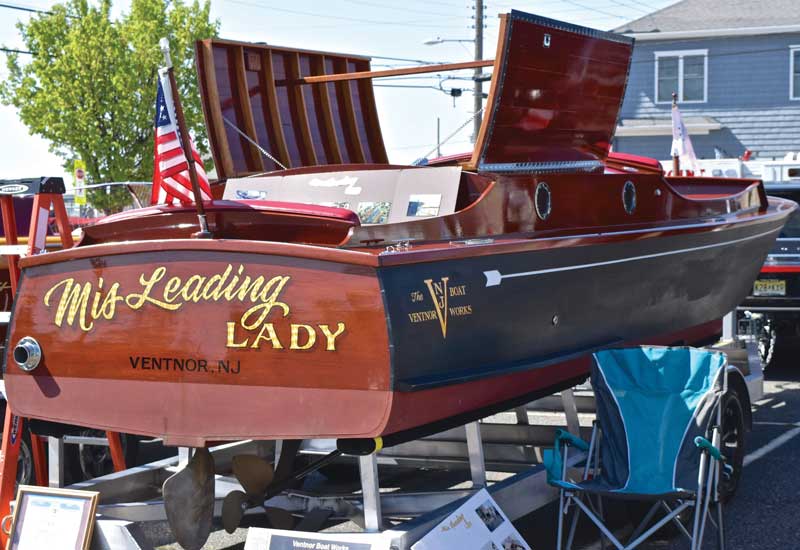 Cedar-planked, mahogany trimmed, and oak framed, she is now restored to her 1928 specs, and she is a beauty. She's a crowd pleaser, a boat that you take time to admire, whether you see her at a classic show or spot her in the water. 
She was designed and built by Adolph Apel, the founder and owner of Ventnor. The Ventnor Boat Works was in operation from 1902 to 1958. The company built custom racing hulls for private customers, including many famous people who were into powerboat racing. In 1915 Ventnor was the first company to achieve the "one mile in one minute" milestone for a raceboat built for one of its clients. 
During World War II Ventnor built aircraft rescue boats and submarine chasers for the U.S. government. Their excellence in construction and performance earned Ventnor the Army-Navy E Award, given to just four percent of companies engaged in the war effort. 
In the 1930s Ventnor Adolph and Arno Apel, a father-and-son team, popularized the idea of a race boat that rode on two pontoon-like running surfaces called sponsons and a submerged propeller. The sponsons were unique because they were actually waterskis.
The Apels didn't originate the three-point design, but they're the ones who made it work. And powerboat racing hasn't been the same since.
At a point in her history, Mis Leading Lady had a cabin and had her hull raised eight inches. Both were later removed when she was restored to her 1928 race boat configuration.
Ventnor built her with a 250 horsepower Lycoming airplane engine. Her engine was eventually replaced with a 1932, 678 cubic inch, 200 horsepower Scripps Marine engine from Detroit, MI, which has also been totally rebuilt.
Beginning as a copy boy at the Detroit News, E. W. Scripps rose to prominence as one of America's great newspaper publishers. He founded the Scripps-Howard news syndicate and established United Press International (UPI). 
This multi-talented publisher was also the founder and engine designer of the Scripps Marine Motor Company. Scripps served as the commodore of the Detroit Yacht Club and built "Miramar," his enormous retirement home near San Diego.
Scripps demonstrated the reliability of his company's marine engine by using it to power the smallest powerboat to ever cross the Atlantic Ocean. He contacted the Matthews Boat Company of Port Clinton to design a vessel capable of such a voyage. Known around the world for quality construction, Scott Matthews took on the challenge. The Rudder magazine called the finished product a "trans-Atlantic liner," but others called it an "oversized lifeboat." Indeed, the 35-foot vessel was a double-ender that was heavily built, much like a lifeboat. Scripps christened her the Detroit.
Mis Leading Lady is owned by George Wimberg, a sixth-generation undertaker from Ventnor, NJ. He is a lifelong resident of the city and owns Wimberg Funeral Home (with locations in both Ventnor and Linwood, NJ). 
Much of the restoration work on George's boat was done by the Independence Seaport Museum, which is dedicated to exploring the maritime history of the Delaware River, the Delaware Bay, and the surrounding tributaries. Previously known as the Philadelphia Maritime Museum, the name was changed in 1995 when it moved into its current location at Penn's Landing on Philadelphia's waterfront.
Guests of the museum can check out "Workshop on the Water," a working boat shop where people can watch artisans building and restoring traditional wooden boats. This is where Mis Leading Lady was restored.
In 1996 the museum assumed responsibility for the USS Olympia, which has been designated as one of our country's National Historic Landmarks. Launched in 1892, it's the oldest steel American warship still afloat, most famous for being Admiral Dewey's flagship during his Spanish-American war victory in Manila Bay.
My thanks again to the Mid-Atlantic Chapter of the Antique and Classic Boat Society (ACBS) for this opportunity to meet George and the beloved Mis Leading Lady. 
 By Chris "Seabuddy" Brown