I was running across the water in a 14-foot Donzi with a big grin on my face. The Chevy engine's tach was nudging 5000 RPMs. The wind was rushing past my eyes (no windshield and no goggles, either). I was having a fabulous time.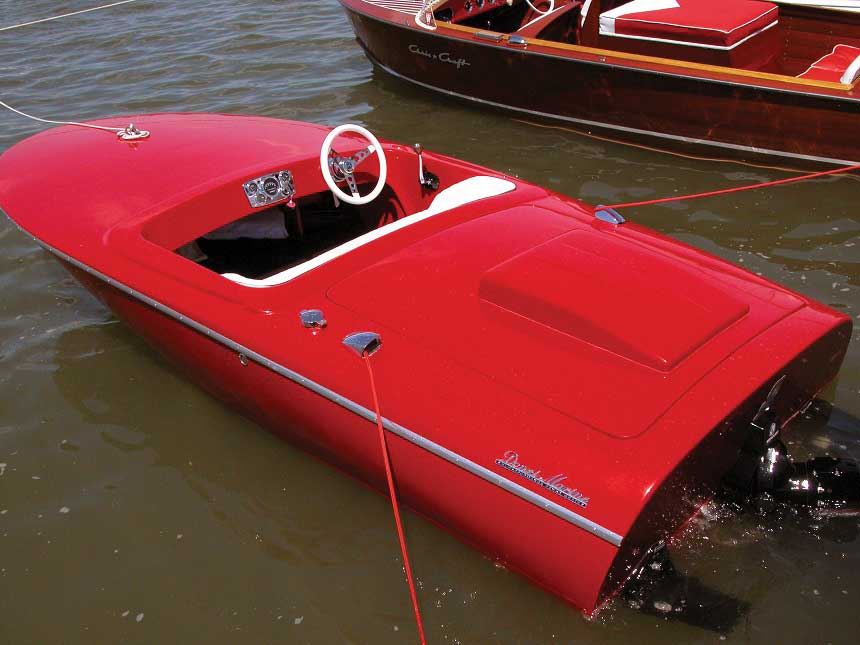 What fun! She is a wave-busting, wake-splitting, quick-to-plane boat (using her trim tabs) flying south from 188th St. in North Miami, FL. That strip of land—known as Thunderboat Row—is only a quarter-mile long and famous in its day for offshore racing to the Bahamas (Miami to Nassau) and other open ocean races.
Donzi boats are all about the thrill of high speed on the open water. They have a deep vee hull shape, are narrow in the beam, and run well in rougher water since wind chop doesn't bother them either. They're typically used as day boats with their open cockpits best enjoyed in warm, sunny weather. 
This 14-footer is a rare boat for Donzi Marine and the last of only 14 they produced. Donzi's 16-footer was the foundational boat that launched the company in 1964 when Donzi Marine was started by Don Aronow.
In addition to being the last boat made from that mold before it was destroyed, her identity was also switched at birth. Her mold had been moved down the street to the Cigarette plant that Don Aronow owned, and that's where the last three copies of this model were made. As a result, she has a Cigarette hull code (hull identification number) on her transom, which is CRT (Cigarette Racing Team), although advertising back in the day says she's a Donzi model. 
Aronow started Formula Marine (yes, that Formula Marine!) in 1962 and soon sold that company. He started Donzi in 1964 and sold it in 1965. He founded Magnum Marine in 1966 and sold it in 1968. To Don, making boats was a way to make a living and selling a boat company was a way to get rich. He definitely had a pattern of moving on to other boats.
Aronow started racing boats as early as 1959-1961 (various accounts differ on the date) when he moved from New Jersey to Miami, FL. Originally a land developer, he "retired" in his early 30s and relocated to enjoy retirement, but quickly got bored and began racing. Don Aronow was murdered early in 1987. Before his death, he enjoyed designing boats and also raced other boat builders like Cary, Cigarette, USA Racing, and Squadron XII.
Michael Peters said, "Aronow looked the part. Guys wanted to be him. Six foot three, real good looking, lots of swagger. He was right out of a Hollywood script. He's the only person I've known like that. He was larger than life. And he liked to get the best of people."
Kevin Koenig said, "They just don't make 'em like Don Aronow anymore. During his quarter-century reign as the undisputed king of Thunderboat Row, Aronow was a lot of different things to a lot of different people. He was a hero and a genius, a ballbuster, and a bully. A world-champion boat racer who enjoyed wild success in business, he was also an unapologetic playboy and fabled bon vivant."
I definitely admire Aronow's boats. This Donzi 14 is powered by a stock 140-hp Chevy/Mercruiser engine with a Mercury Marine Alpha sterndrive. Besides the ability to trim the sterndrive to a negative and positive attitude, she has trim tabs on her transom. The negative trim setting and the tabs set in a down angle will keep the bow down at take-off.
She is finished in bright red, with minimal deck hardware. Donzis have great curvy topsides that just let the paint flow from the steering wheel to the waterline. Tying up required ingenuity. The stern lines tie through the engine room vents and the deck lift ring.
I took my ride at an Antique and Classic Boat Society (ACBS) event. The chop was non-existent and boat wakes did not present a problem for the small deep vee boat. She did a stellar job of delivering a great demo cruise.
Hey, a rare Donzi 14 is more than boating… it's the thrill of a lifetime!
By Chris "Seabuddy" Brown