Nick Arnone has created quite the custom, luxury ride in his 21-foot 1959 classic Century Coronado speedboat. I recently had a chance to enjoy it firsthand when I took a two-hour cruise aboard her, and we roared across the Wye River on Maryland's Eastern Shore. Nick had brought the boat from its home on Harveys Lake to our local waters for the three-day Chesapeake Bay-ACBS Antique and Classic Boat Festival in St Michaels.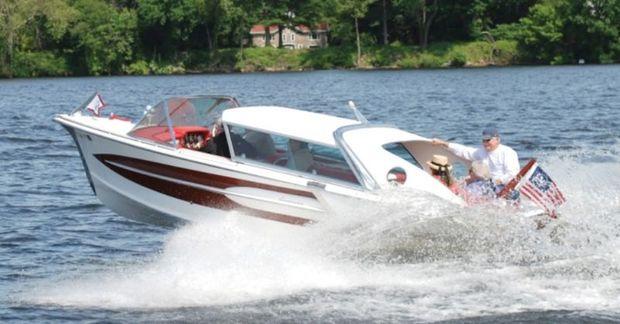 Nick has rebuilt/restored/updated this boat twice since it came into his life at the age of eight. Back then, the boat came with a 275-hp Hemi engine. Why isn't it in this boat? Nick wanted an electronically controlled powerplant, primarily for easy starting, so he now has an LS 2 Chevrolet with 385-hp in his Century Coronado.
With our full our group of guests aboard we easily exceeded 55 miles per hour. Speed onboard is recorded with the new guts of a GPS speedometer fitted into a period-correct gauge in the dashboard. Most of the other, older gauges—like the clock, tach, and volt meter—have also been converted to electronic versions. Pat Powell did this work before he passed away. A handmade console has also been added that encloses switching, cup holders, and lighting details. The seat cushions and frames have also been changed. Nick has put in deeply padded seating with storage for proper PFDs located underneath the new cushions—out-of-sight but readily at hand.
A stock 1959 Coronado would have individual "throw cushion" seat bottoms. Nick's more compact Chevy engine also created seven inches more space between the first and second rows of seats for more legroom. There were also a few extra features that I noticed, as on some water ski boats, this boat has a heated cockpit. It is a nice feature for fall cruising on Pennsylvania lakes. The top has been motorized to slide back and forth, rather than moving it manually. Also, the side glass is now real glass, instead of the Plexiglas that was standard for this model. These are all owner-added custom touches on the 1959 Century Coronado.
Now, for the hull and woodwork. All the stain and paint used on Nick's boat is the Epifanes brand, so they're not the standard finishes used by the Century factory. In addition, the planked boat bottom has been updated to a WEST System. That ability to move about while you're onboard is the difference between a utility speedboat such as this and a runabout speedster. In a runabout, which many popular wood Chris-Crafts are, if you decide to change your seat row, you'll have to do so dockside since the boat's deck delineates each row of seats as separate cockpits cut into the deck. So you can also have three rows of seats in in a runabout speedster, which is called a triple-cockpit runabout. But in a Century Coronado (a utility speedboat that doesn't have any decking between each of its rows of seats) one can move around freely while the boat is underway. That's what we did on our June cruise: move around with ease and safety among three rows of seats.
Some say the "restomod" theme started with classic 1965-66 Mustang autos, where details were updated instead of being kept to "pure stock" specifications. In a restomod, either a car or a boat looks mostly original to the casual observer, but the owner brings his pride and joy both upscale and forward in time to fit his needs and current law. Purists of the brand can and will note the non-stock differences, and such a modified boat will not score well under judging rules, such as used by the ACBS, for example. Nick's speedster was the second Century Coronado in his family. The first was his grandfather's 1954 version of this special model. This boat clearly received years of loving attention to come up to its current luxury "restomod" status. Congrats to Nick for the great work, and thanks for hosting us aboard so we could share this experience with him in local Chesapeake Bay waters on a lovely summer afternoon.
by Chris "Seabuddy" Brown