The Nova 24 is a jewel of a trailerable boat... and the softest riding fiberglass boat that I have ever experienced. She represents the early stage of the offshore, rough water racing revolution that started in the late 60s and early 70s and continues today. This 24-footer has a deep-vee hull that also provides optimum positioning for its lifting strakes. A boat bottom's degree of vee ranges from almost flat (between zero to six degrees) to a truly "Deep-V." The angle for most deep vees is around 19 or 20 degrees. This Nova was designed with a 24.7-degree angle—the deepest bottom I have seen in this size and style of race boat. 
Together those two factors (depth of the vee angle plus the location on the hull of the lifting strakes) deliver a uniquely smooth ride that handles Chesapeake Bay waters with ease. She slices through chop and boat wakes more comfortably than a flat-bottomed or shallow-vee boat. This Deep-V hull (also known as a high deadrise) is recognized as the ultimate hull form for speed with comfort, in addition to safety in rough water.
The Deep-V hull debuted over 60 years ago on a tender to the 12-metre Easterner. Both of these boats were developed by C. Raymond Hunt for the 1958 America's Cup. 
Dick Bertram saw Hunt's 23-foot tender perform well in nasty conditions near Newport, RI. One onlooker categorized her as "something very special that came hurtling across those six-foot crests in 1958."
Hunt picked a great time for it, too. Slicing through six-foot seas at 30 knots, this modest 23-footer eclipsed every other vessel in the fleet. No one had ever seen powerboat performance like this.
Bertram promptly ordered a 31-foot version of this Nova, which he named Moppie, after his wife. He entered it in the 160-mile Miami-Nassau Race in 1960, where the boat set a course record. Like Ray Hunt's tender, Moppie's hull featured 24 degrees of deadrise, a bell-shaped vee, and lifting strakes to reduce spray and promote planing. 
A high chine forward and multiple spray strips reduce spray, stop water from climbing the topsides, add lift, and reduce wetted surface. A less-wetted surface has benefits, such as reduced resistance, greater speed, and increased economy. The sharp entry forward also keeps pounding to a minimum.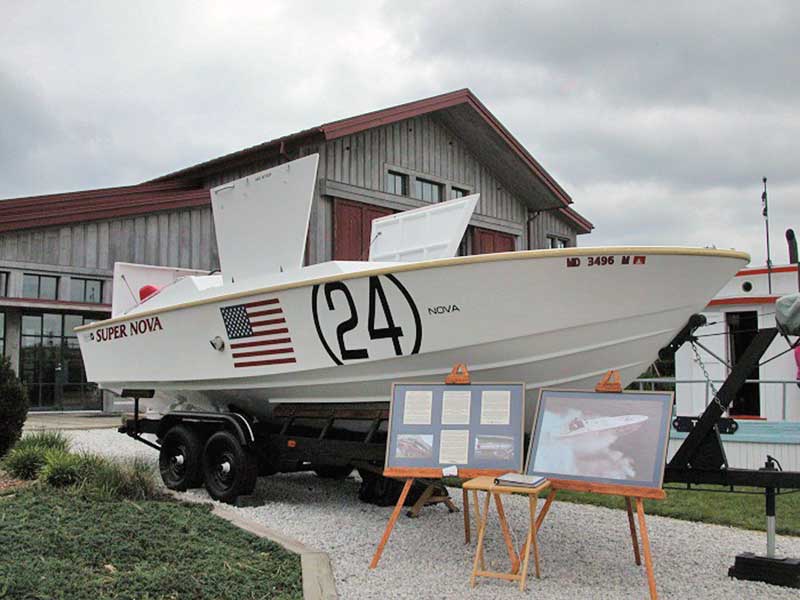 These factors allow the hull to travel not just straight through but also over the water with only moderate steering effort, even in quartering or following seas—an extremely important safety advantage when running down waves, especially when entering rough inlets.
The high-deadrise V-shape is also inherently stable. As the boat tries to roll, the deep-V puts more and more hull into the water, forcing it back upright. The V-shape also allows the hull to bank in a turn, instead of rolling outward like a round or flat-bottomed hull. 
Grady-White, Boston Whaler, Hinckley, Chris-Craft, and many other builders incorporated Hunt's Deep-V into their boats. In fact, most of the current leading boat builders still favor and produce this popular hull design. Today, with more than 50 years of experience and ongoing development of his original design, C. Raymond Hunt Associates can create a Deep-V for virtually any application.
Another genius who deserves mention in this story was Dick Cole, who designed the Nova. Cole was a freelance boat designer with a variety of boats to his credit: the Airslot for Wellcraft, the Cathedral for Formula (Ranger Rick's boat in the TV series "Flipper"), the Yellow Jacket outboard boat, and the Evinrude boats for OMC. 
This Nova has a solid fiberglass hull, a fiberglass deck, and a fiberglass-covered plywood cockpit floor. The thick fiberglass construction of her hull for extra strength is seldom seen today. 
Standard power on a Nova was twin Holmans or Moody V-8s driven by Vee-drives with a 1.15 to 1 reduction (or 87 percent) of direct shaft speed. Speeds for a production boat were 47 mph with this power and Vee-drives (not the most efficient power for driving the boat, but very durable). Wellcraft later acquired the Nova Marine boat company and changed the standard drives to I/O, single or twin. 
There are only a few Novas in the Chesapeake Bay area. If you have a chance to ride in one, it will be memorable! 
By Chris "Seabuddy" Brown