Fog! We were cruising in Ray Maule's 22-foot fiberglass Lyman when the fog came out of nowhere.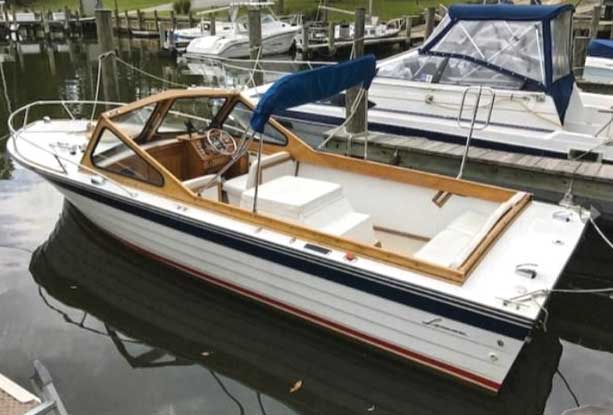 We'd left St. Michaels at 10 a.m. in clear weather. About one-third of the way to our destination, the Chestertown public marina, we got fogged in. Zero visibility available to spot any land references or marker buoys until we were upon them.
Fog is disorienting. Small boat cruising in local waters relies on visible landmarks. In this case we were heading toward the RT 50/301 and Kent Narrows Bridges. We could not see either. Without those highway bridge reference points, we were lost!
Ray had invited me to join him on this late fall day trip to enjoy his "to-die-for" favorite sticky bun pastry at Evergrain Bread Company in Chestertown. He already knew my sweet tooth was in sync with his. Since it was also the start of my birthday weekend—enhanced by a forecast for a 70-degree day—it took me two seconds to say, "I'm in! What time?"
Although we were in a 1996 classic boat, we felt rescued by the modern GPS unit Ray had installed on his fiberglass Lyman. The GPS gave us our position and where to head towards the bridge. The Kent Island Narrows were visible once we got into the narrow channel.
There was more boat traffic in the Narrows and the exit channel north of the Narrows. The fog was not as bad there, but we still had to use the GPS to navigate. We left the channel somewhat early as our destination was to the north.
Ray's fiberglass hull has the same planking construction molded into its bottom and sides as wood Lymans have. Each simulated plank has its bottom edge proud of the one below it within the molded hull. This is lapstrake or "clinker-built" boat styling. Each projecting edge provides some lift and contributes to a drier ride. We took water over the bow just once from a big wake. 
In a classic fiberglass model Lyman, there are usually two molded "fiberglass parts:" the hull and the deck. Each part is constructed from the combination of two male components.
For example, the all-wood version of a Lyman boat model was used as a male "plug" to create the same boat hull in fiberglass. From it, two female molds of resin and glass fiber were made for the hull and deck. Two fiberglass "parts" were created. Those two fiberglass components are then mated to each other at the gunnel to create a "fiberglass boat." The seam where they're joined is covered by the rub rail.
The cockpit and interior are created from oak wood that is hand and machine made and bright finished in high-gloss varnish. Thus, the boat requires wax for the fiberglass parts and a coat of varnish for the wood trim. Boats like Ray's that are kept in the water also need bottom paint.
Lyman boats are round chine boats. There's no square corner where the bottom and sides meet. More lift is generated by the strakes than by the chine area in a Lyman. The sharp and deep forefoot slices the waves while the strakes and the molded plank edges provide the lift.
Lyman Boat Works was started in 1875 by Bernard Lyman and his brother, Herman, in Cleveland, OH. Bernard's son, Bill, joined the company in 1920. In 1929, the factory moved to Sandusky. The Lymans built "clinker-built" sail and powerboats from 13 to 65 feet. Many were custom designs.
During the 1950s and 1960s, they built both outboard and inboard wooden powerboat models. In 1973, they started building fiberglass boats exclusively.
An engine at 2200 rpms generates about a boat speed of about 15 mph. Ray's boat does an estimated 40 mph at 4400 rpm. We did not experience this higher speed in the fog.
Ray has a family history with both racing and pleasure boats. He is a member of the Chesapeake Bay Chapter of the Antique and Classic Boat Society (ACBS).
By the way, we did enjoy our pastry but got frozen out for lunch in Chestertown. Once the fog burned off it was such a nice day that we waited two hours for a table.
By Chris "Seabuddy" Brown
---
For more on Lyman boats, check out Chris Brown's article, A 26-Foot Wooden Lyman.