A family with two teenagers enjoys three seasons' worth of get-away Chesapeake Bay fun on this aluminum-built Marinette Motor Yacht cruiser. Most of the time they're relaxing from an intense work schedule shared by all four family members. Fishing, crabbing, and swimming are just part of the fun they enjoy on this classic cruiser.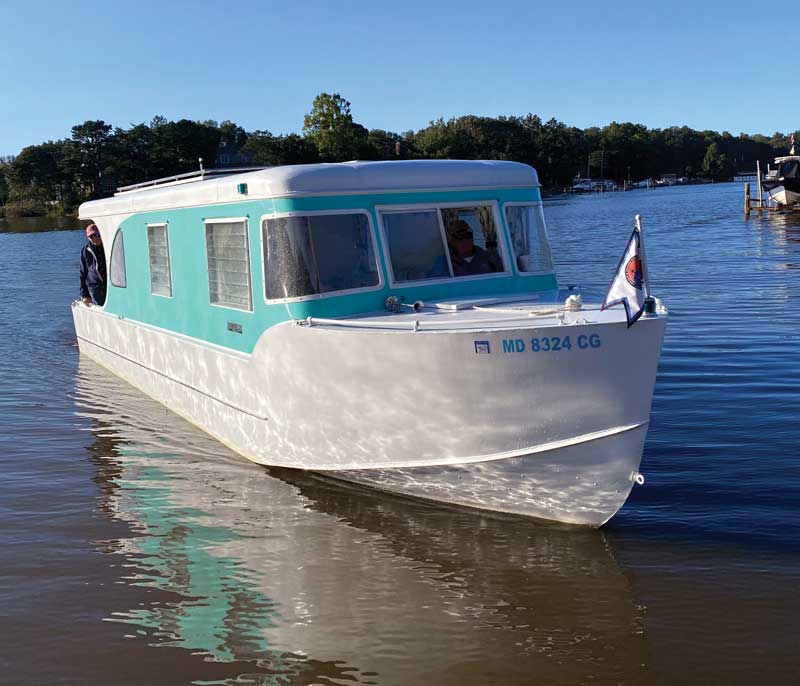 With space to host a good dozen day guests in addition to beds for four, Moby Dick is an active participant at regular Antique and Classic Boat Society Chesapeake Bay Chapter (CBC) cruising events. A good example is this boat's popularity as a great place to gather at the annual Father's Day Antique and Classic Boat Festival. The show is traditionally held over the three-day Father's Day weekend every June at the Chesapeake Bay Maritime Museum in St. Michaels. A warm welcome and something cold to drink for fellow CBC members is always extended at club events.
Marinette Motor Yachts were built in Kentucky by Aluminum Cruisers between 1954-91. Wallace Wilkerson, former Governor of Kentucky, was this boat's original owner. He named it Moby Dick and used the boat on the Ohio River from 1966 well into the 1980s. He had the interior custom-made to sleep four overnight, rather than just two. 
The former governor abandoned this cruiser in the mid-1980s, leaving the marina with both a yard bill and back taxes. Moby Dick was eventually purchased by Alicia Boardman's cousin who later passed Moby Dick on to Alicia's family, her current owners.
Alicia capably handles this single-engine motor yacht and is clearly a skipper in command! The current 90-hp Suzuki outboard is a modern four-stroke that delivers displacement speeds to this cruiser. Top speed? Fifteen knots with a light load. Let's just say it is not a classic speedboat.
A large cruiser like this with 90 horsepower is very functional on local rivers and great for those weekend anchorage spots that provide a needed break for the family and their friends. A modern engine ensures easy starts and good control. The four-stroke powerhead provides good oil and gas consumption, along with clean exhaust. Previously re-powered with 50 hp, Moby Dick was soon repowered with the 90 hp, mostly for control around piers like those found in Annapolis's popular Ego Alley. Each engine has been mounted on the cruiser's exterior aluminum bracket.
Aluminum is a great boat-building material that's available in various thicknesses. Aluminum construction is light, strong, and durable, held together with what is best described as thousands of rivets. 
This hull was made from a thicker gauge aluminum than the house. Overall, this metal is lightweight and generally easier to maintain than wood or fiberglass. The one exception to easy maintenance is the need for special zinc in salt or even brackish water to resist corrosion. 
The styling includes a foredeck for line handling and other necessities. The aft deck is essentially an outdoor lounge. The amidships "house" makes her a cruiser.
This well-maintained 28-foot motor yacht is essentially a four-bedroom apartment on the water! Although it's a tight "apartment," it's fully found, complete with a galley, water tank, and ice box, plus a toilet room with sink. Clever use of space is evident when you see the cabin's interior, with special amenities such as three storage drawers underneath each bed. New soft goods in solid and striped blue with a yellow accent is very inviting. Her exterior was repainted with a special two-system paint, while white is the predominant interior color.
Flat-bottomed with a vee at her bow, riding on a river is comfortable, but a stiff Chesapeake Bay chop can be a challenge. Strong winds also make handling her single screw tricky around a bulkhead or pier. 
Notice the curved plexiglass at the front of the "house" that is stress-crack free. It's a significant accomplishment after several previous attempts by different vendors. Achieving both the angle and the curve of the plexiglass was a challenge.
This compact "apartment" on the water also enjoys good ventilation, although the Jalousie windows can become a maintenance issue when Moby Dick is docked on windy days.
Despite her 50-plus years, however, Moby Dick is much loved by Alicia, her family, and friends. In excellent condition, this unique cruiser continues to provide stress-free enjoyment three seasons out of the year. 
By Chris "Seabuddy" Brown