She planes in an instant and turns on a dime. The responsiveness you experience via the steering wheel or the throttle inputs is a joy to any skipper, young or old. You'd be surprised at how much fun you can derive from this 12-foot classic Penn Yan Swift speedboat!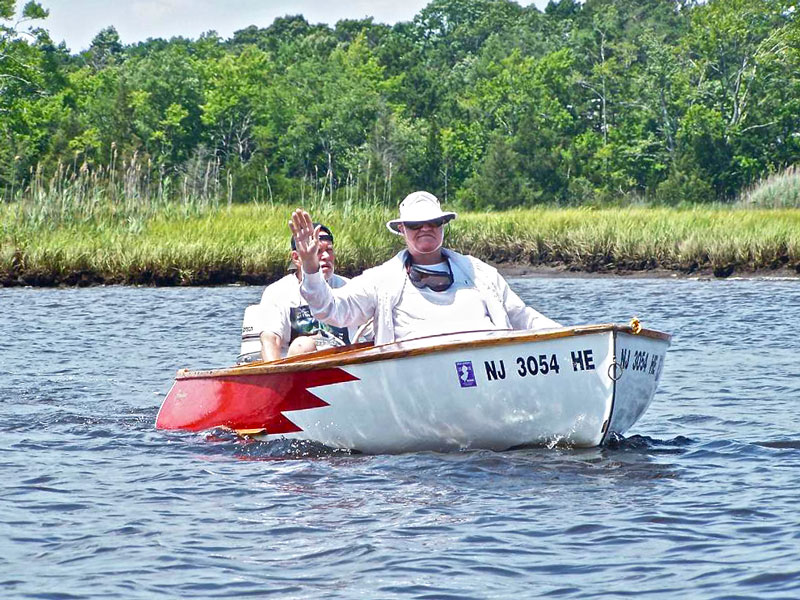 One Saturday this red-and-silver-hulled bullet was one of several boats cruising the calm waters of the Mullica River in New Jersey. This time we were enjoying an Antique and Classic Boat Society (ACBS) Mid-Atlantic Classic Boating cruise and lunch in and around the waterways of the Viking Yacht manufacturing plant that produces the famous sportfishing yachts. That day the Mullica River was a quiet, protected waterway that wasn't overwhelmingly busy with other boats, aside from the half-dozen antique boats skippered by our avid chapter members.
The bright finish of her wood deck and the two seats quickly display her classic characteristics. She is a 1956 Penn Yan that was purchased as a package, along with a 25-hp 1989 Johnson outboard as well as a trailer. She is 12 feet long with a beam of four and a half inches. This information can be found in her original owner's manual, which Ed treasures. Details such as having the original version of the owner's booklet are prized possessions by classic boat owners. 
I boarded her from the beach near the launch ramp. It was an easy, low-profile step-in for me into the passenger seat. Ed Ferris, the rig's owner, shoved off from the beach and took the driver's seat. We were two up for the cruise. My wife was on a different boat, a Bertram 25 inboard/outboard.
Ed says this Penn Yan is his favorite boat among all the other watercraft he owns, including several canoes and a 14-foot Sea Mac brand classic boat with a 40-hp Mercury outboard motor. (His Sea Mac is a sister ship to one that I learned to waterski behind as a young teenager. The Sea Mac in my history was powered with a 1960 Evinrude Lark 40-hp engine). 
Ed recently raced his Penn Yan Swift against a 1937 Century Thunderbolt in several one-on-one match races at an ACBS meet in Harvey Cedars, PA. In each of those races the two boats matched each other's top speed every time. Sharing first place with the Century Thunderbolt was quite the accomplishment for
Ed's Penn Yan, since no one expected his pleasure boat to compete equally with a Century Thunderbolt, a rare race boat admired by classic boating aficionados. 
Ed's Penn Yan is towed by a 1956 flathead 6 Jeep that Ed also owns. By the way, Ed has owned the Jeep even longer than the Penn Yan, thanks to the vehicle's trouble-free history. He has replaced the tires and re-chromed the bumpers on the Jeep to keep it as a showpiece.
Ed has yet to restore the Penn Yan boat. The boat we rode in was the same as the day he bought her. The silver painted Canvas skin is still waterproof and shows very well. She is a sharp looking craft. 
Although some might say that the oak and cedar wood deck—along with the interior ribs—could use a varnishing now, Ed has a different opinion. He favors patina in the wood on the deck so he's held off on re-doing the deck and gunwales. 
Ed did upgrade the starting system on the Johnson motor with an electric starting kit from another engine. He got the parts from his friendly mechanic. Now, starting the engine is a breeze with the simple push of a button. 
Penn Yan Boats was founded in 1921 in the town that gave it its name: Penn Yan, NY. This popular wood and canvas boat company built outboard-powered boats, canoes, and rowboats. The company was known primarily for its lightweight "cartop" boats that could be lifted by two people and tied to a roof-rack on a car. Their boats have a "tumblehome" stern where the top of the gunwales taper to about half the transom width and were stylish with their features. 
Unfortunately for Penn Yan, its canvas-with-wood construction method was eclipsed by fiberglass construction in the early 1960s. The company hung on for another 40-plus years but ultimately closed in 2001.
By Chris "Seabuddy" Brown
---
For more Classic Boat articles, visit our Boatshop Reports.