In 1940 another Chris-Craft was born to Harvey's Lake, PA. Eighty years later, that boat is still on the lake, now with its fourth owner. The last three owners, in fact, represented three generations of the same family.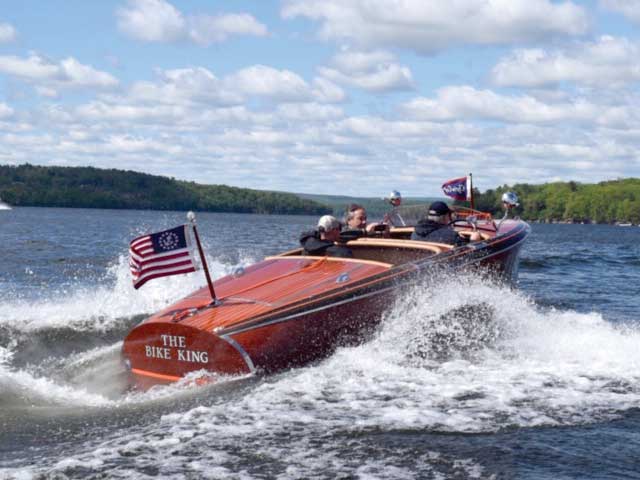 In 1955 this boat was purchased by a senior member of the Bryant family, who was the local Schwinn bicycle dealer back in the day. The boat was named The Bike King after Grandpa's business. 
Grandpa was well-known for boating around the lake with his pet monkey, Koko, on his shoulder. For 15 years he and Koko were frequently seen cruising and enjoying watersports with the rest of the Bryant family. When the senior Mr. Bryant became too old to go boating, he passed along the Chris-Craft to his son to continue its use as a ski boat and lake cruiser. 
All the while the boat has been re-varnished and reconditioned as needed while keeping her original guts. In this case, the original engine and running gear are still in use in the boat.
Fast forward to 2020, when this 17-foot Chris-Craft barrelback is now enjoyed by Josh Bryant III. Josh's legacy boat is hull number 71581—one of only 425 built over the three-year period between 1940 to 1942. She features period-correct orange pinstriping and a waterline boot top stripe. She was restored by Chad Brenner at his shop, Classic Restoration and Supply, in Philadelphia, PA. 
The Bike King is carvel planked with a batten (a narrow strip of wood) screwed to each boat frame. The side planks are screwed to those battens. You'll find those screw heads covered by round wooden plugs along the finished planking. 
Note: the frames run athwartships (across a boat), and the battens and planking run lengthwise. The sides are just this single thickness of planking that is backed up with the battens at each plank seam. This planking method used by Chris-Craft is often called batten seam construction. The bottom has two thickness of planking with mastic-soaked canvas between them. These layers upon restoration are often replaced with a 3M elastic double plank "no soak" bottom.
Although it's still a ski boat, The Bike King is used more for cruising than other watersports today. My wife and I had the opportunity to meet Josh and his family's legacy runabout on a recent cruise along the Delaware River organized by the Mid-Atlantic Chapter of the Antique and Classic Boat Society (ACBS). 
We cruised upriver 28 miles from the New Jersey launch ramp to Bristol, PA, where we tied up for a lite lunch. Bristol welcomes visitors arriving by boat with several floating piers for tie up and a waterfront pavilion. 
En route we stopped in Philadelphia to visit the Independence Seaport Museum. We saw a catboat that they were rebuilding as well as other projects. In fact, one of the boats in our cruise was restored by that museum. Mis-Leading Lady is a 1920s 26-foot Ventnor inboard triple-cockpit powered by a Scripps engine. She rode proud and carried the owner and his passengers regally. Certainly, that Lady was the queen of our cruise group on this trip.
Other stops on this cruise included the S.S. United States (a retired steamship), the USS Olympia, and the battleship New Jersey. And we can't forget the submarine. It was amazing that our fleet of classic boats could come alongside and aft of these historic vessels. Just imagine the stories they hold.
One of the boats from the Harvey's Lake contingent took on water following a recent restoration. Nick Arnone, our gracious host, captain of the Sea Duce, and a fellow Harvey's Lake member, accompanied her back to her trailer without incident. Josh also returned to the launch ramp in The Bike King to make sure the compromised boat was secure on land and all passengers were safe. 
Josh Bryant III is currently president of the Harvey's Lake chapter and owns several other classic boats. Although it's one of the smaller ACBS chapters, Harvey's Lake is a great group of boaters who are very outgoing and really love boating. My wife and I appreciated the warm welcome and hospitality the moment we joined this cruise. 
By Chris "Seabuddy" Brown