Found in a storage barn and then restored, this 1939 Chris-Craft Barrel Back won top honors at this year's St. Michaels Antique and Classic Boat Show over Father's Day weekend. The Antique and Classic Boat Society (ACBS) judges scored Believe—Chris Wolf's 19-foot double cockpit inboard runabout—at 98 points out of a possible 100 at this juried boat show. Those experienced judges agreed that it was the highest score any of them had seen awarded at an ACBS event. If boats can have a "rags-to-riches story," this is surely one for the record books, given the sad condition this precious runabout was in when she was discovered.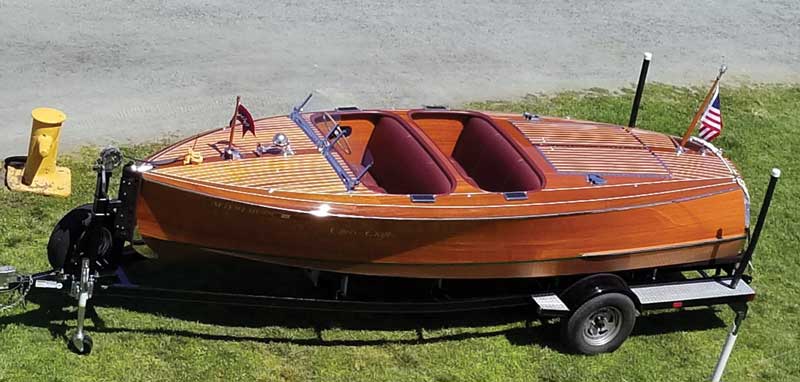 Compliments must be extended to Dan Danenberg, who has become a legend in his lifetime for his mastery in top-shelf restorations. He has a stellar reputation for his work on mahogany runabouts, impeccable in their precision and attention to detail. 
Danenberg is also well-known among ACBS members for his contributions to publications that include Classic Boating and The Rudder, as well as his live presentations at various ACBS chapter seminars. The Chesapeake Bay Chapter of ACBS invited Danenberg several years ago to speak at its annual boat festival held at the Chesapeake Bay Maritime Museum (CBMM).  
I attended one of Danenberg's presentations at the Antique Boat Museum (ABM) in Clayton, NY, a few years ago. This was a special symposium during the off-season that I attended with past-president Joe Gartner of the Mid-Atlantic chapter of ACBS. The event included talks, viewings, and lectures, in addition to touring the back boat storage buildings. ABM has always been one of my favorites—ideally located with a great view of the 1000 Islands on the St Lawrence River. And here's the good news: You can enjoy the museum's collections, exhibits, video tours, and the rich history of antique and classic boating from the comfort of your own home at abm.org.
I learned a lot from Danenberg that day about planking, so it's easy to see why he's been so highly sought after during his career. Although his most recent and popular book, "The Complete Wooden Runabout Restoration Guide" (2008), is out-of-print, used paperback copies now sell for several hundred dollars on Amazon. Fortunately, there's a kindle version available that you can download instantly for $20.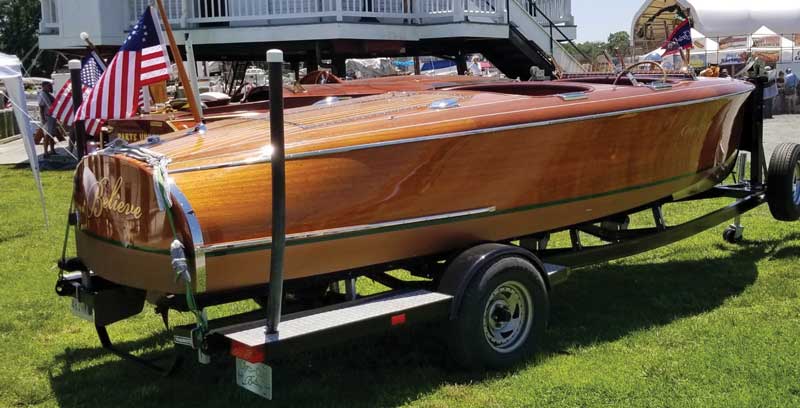 Speaking of planking, the Barrel Back runabouts are carvel-planked with a batten (a narrow strip of wood) screwed to each boat frame. Then the side planks are screwed to those battens. You can see the screw heads by sighting the round plugs along the finished planking. 
The boat's framing runs athwartships (across the boat), while the battens and planking run lengthwise. The sides are a single thickness of planking, reinforced by the battens at each plank seam. This planking method used by Chris-Craft is often called batten seam construction. The bottom has two thicknesses of planking with mastic-soaked canvas between them. Those original layers during a restoration are typically replaced with a 3M elastic double-plank "no soak" bottom.
The Barrel Back always turns heads and is instantly memorable for its unique profile. The popular 19-footers were built between 1939-42 for a total of 433 hulls. 
To achieve that iconic transom, Chris-Craft had only absolutely top-notch craftsmen on that production line. In the late 30s, a lot of the details and instrumentation were still being built by hand, requiring even more highly skilled labor. Chris-Craft also included some special features for the driver and passengers in this model—in addition to that handsome transom—including its one-piece instrument panel. It also sports the folding windshield inspired in the Bugatti style.
If you're a fan of Riva's runabouts, you may have noticed some similarities. Carlo Riva was inspired by the Barrel Back roughly 20 years later when he designed and built what became his own iconic runabout: the very popular Aquarama. At the time, Hollywood fell in love with the Riva runabouts, and they appeared frequently in movies. Fast forward to today, when story lines are showcasing Chris-Craft's Barrel Back, most notably as the boat that Mark Harmon's character on NCIS has been building in his basement for years.
By Chris "Seabuddy" Brown