We powerboaters commonly recognize that owning a boat requires a suspension of logic. In many ways, it makes no sense whatsoever — whether you're talking about the time investment, the work investment, or especially the financial investment, powerboats are a black hole. They are also, as you surely know, objects of love. And in some cases, works of art. One that's both is the Chris-Craft Launch 36.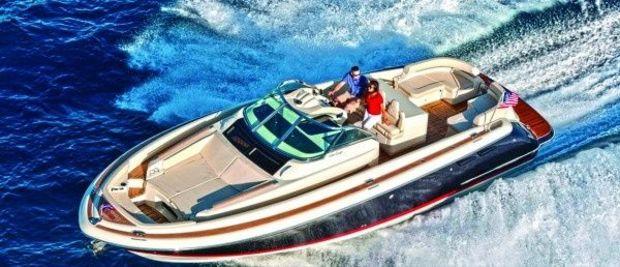 Whether you're gazing at the curvaceous lines, gleaming chrome fittings, teak decking or buttery-soft fabrics, this boat is bound to cause a pitter-patter deep in any boater's chest. Okay, maybe even a thump-thump-thump. Definitely a thump-thump-thump if you're standing at the helm, charging across Chesapeake chop at high speed. But it will be a solid thumping, not that hollow drumming sound a cheap boat produces. Why? Because the Launch 36 is more than a supermodel with skin-deep beauty, she's also constructed with the ruggedness of a farmer's daughter. Okay, enough personification. Here's why this is one boat worthy of your love, above and beyond her looks:
Construction
The Launch 36 incorporates a foam-filled stringer grid system, with a liner that's gel coated so interior compartments, from the fender locker to the rope locker, are fully finished inside and out. The engine room is swathed in acoustic insulation, has an automatic fire suppression system, and supports the powerplants on motor mounts designed specifically for the model. Wiring is all color coded and labeled tinned copper, and connectors are the moisture-resistant Deutsch variety.
Flip up a deck hatch, and you'll notice that it swings up with virtually zero effort, on stainless-steel gas-assist struts. Also note that the hatches are fully-finished on both sides and are light yet strong, the result of RTM molding. High stress areas of the hull are Kevlar-reinforced, and an unusually thick 22 mil gel coat is backed with a Vinylester bar
Comfort
Surprisingly this model isn't like others in Chris-Craft's line of Launches, which run from 20 to 32 feet. While the others are all essentially dual-console bowriders, the 36 is a walk-around cabin boat. It has recessed side-decks, and the forward section of the cabin has an extremely low profile, allowing Chris-Craft to utilize it as a bow cockpit with a giant tanning pad with full-sized sloping cushioned backrests. The upholstery is double-stitched, of course. The downside to lowering the cabin's profile is, naturally, less room down below. And it's true that the cabin isn't as voluminous as it might be, but this also eliminates the bubble-bow look so many walk-arounds suffer from. There's a queen berth forward and doubles in the mid-cabin, plus a fully enclosed head with shower, but you shouldn't plan on spending too much time down below except for snoozing.
What about the galley? Why cramp it into that cabin? Instead, there's a galley with a cook-top, electric grill, ice maker, refrigerator, microwave, and sink, built into the back of the leaning post in the aft cockpit. Now all you need is a table to go with the twin L-shaped settees back there; press a button, and one rises up out of the deck.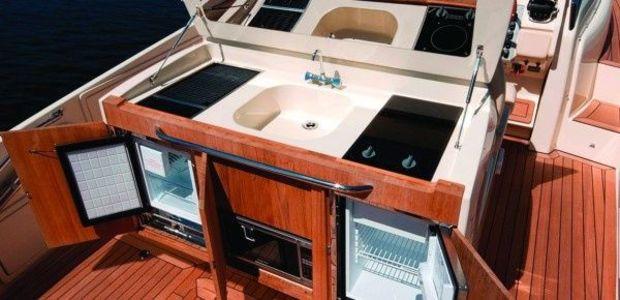 Performance
If you've run modern Chris-Crafts, then you know these boats tend to be pretty zippy for their size. And the Launch 36 is not an exception. With the standard twin Volvo-Penta 380 hp V8s, you can look for a cruising speed of above 30 mph and a top end of over 40. Add a bit more pep by upsizing to the optional 430 hp powerplants, and you should see a cruising speed in the upper 30s and a top-end in the mid-40s.
Weaving through the crab pots the Launch 36 will bank in, and chewing through the slop is no problem thanks to a 20-degree transom deadrise. The boat also has a lot of flare in the bow, minimizing spray. No matter how you look at the Launch 36 — analytically, visually, or emotionally — this boat is likely to steal your heart. Heck, I'm a dyed-in-the-wool hard core angler, and I find myself swooning over it even though I wouldn't dare taint it with bait and hooks. Crazy as that may be, you can't blame me. Because logic simply plays no role in affairs of the heart, nor in owning a boat.
Chris-Craft Launch 36 Specifications
LOA: 38'2"
Beam: 12'6"
Draft: 2'7"
Displacement: 16,000
Max HP: 860
Fuel Capacity: 286
Water Capacity: 50
BoatTest lists the price as $473,702
by Lenny Rudow