Manatees, sometimes referred to as sea cows, are large, fully aquatic, mostly herbivorous marine mammals. Manatees can be found in shallow, slow-moving rivers, estuaries, saltwater bays, canals, and coastal areas — particularly where seagrass beds or freshwater vegetation flourish. They are a migratory species and within the United States are concentrated in Florida in the winter. In summer months, they can be found as far west as Texas and as far north as Massachusetts.
One such manatee, aptly named Chessie, made several visits to the Chesapeake Bay during it's lifetime. On International Manatee Day we look back on Chessie's journey.
In the fall of 1994, a manatee was spotted in the Kent Narrows area of the Chesapeake Bay. Researchers became concerned at how the manatee would fare with the coming winter; when manatees are exposed to water temperatures below 68 degrees, they begin to suffer negative health effects. So a plan was hatched to rescue Chessie. The U.S. Fish and Wildlife Service, Seaworld Orlando, and the Maryland Department of Natural Resources moved Chessie to the National Aquarium, where he was cared for for several days before being flown back to Florida and successfully released. But that's not the end of Chessie's Bay story.
After being rescued, USGS scientists tagged Chessie and found that he returned to the Chesapeake the following spring. On August 30, 2001, another sighting of Chessie was confirmed after he was spotted swimming through Great Bridge Locks in Virginia.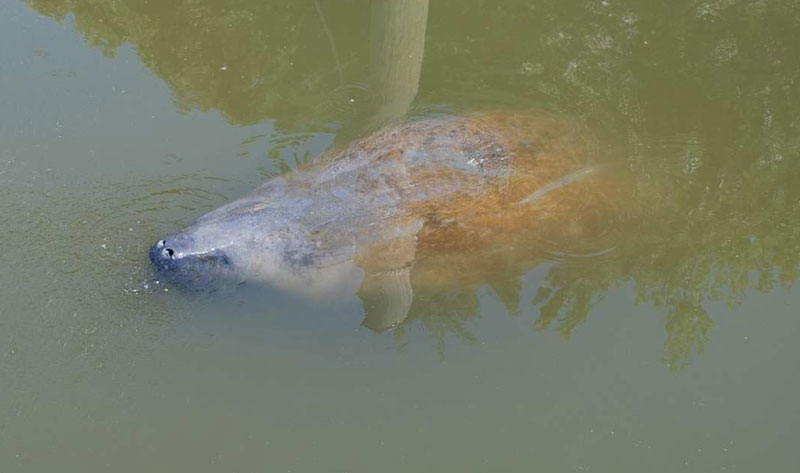 Then, no confirmed sightings were reported until 10 years later when Chessie was spotted in mid-July in Calvert County, MD. Two bystanders took pictures of the manatee and sent them to the National Aquarium's Stranding coordinator. After examining the photographs, USGS biologists confirmed the manatee was Chessie due to a distinctive long, gray scar on his left side. 
Chessie's tag and radio transmitter has since fallen off, but the public remembers this manatee's determination to return to Chesapeake waters year after year. And while scientists believe that a migration from Florida to the Chesapeake Bay may not be unusual, Chessie is certainly the most famous manatee to do so.
One of the most recent sightings in our area was in November, 2017, when a manatee (not Chessie) showed up at the Virginia Institute of Marine Science's boat basin along the York River. Before that, a manatee was spotted in July, 2016, near Rudee Inlet in Virginia Beach.
If you spot a manatee in the Chesapeake Bay to Maryland's Marine Mammal and Sea Turtle Stranding Response Program by calling 1-800-628-9944.